Leaways School strike continues amid allegations of intimidation from trade union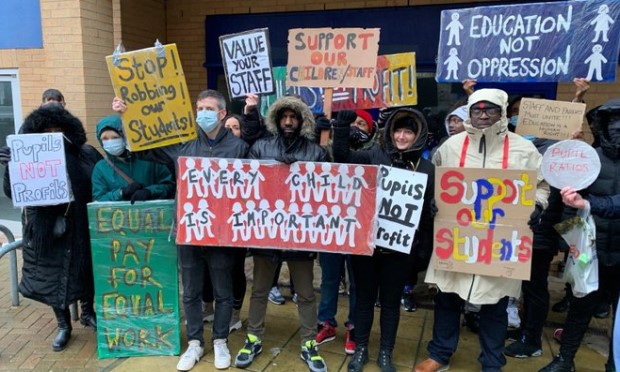 Staff are continuing to strike at an independent school for children with special educational needs this week, amidst allegations of bullying and intimidation by senior managers.
National Education Union (NEU) members at Leaways School, run by the Kedleston Group, have restated demands first made back in December for the 2.75 per cent pay rise received by many teachers in 2020, as well as complaints about the "lack of decent sick pay".
The NEU has now called out Kedleston with a number of other allegations, including "poor" educational provision despite the school receiving over £50,000 per pupil, a lack of outside recreation space, and temperatures inside the building being so cold that "staff and students frequently wear coats".
The union also pointed to the dismissal of two staff members since the beginning of the dispute, one of whom was a union rep, and claim that school leaders suggested that if the strike was not called off after 12 weeks, staff could be dismissed en masse – an allegation strongly denied by Kedleston.
Hackney NEU district secretary Dave Davies said: "We are appalled at the unjust and bullying way disciplinary measures have been utilised by management at Leaways. We call upon the Kedleston group to withdraw these unfair processes, reinstate our members and renegotiate the disciplinary policy in line with ACAS guidance.
"NEU members are being forced to take industrial action to protect themselves and their union representatives. We are keen to resolve this matter and have reached out to Kedleston and are still awaiting a response."
Kedleston said that it was unable to comment on individual disciplinary action, while "absolutely refuting" any claim that staff were either bullied, disciplined, dismissed or threatened with dismissal for being involved in strike action or being part of a union.
The Group went on to stress that dismissals or disciplinary action would occur only following a "thoroughly investigated and proven serious breach of the school's code of conduct", pointing to a recent interim employment tribunal that found the school had acted properly.
Leaways will be visited by officers from Hackney Council's education department after Easter to speak to staff and "ensure that all pupils are getting the help and support that they need", according to families lead Cllr Caroline Woodley.
Woodley added: "Whilst the council has no direct powers over independent educational settings, ensuring the welfare and wellbeing of every child in the borough is our priority and we're taking all concerns raised by staff from Leaways School very seriously.
"We would like to thank staff in local SEND schools who have done an incredible job in supporting the borough's vulnerable children throughout the pandemic and over the years. We thank the NEU for raising the profile of this issue."
Responding to questions on conditions in Leaways, Kedleston said that "a small number" of damaged heaters have now been fixed, and that new windows will be installed to further improve the temperature.
The Group accepted that Leaways does not boast extensive outdoor space, but said the school "makes the very best use of our nearby outdoor facilities which are quite literally on the doorstep".
A spokesperson added: "Leaways provides an excellent learning environment for our young people.
"We have invested to create bespoke primary and autistic spectrum conditions-specific areas to meet the changing needs of our cohort over the years and offer dedicated and well-equipped spaces for learning including an extensive gym, design and technology workshop, music room and recording studio, food technology room and science laboratory.
"Using community-based facilities for activities, something which the majority of schools across the country do, benefits our young people by giving them real-life experiences out of school."
On staff pay, Kedleston said it awarded an above-inflation increase to the Leaways team in September, when inflation was at 0.7 per cent, which it argues is more than the NEU's survey showed had taken place in 66 per cent of other special schools last year.
The Group added that it has "enhanced" its sick pay policy, with staff continuing to be paid in full for more than the previously allotted seven days "due to evidenced sickness […] with discretion applied".
A spokesperson added that its sick pay policy for staff "exceeded statutory minimums", and that the "great majority of staff are paid fully when on sick pay".
Kedleston said that it has agreed to formally recognise the NEU, which is the largest education union in Europe with more than 450,000 members, and pointed to the significant investment it has made in the school on specialist autism and primary school provision, as well as to Leaways' 'Good' Ofsted rating.
A spokesperson added: "We have worked hard to minimise the impact the industrial action taken by our colleagues has had on our students and their families, and are increasingly disappointed, for them, that this matter has not been resolved.
"The number of staff taking strike action are now in a minority and during this latest period of strike action, we will continue to ensure the children's education is not negatively impacted.
"We have already addressed the majority of the union's demands and find it difficult to understand why there is an unwillingness to reach agreement and close this dispute off.
"We have worked very hard to find a resolution, including through an ACAS conciliation process – which regrettably, the union walked away from.
"We know that the welfare and education of our students is a priority all parties share, and as such, we would encourage our colleagues to re-engage with us in a meaningful way to bring this matter to a conclusion."