Hundreds defy police ban to pay respects to Sarah Everard at London Fields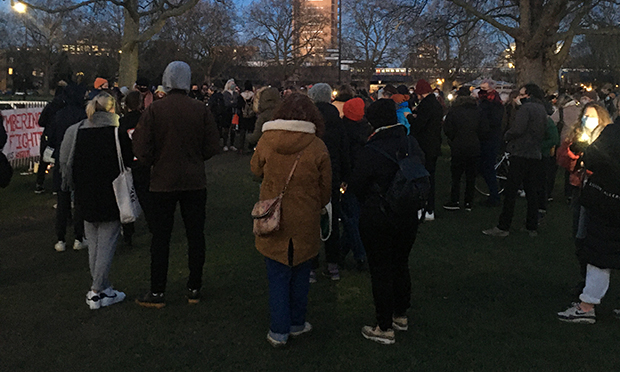 Hundreds of people gathered in London Fields last Saturday for an unofficial vigil to Sarah Everard.
Candles and phone torches lit up the north side of the park, illuminating a banner which read 'Remembering Means Fighting'.
It was one of a number of vigils that took place across London in defiance of a police ban.
Everard went missing in Clapham on 3 March while walking home, and her body was discovered a week later in Kent. Metropolitan police officer Wayne Couzens will face trial this autumn after being charged with her kidnap and murder.
One attendee at the vigil, who has asked to remain anonymous, said: "Sarah was just a young woman living her life, like we all do. She didn't want to become a political figure.
"It's so frustrating being a woman and not being listened to – these issues affect us in every sphere of our lives, and this is what happens when we're ignored.
"The most moving part for me was when I first arrived; normally London Fields is hectic and noisy but it was filled with this powerful silence, which was really magical to experience."
Vigils across the capital, including Saturday's large-scale event in Clapham Common, went ahead unofficially after police banned them on the grounds that they would violate lockdown guidance.
"I found it appalling that the police decided to cancel it at all," said the attendee. "I don't think that was within their right. There were certain factors about this case in particular that made me very angry that the police themselves chose to cancel it."
Police were present in London Fields but kept their distance from the demonstration; in contrast, treatment of peaceful protesters by police in Clapham has sparked widespread outrage, with Mayor of London Sadiq Khan calling it "unacceptable" and stating that the matter would be investigated.
A spokesperson for the Women's Strike Assembly said: "It felt important for us to gather to mark our grief and rage at the murder of Sarah Everard, and the three women a week who are murdered at home, at work, and in our streets. 
"We came together to challenge the structural nature of sexual violence where the police, courts and state do not protect us, but are part of the problem. 
"We will not allow the state to tell us when and how we can gather to grieve and protest."
Doorstep and online vigils were also held across the country to commemorate Sarah's life.