Laurence Fox visits Hackney to help promote anti-road closures campaign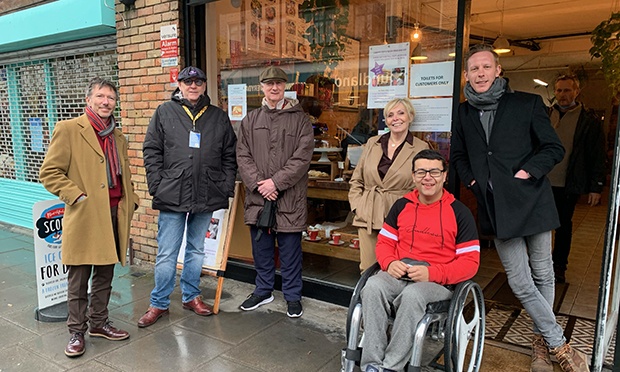 Actor and London Mayoral candidate Laurence Fox has thrown his promotional support behind the Horrendous Hackney Road Closures (HHRC) campaign.
According to independent by-election candidate and anti-Low Traffic Neighbourhood (LTN) campaigner Niall Crowley, Fox travelled to Hackney to learn more about the issue, with a video based on his visit understood to be in the works.
Crowley said the visit does not signal an endorsement of Fox's candidacy, and added that the anti-LTN campaign unites people from all ends of the political spectrum. This, he argued, is reflected in the different political backgrounds of the anti-road closure independent candidacies of former Labour member Clair Battaglino and himself, who in the past handed out leaflets for the Brexit Party.
Crowley said: "It was nice meeting Laurence, and it was good for us really. He spent a lot of time talking to local businesses. It's good for us, it promotes things. He didn't ask for an endorsement, and I wouldn't endorse him, it's absolutely up to people what they think.
"In so much as he is promoting freedom of speech, I'm in favour of that, and I'm in favour of different voices, but no, I'm not endorsing him and nobody else is.
"He got in touch because he wanted to know a little bit more about [road closures]. It's an issue that he is interested in and supports, and he wants to find his way into London life and politics."
Fox first gained wider political notoriety following comments on Question Time in January denying that media coverage of Meghan Markle was racist, and accusing mixed-race university lecturer Rachel Boyle in turn of racism for describing him as a "white, privileged male".
The visit has garnered criticism on social media for photographs depicting an apparent lack of observation of Covid-secure guidance, which calls on campaigners to wear a face covering when meeting anybody they do not live with and to maintain effective social distancing when talking to people, staying two metres apart at all times.
Reclaim party leader Fox, whose campaign did not respond to requests for comment, recently called for lockdown to be lifted "straight away". He was criticised earlier in the year for posting an image of a mask exemption badge he claimed to have bought online.
Crowley added: "We were out in the open. I work every day all through lockdown with children and colleagues, so I find a lot of the lockdown rules irrational to be honest.
"I wouldn't preach to other people what to do, and I'm not into campaigning around it, but I personally think people use their judgment.
"I've had the virus, I've had the vaccine, everybody else I was with there had had the virus. We were together for a second out in the open, so I don't think it was that big a deal to be honest."
According to a Public Health England study, people previously infected with Covid are likely to be protected from reinfection for months, but those with immunity may still be able carry the virus in their nose and throat and have a risk of transmitting to others.
While a full course of the Covid-19 vaccination will reduce your chance of becoming seriously ill, it is not yet known whether it will stop those who have received it from catching and passing on the virus, though it is expected this risk will be reduced.
HHRC have staged a number of eye-catching protests and demonstrations in the past, including a delivery of cabbages to the Town Hall steps and a convoy of cars driving slowly through the borough sounding their horns.
Former pub landlord Crowley, who used to run The Eclipse in Lower Clapton, is running in the by-election in Hoxton East & Shoreditch on an anti-LTN platform, hitting out at their "undemocratic" nature and arguing the policy exposes the council's "callous disregard for our elderly, disabled and families".
Calling for a "clearout of the technocrats and careerists", he is also demanding a referendum with a view to abolishing the mayoral system in Hackney.
Crowley, who is an author for libertarian website Spiked, has previously written and spoken in defence of gentrification, arguing it is a force for "regenerating the inner city, and increasing opportunity, social mobility and diversity".
A common argument levelled against LTNs has been their potential to impact poorer communities, resulting in so-called 'green gentrification'.
Quizzed on this apparent contradiction, Crowley spoke of interviews he had recently conducted with local residents who had told him that they "did not mind new people when the area changes as long as they don't tell me how to live my life".
He added: "Whether its bike shops or beer, I have no problem with any of that. If that's gentrification, people doing things for their own selves, people starting new businesses, I think that's a good thing.
"The problem is the older residents now believe the council is representing this young, middle-class, fit-and-healthy group and not representing them. It's almost like the council, in trying to impose things on older residents, is creating a division between people, and resentment.
He went on: "Gentrification is a very fluid term. There was a different discussion four or five years ago when I wrote [the Spiked article], I would not have written it like that today."
Quizzed on his views on the impact of the road closure policy currently, Crowley said: "It's hard to know [the impact of road closure policy] because of lockdown, it's difficult to tell.
"There is certainly not as much traffic around as there was before this lockdown, so it is difficult to tell. When things open up a little bit, who knows? I'm no expert in traffic really.
"It's not a single issue for me. The way the road closures were imposed is for me a symptom of a broken relationship between voters and elected representatives. It gets to the heart of democratic deficiencies with our politicians. I'm more interested in active citizens than active travel.
"Everything for me is how to help foster a more democratic public sphere and encourage people. This is for me a dry run for the elections next year, and I want to encourage more people to be more involved and create a more plural political public sphere. One councillor isn't going to change the world."