Cabbage protest rolls up to Town Hall as transport chief calls out online abuse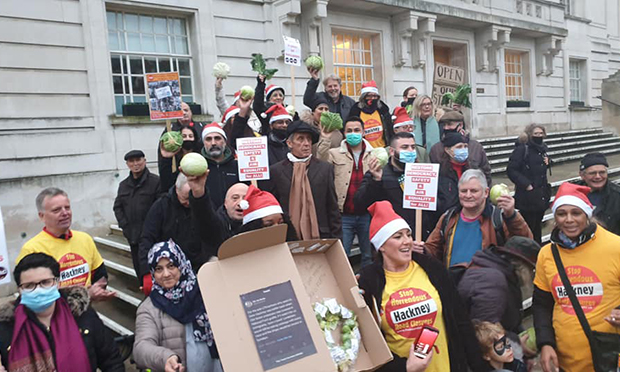 Anyone unfamiliar with the twists and turns of the online debate over Low Traffic Neighbourhoods will be forgiven for having been a little confused this weekend by the sight of a couple of dozen heads of cabbage piled up at the front of Hackney Town Hall.
The greens were delivered on Saturday by a group of motorists who, led by a large red pick-up truck, drove slowly through the borough sounding their horns in opposition to recently introduced Low Traffic Neighbourhood (LTN) initiatives designed to encourage walking and cycling and to reduce congestion.
The introduction of the vegetable to the debate was first made by transport chief Cllr Jon Burke, who is being singled out by campaigners for a remark made on social media at the end of November: "For the anti-LTN birthers who seem to think Hackney was better back when Old Street underpass was covered in National Front graffiti, if it wasn't for us immigrants, 'born n bred' Londoners would still be eating cabbage with every meal and the shops would be closed on Sundays."
Campaigner and Kingsmead estate resident Petra Fryer said: "I am originally from Germany, so I'm definitely an immigrant and I don't recognise the old Hackney he's describing.
"I've lived here over 30 years, made Hackney my home, raised three children here and I really resent Cllr Burke's remarks. Locals have always been warm and welcoming. There's been immigrants coming here for centuries.
"He doesn't know what he's talking about. And these road closures are making life impossible for so many of us, which is why I joined the Horrendous Hackney Road Closures group and shall be on the motorcade on Saturday.
"We decided to return the 'compliment' to deliver some Christmas cabbages to Cllr Burke and his boss Hackney Mayor Philip Glanville, who has backed him all the way through this."
@horrendoushack1 on the move pic.twitter.com/YVGrWIJv4O

— JamesHeartfield (@JamesHeartfield) December 12, 2020
Also included in the delivery were facemasks of Glanville and Burke, as well as a facemask of a rat, in a reference to rat-running, as well as a screenshot of the tweet of Burke's remarks.
Alongside the protest action, Women's Equality Party campaigners have called on the Town Hall to provide all records of compliance with public sector equalities duty assessments made as part of the LTN programme, with activists asserting that the street schemes are "adversely and disproportionately affecting women and vulnerable people in our borough".
The letter added: "The Women's Equality Party supports making Hackney a greener and safer borough and supports decisive action to reach the council's goals of net zero emissions by 2040. However, the very real effects of the LTNs on the lives of women and vulnerable residents are very concerning.
"It is clear from the backlash from residents that consultation on LTNs has been insufficient and this must be addressed before any further schemes are implemented.
"Lives have already been lost due to coronavirus, and residents' ability to move freely around the borough due to lockdown restrictions is needed during a time when we are all being encouraged to use coronavirus safe travel methods. But not everyone is able to walk or cycle.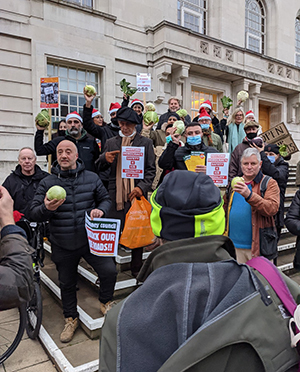 "We are concerned that it is only a matter of time before we see a compound effect of the pandemic and unintended consequences of these schemes leading to even worse impacts for women disabled people, elderly people, families and children in Hackney."
It is understood that the Horrendous Hackney Road Closures group is in the process of taking legal action opposing the schemes, with a crowdfunder in support of the campaign having raised just over £5,000 so far since it was begun in September.
At a ward forum examining the impact of an LTN scheme in Clissold ward, streetscene boss Andy Cunningham underlined that an equalities impact assessment has been carried out as part of the council's wider emergency transport plan, with similar exercises carried out for individual schemes.
More substantive data on the schemes' impact is expected in the New Year, though a recent early analysis of Transport for London traffic data showed that the schemes' introduction has not caused a rise in traffic levels on five main A and B roads across Hackney.
The Town Hall continues to move ahead with attempting to encourage walking and cycling and better road safety, with new school streets recently launched at Benthal and St Scholastica's primary schools.
The ongoing changes, Burke has said, are in part a response to an increase in pedestrian and cyclist casualties on the capital's residential roads by 40 per cent, as well as an attempt to reduce pollution and congestion on smaller residential streets spilling over from the already overloaded main road network.
The transport boss has warned that residential streets will fill up in "a few more years" if neighbourhoods are opened up to accommodate private vehicles, having expressed ambitions in the past for LTN schemes to serve as a signal to City Hall to introduce road user pricing on main roads.
Asked for his response to the most recent protests by Horrendous Hackney Road Closures, Burke, whose life and the lives of his family were recently threatened with a reference to the LTN policies, said he is "drained by the extension of a six-month-long campaign against me as an individual".
Characterising the motorcade and cabbage delivery as "yet another example of the low-level harassment that I have been subjected to under the guise of offence", the leading councillor said that he "could and should be forgiven for being robust about people who spent months trying to delegitimise my views by virtue of the fact I was not born in this borough."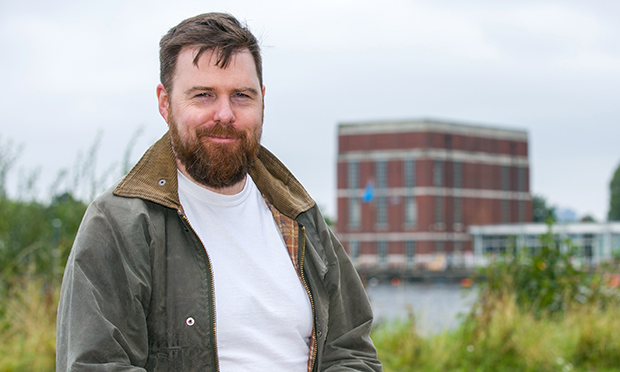 In an interview with the Citizen, Burke read out from a list kept on his desktop of vitriolic, personal and on occasion bigoted and racist abuse which had been sent to him online, arguing that he made his provocative response as a "strong signal to people who are being marginalised by being asked where they live and where they were born that I am on their side".
While stressing that he does not consider every opponent of the schemes to be a bigot, he argued that a "vein of bigotry" running through the campaigns against LTN policy can be found in the abuse and attacks for which he said he has been a "lightning rod for many months".
Burke also pointed to the attendance of London Assembly Member David Kurten at a recent Town Hall rally as "very troubling", pointing to the former Ukip politician's calls to address congestion by "getting a grip on the uncontrolled immigration of the last 20 years".
A spokesperson for Horrendous Hackney Road Closures has said that the group is "a cross-generation and cross-community organisation that does not condone violence, criminal behaviour or intimidation".
The transport chief said: "Led as it was by the kind of polluting, aggressive, double-length pick-up truck that is totally unsuitable for the streets of Hackney, I would suggest it was a rolling reminder of why we need Low Traffic Neighbourhoods in the borough.
"Whilst by no means representative of all LTN opponents, a vocal group of online anti-LTN campaigners have spent months relentlessly telling me to 'go home' and levelling various insults at me relating to my Irish surname and accent.
"I have been frank in my view that London has been built into a world city by migrant labour from both within and beyond the UK, and I believe the capital has been greatly enhanced socially, economically, and in terms of our culinary outlook, by migration. We would all be much poorer without it.
"I'm proud to be a councillor in one of London's most diverse boroughs, and I am not willing to allow the opinions of people who were not born in Hackney or London to be delegitimised by the kind of London nativism to which I have been subjected. Everybody in our borough has an equal right to participate in the big debates about its future.
"I don't want to become the story, but I have become the story. People have stood by, and this includes the local press and more broadly, whilst I have been relentlessly subjected to a hateful bigoted attack by a small vocal minority of LTN opponents for months.
"What some people might regard as robust or abrasive I regard as being Northern and sticking up for yourself. I have been subjected to many horrible things, and many of our residents who have been part of this debate online have been constantly asked about where they were from and where they were born.
"Any reasonable arbiter of my output on Twitter would go back and have a look and see how I engage with the public and they will see that when the public engage with me reasonably, I will engage with them in the same way. But when I am subjected to abuse and attacks I will defend myself.
"We're in a climate in which there aren't that many politicians who will come out and explicitly say, 'I think that immigration has been really good for London, and people who obsess about where people are born is a bad thing, and I'm against it'. Any potential furore at my comments says a lot more about the political climate we're in and has been able to develop in this country.
"If the impassioned defence of the rights of people who weren't born in Hackney to have a say in how this borough is run is offensive to people, then that's the kind of offence I don't mind people taking from my comments."