Food poverty: Community groups call for no return to 'business as usual'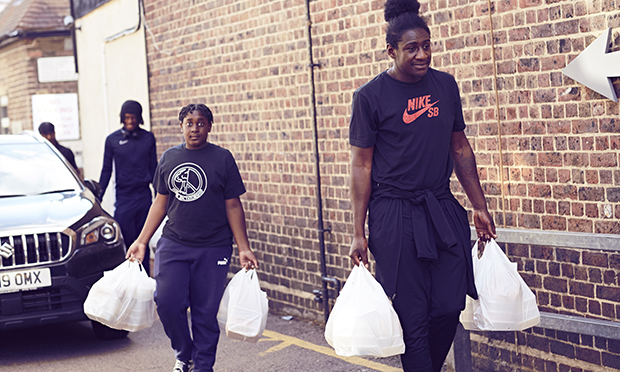 Community groups in Hackney have pleaded for efforts to tackle food poverty through deliveries to continue post-lockdown.
The Hackney Food Network, a collaboration between the Town Hall and voluntary groups, has provided over 300,000 food parcels and cooked meals since April 2020, with over 1,500 residents volunteering.
A number of the 40 or so groups involved have recommended to the council that these efforts not drop away with the gradual lifting of lockdown.
Many of the organisations are set to return to their own missions but have adapted to work on the food effort since the crisis.
In response, top Town Hall officers pledged not to "step away", while seeking a more sustainable balance for community organisations to "own more of this".
Council policy and partnerships lead Sonia Khan said: "Our enhanced way of working between us, the clinical commissioning group (CCG) and colleagues in the voluntary sector is where we're going to end up, in a more collaborative way of working."
Long-running youth charity Hackney Quest went from opening a small food bank in the first lockdown to giving out 220 bags every week, while Morningside & Gascoyne youth club saw its young people delivering food and engaging with older or vulnerable people.
Quest director Collette Allen said: "Obviously a lot of us are going to go back to the services that we were providing before, so it's making sure that the people who are the recipients of our food, we need to make sure they are being supported through the wider food networks."
She added: "We won't have the capacity to deliver at this level because we will be working with young people and families again. My worry is that these people are really vulnerable, and it comes to the end of March and they're not being supported."
Nicolette Nixon, leader of Morningside & Gascoyne, added: "I sometimes have issues with the council, sometimes I see favoured organisations getting the funding, but I think this has been a lot fairer.
"I think we are going to see more of this, not less. I think we are going to be more needed after lockdown, and I would like to see some support to enable us all to continue in some form.
"This isn't going to end because lockdown ends. We are seeing more and more people accessing our services. We want to go back to being a youth provision, but want to keep the young people focused and understand that there are other issues out there."
The council has helped the groups in the effort with space, transport, food supply and volunteers, while redeploying staff from events and housing teams to support a stable food supply.
Ali Kakande, who started Carib Eats in response to a mutual aid message from a recently bereaved man with mental health difficulties, and went from cooking a meal for him that day to providing 72 meals per week, said that there was a need for support for microbusinesses like hers to continue the work, with a reliance in funding applications not sustainable in the long run.
The director of the Round Chapel families project Joe Walker pointed out that 23 out of the 29 families they work with receive no other support, adding: "This is not a veiled critique of the council and the way it works, but it identifies a real gap between the services that are in place with the council and other statutory services and what is happening on the ground."
Walker said the Food Network is a real opportunity not to go back to business as usual but "to reset the relationship between the VCS and the council and the way we work".
The Town Hall is now understood to be looking at the potential of community supermarkets and food co-ops as they come out of "immediate firefighting".
Council strategic delivery officer Adrian McDowell said: "It is quite evident there needs to be a range of models in the approach to food poverty – the co-op model, community supermarkets, different social enterprise models, thinking about that in a more sustainable way.
"A lot of the organisations providing the food response are not necessarily just food organisations, in fact often they are not, so it is thinking about that as well, and the links between food poverty and wider poverty.
"We are going to start the conversation with the Food Justice Alliance and members around some of this, now there is a bit more space to think about where to take it forward and be in twelve months' time."
Khan added: "We're not ending it any time soon. We are continuing to work on this and put more capacity in if anything."