'Round one to Hackney Council': Anti-LTN legal challenge dismissed at High Court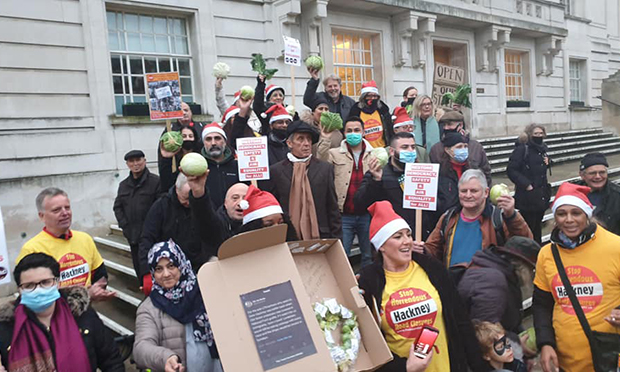 An attempt to bring forward a judicial review against Hackney Council's radical Low Traffic Neighbourhoods (LTNs) has been dismissed by a High Court judge.
Mr Justice Kerr waved away the attempt by community company Horrendous Hackney Road Closures Ltd (HHRC) to have the local roll-out of LTNs argued in court on the grounds that the application had been sought too late.
While accepting that a case could have gone forward examining whether the Town Hall should have consulted in advance of the policies and over the level of consideration of the impact, it is understood that some traffic orders must be challenged in the High Court within six weeks of coming into force.
HHRC member Danielle Ventura Presas said: "We wrote countless emails to our ward councillors, staged protests, and responded to a limited number of so-called consultations. By the time we realised nobody was listening to us and sought legal help, it seems it was too late.
"We believe the creation of selective LTNs discriminates against the most vulnerable members of our community. This can't be right.
"It's round one to Hackney but were in for the long term fight to defeat this oppressive, undemocratic and discriminatory scheme."
HHRC's application for a judicial review was heard on 12 February, and aimed to argue that the council's failure to consult in advance was "unlawful".
The Town Hall's use of experimental traffic orders (ETOs) to undertake the schemes means consultation is carried out concurrently for up to 18 months ahead of final approval.
The campaign had arguments prepared to support their claims that traffic flow and air pollution impacts were not considered, and that the policies disproportionately impact on children, disabled people, the elderly, faith groups and Black, Asian and minority ethnic residents.
Campaigners continue to argue that the policies cause increased traffic congestion on main roads from displacement of traffic, and that this further impacts on emergency services, buses, businesses and essential car trips for residents.
While former transport chief Jon Burke had argued that the introduction of LTNs were designed to send a signal to City Hall that local authorities would no longer tolerate traffic on their residential streets and make an argument for road pricing on the main road network, early data from November of last year appeared to suggest that traffic levels had not risen at nearby monitoring sites on five main A- and B-roads.
HHRC, which is supported by 420 local residents and has over 7,200 Facebook followers, is now considering with its legal team whether to appeal against the dismissal.
Member Shiva Kashizadeh-Scott added: "HHRC represents the view of a diverse group of Hackney residents. We are disabled people trapped inside LTNs, and people with health issues who fear the emergency services won't arrive on time.
"[We are] key workers trying to get to shifts at unsociable hours, women frightened to walk down too quiet streets, young mums with two children and no nanny who need to get to work to pay the bills, people who drive for a living spending their day driving in unnecessary circles and people whose breathing is suffering because of displaced traffic. We are Hackney, and we are not being heard."
Meanwhile, the Town Hall's efforts to 'rebuild a greener Hackney' continue apace, with Cremer Street near to Hoxton Station set to close to through-traffic next week.
A new camera-enforced traffic filter will aim to prevent motor vehicles from using the narrow street and pavements, which have high levels of footfall to the station, as a shortcut, and are designed to help support safe walking and cycling in the area.
A planter will be placed in the road on a trial basis from next week using an ETO, with residents and businesses able to have their say online or in writing during the implementation period.
Similarly to many other LTN schemes introduced by the Town Hall, no bollards will be used in the filter to allow emergency services to continue to drive through them unimpeded.
Before deciding whether to make the filter permanent, the Town Hall will monitor Cremer Street's traffic and considered the data alongside residents' feedback as part of the final decision.
The new filter will be introduced at the junction with Nazrul Street from 23 February, a week later than originally planned as a a result of urgent Thames Water works taking place in the area.
Responding to the judicial review application's dismissal, a Hackney Council spokesperson said: "We remain committed to engaging with all Hackney's diverse residents and businesses on our plans to rebuild a greener Hackney in the wake of the pandemic, and are committed to our public sector equality duty.
"We would urge people to take part in the consultation at rebuildingagreenerhackney.commonplace.is or by writing to us at 'Freepost Streetscene'.
"We will consider residents' comments, alongside traffic monitoring, before a decision is made on whether or not to make measures permanent.
"This is in line with direct guidance from the Department for Transport on reallocating road space during the pandemic."
Introducing the Cremer Street scheme, Hackney Mayor Philip Glanville said: "We know there are high-levels of non-local traffic on Cremer Street, which makes it unsafe for residents using the tight, narrow pavements – especially those who live nearby in Fellows Court – and for people using Hoxton Overground Station.
"This new trial filter will support people to walk and cycle locally, and is part of our ambitious plans to rebuild a greener Hackney in the wake of the pandemic. I'd urge residents to have their say on the trial."