Hackney Carnival to go virtual for second year running, Town Hall confirms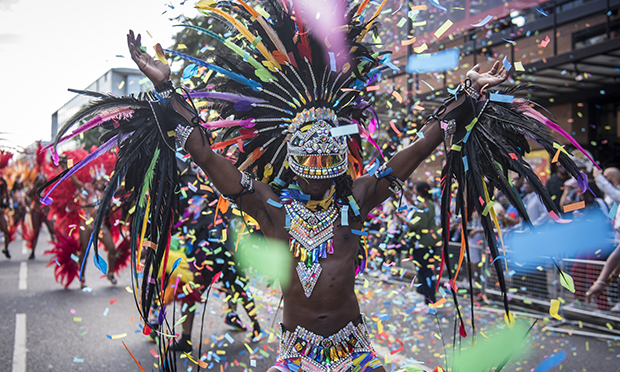 Hackney Mayor Philip Glanville has called on his culture chief to "build a larger programme and portfolio of activities" for the online Hackney Carnival, with in-person festivities cancelled for the second year in a row due to the pandemic.
Hackney Carnival is the second biggest in London, attracting up to 80,000 people, and sees street parades with sound systems and dance processions by a multitude of different groups.
However, both uncertainty around the pandemic and a lack of "organisational bandwidth" to plan for an in-person event, even if it were to be allowed, has seen the council keep the celebration online once again.
Culture boss Cllr Guy Nicholson said: "[Last year's carnival] opened up opportunities, even though it was sad not to be able to physically participate in a live event.
"Politically, the Mayor is very keen to see us deliver a larger programme this year. So if we are to go virtual again, let's see how we can expand it further. By expansion, it is primarily led by people participating in it, making and creating things, and doing performance.
"We feel that as a council, as an administration, it just would not be safe to run a live event on the scale that the carnival is this coming September.
"All I would say as some form of compensation is that unfortunately we are in good company. Glastonbury feels likewise; quite where Notting Hill thinks they're going, not so sure at the moment, but no doubt we will find out in the weeks ahead.
"It's a sad state of affairs, but there we go."
Town Hall communications director Polly Cziok added that the decision to cancel the live event is not just due to a lack of clarity over infection rates of coronavirus, but also the limited organisational capacity available to deliver it even if it were safe.
The carnival's regular event manager is understood to have been redeployed to help with running the distribution of PPE, with police and the health system usually heavily involved and short of time to undertake such plans in the current crisis.
Cziok added: "Nobody has the organisational bandwidth to be sitting round tables now, putting in everything that we need to put in it to make it a safe event. Carnival is a huge partnership effort, and all of our partners are absolutely flat out now."
There had been a recognition in January 2020 that the event was becoming larger and larger, with discussion around the Carnival having a "Glastonbury moment" with a one-year rest and Nicholson adding that the council should be looking at other investors into the event given the cost borne by the police in staffing it.
For the first online event last year, carnival groups created videos that reflected the work that they do, what the event means to communities and the impact of pandemic, while others produced guides for how to do carnival crafts at home.
The 21 short films have now been seen 39,000 times.
Officers had been hoping to do a live event this year, and had started the usual round of annual carnival commissions.
Cultural development manager Lucy McMenemy said: "The aim of the programme was to support Hackney's carnival groups in developing new digital skills, and there was a strong response from the groups that it had been really helpful for them in developing their online presence, and appreciation of the fact that while we couldn't do the live carnival, the online version had helped keep the carnival spirit going."
A new website will now be developed "to recreate the experience for accessing the event in person", according to McMenemy, with the plan now to refocus on the carnival groups' costume-making and artistry, with the council supporting them in documenting the process.
It is understood that organisers will keep Covid restrictions under review, with pop-ups in public spaces not being ruled out if this is safe and permitted under restrictions.
Mayor of Hackney Philip Glanville said: "While we are sad to not be able to deliver this year's carnival in person, last year's Carnival at Home online events demonstrated the creativity, commitment and resilience for how we can keep our carnival spirit alive.
"Thanks to the thousands of people tuning in from across the world, we were able to come together and celebrate each other's cultures on a global scale. It was a privilege to take part, supporting our diverse and creative carnival groups in Hackney.
"I look forward to seeing how we build on that success in 2021, investing in cultural organisations; ensuring that the spirit of Carnival lives on and that we are back, Covid permitting, in 2022."
To register your interest in taking part in Hackney Carnival 2021 online activities, please fill out this short form 
Keep up to date with announcements on the Hackney Carnival Facebook Page and by following @HackneyCarnival on Instagram