The Citizen Gardener: 'It's time to start planning'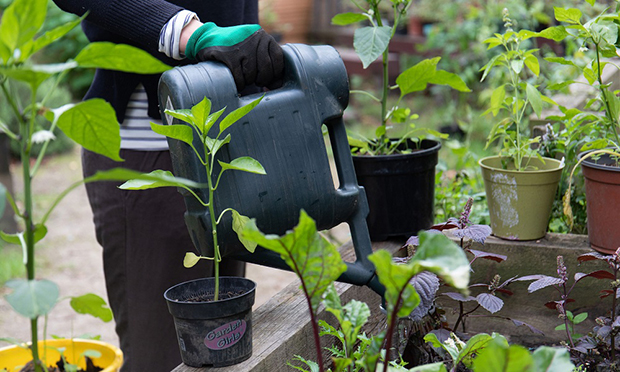 The great thing about winter for a gardener (as someone on Gardeners' Question Time said last week) is that nothing's gone wrong yet. This time of year is bursting with hope and with the promise of flowers and rich harvests. So it's time start planning.
Last year people had problems getting seeds and compost because companies got overwhelmed by demand. Some smaller ones are still restricting their orders, so be prepared to wait. You've got time, though. Most seeds don't need to go in till the soil has warmed up in April (or you can start them off indoors earlier). If you're growing veg that need a long season of warmth and light to mature (like chillies and tomatoes) they need to go in soon indoors on a sunny windowsill.
If you are eager to get started indoors and want something that is nutritious and fast-growing, microgreens are great. Some research shows that they are much more nutritious than fully-grown plants. You don't even need soil; just damp kitchen paper. You can often grow seeds hanging around in your cupboard. I have fenugreek, for example, which I've never cooked with but which makes a good microgreen. You can also grow from coriander, sunflower or fennel seeds. You can buy specialist collections, but other seeds that work well are kale, broccoli, rocket, chard and pak choi. Experiment! Snip them when they have sprouted and add to stir fries, salads, pasta or sandwiches.
Seed swap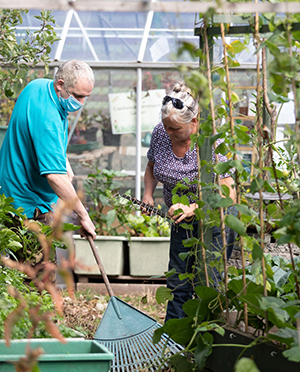 A year or so ago many of us gave away lots of seeds in Hackney, and this year we're planning a borough-wide free seed swap through our network of community gardens and growing groups. If you have any spare seeds, pop them in an envelope and label them (what they are, where they came from, how they grow etc) then place them in one of our seed swap boxes around the borough, such as Hackney City Farm, Stamford Hill Estate, Hackney Herbal, 10xGreener and Victoria Park Community Centre on the weekend of 26-28th February. Get in touch if you have any seeds to donate or just go to your local community growing space to see if they are taking part. We'll be posting details on cordwainersgrow.org.uk/seed-swap-2021 and social media at @cordwainersgrow.
I often talk about the importance of seeds and seed-saving as the number of seed companies shrinks and control of food production becomes concentrated among fewer players. Not only can you save money by collecting your own seeds, but it gives you more choice and control – and usually better plants than those grown from commercial seeds.
If you want to save seeds, make sure it's not a last-minute choice or that you collect seeds from plants that have bolted (produced seed early because they are stressed) as you will then be choosing from a genetic failure. You want to collect seeds from your best plants, not the worst. Easy plants to start with are flowers like marigolds or poppies. For vegetables, tomatoes, beans and peas are the easiest. Check your seed packet, though; if it says F1 it means any seeds you collect from an F1 plant won't come true, as they are bred from different 'parents' with different qualities. Their 'children' (F1 means Filial1 – the first generation from distinctly different parents) will revert to one of those parents or might be completely different. You won't know. Other plants to be wary of are those in the squash/pumpkin family. They are a promiscuous lot and will cross-pollinate with any similar plant so, again, you won't quite know what you'll get from their seeds unless you only grow one variety. That might not bother you, though, and part of the joy of seed-saving is the surprises you might get. Lots of organisations can help with your seed-sowing.
Vital Seeds run a course at learntosaveseeds.com and there are some free videos at diyseeds.org/en/films. Other organisations to watch are the Gaia Foundation and London Freedom Seed Bank.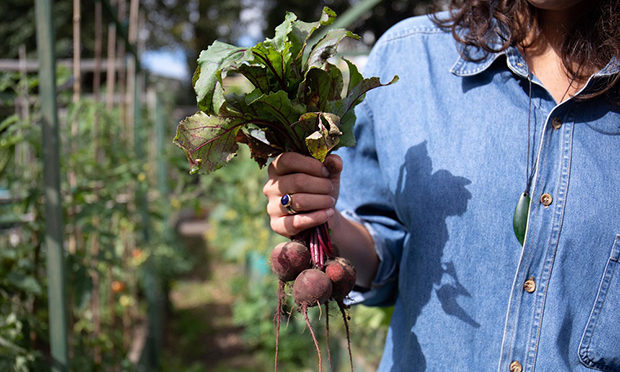 Community Harvest
Many community and school gardens in Hackney are involved again in the Community Harvest organised by Capital Growth. They are growing extra veg to donate to food banks, kitchens and other community spaces. Last year 50 gardens took part across London and beyond, including eight from Hackney, and between us we provided more than five tonnes of food to 7000 households through local organisations such as food banks and mutual aid groups. This just goes to show that small urban spaces can play a vital part in food provision. As Fiona McAllister, Capital Growth's Coordinator says, "The question we're left asking is: could community food growing play a more significant role in feeding London than we think? Given support, access to land and proper funding, urban food growing could be one of the jigsaw pieces needed in building a more sustainable food system" She continues: "Initiatives like Community Harvest are starting to show us what is possible."
This year I am championing several gardens across London and hope to get more people involved and (ideally) more space released by landowners for food growing.
If you're interested contact me or go to capitalgrowth.org/community_harvest/
Kate Poland is an award-winning community gardener and the UK's first ever postcode gardener in E5. For more, head to cordwainersgrow.org.uk and friendsoftheearth.uk