Council apologises to resident left with broken front door for four years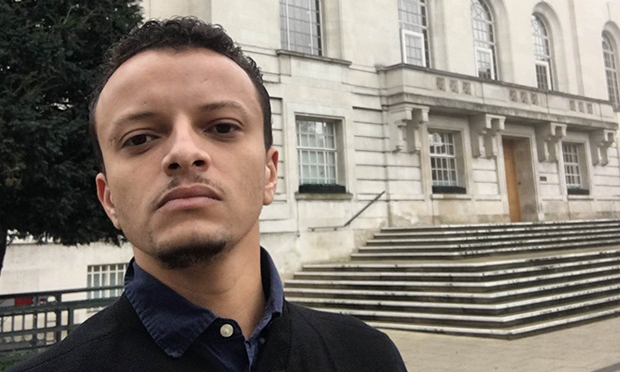 Hackney Council have formally apologised to a man left "terrified for his life" after his broken front door went unrepaired for four years despite a series of stabbings taking place close to his home.
Troy Goldie, 27, who suffers from paranoid schizophrenia, emotionally unstable personality disorder and depression, has won a civil case against the council with support from London law firm Osbornes, and says his circumstances during the years-long battle became so desperate that he became suicidal.
He is now speaking out over the disrepair to his Regent Estate property, which also included a collapsed ceiling, in advocacy for a system in which social housing landlords including local authorities treat people with mental health problems seriously.
Goldie said: "Living like this for four years has been hellish. There have been stabbings within 50 metres of my front door. I've been threatened with violence and spat at.
"All the time my front door was broken and could easily have been forced open, yet the council wouldn't repair it. They replaced other front doors on the estate but not mine, despite them knowing of my mental health problems and me calling them regularly.
"This has left me depressed and at times suicidal as I don't understand why they replaced other people's doors and not mine. I have been scared to be in my flat and have been unable to sleep as I react to the smallest of noises, while I have been worried that somebody was going to break in when I am away from my flat."
While housing chief Cllr Clayeon McKenzie apologised on behalf of the council when approached by the Citizen, Goldie went on to complain that despite his circumstances causing him to have panic attacks, Hackney had not apologised to him following the dispute.
He added: "I feel that I have been ignored by the council and fear other people with mental health problems will have suffered the same fate. I don't want anybody else to go through what I have when it could so easily have been rectified a long time ago."
The work was finished in November of last year, with Goldie also awarded compensation and costs for his legal bills.
According to the council, it is currently unable to look into Goldie's full case history due to the criminal cyber attack which left many Town Hall systems paralysed in October, but it aims to find out the "full cause" of the delays to the works to the Regent Estate resident's home to prevent similar situations recurring once its systems are recovered.
The Town Hall was, however, able to share some details on Goldie's case, revealing that it had raised an order for a replacement door at the end of 2019, but that, following the liquidation of the contractor involved, an order with another manufacturer was placed in January 2020.
The council has blamed the pandemic and associated lockdown for delays in the subsequent manufacture and installation of the door, which according to the local authority would normally take eight weeks, as well as pointing to occasions on which the council's repair team could not gain access.
The Town Hall went on to state that it was first made aware of Goldie's mental health condition in April 2020, after issues with his front door had been reported to them and work to fix the door was underway.
On 30 January last year, the council agreed with Goldie and Osbornes that works would be completed by 12 January 2021, with works in the end being completed in November.
Edward Taylor, a specialist housing litigation lawyer at Osbornes Law who represents Goldie, said: "My client has needlessly suffered serious mental torment for four years, all because the local authority did not take his claims seriously.
"Local authorities must act reasonably, and comply with their legal obligations, in the same way they would expect their residents to. It is frankly outrageous that Hackney Council ignored the law and at the expense of a highly vulnerable schizophrenic tenant.
"Even after I was instructed and commenced court proceedings, it still took some eight months for Hackney to meet its duty and replace the front door. This is on top of years of pleading from Mr Goldie himself.
"Whilst what has happened is unforgiveable, I would urge Hackney Council to now formally apologise to Mr Goldie, and to review its procedures to guard against this happening to others in future."
Cllr Clayeon McKenzie, cabinet member for housing services, said: "We sincerely apologise to Mr Goldie for any distress and inconvenience caused as a result of delays to his repairs.
"We always strive to ensure that our tenants have a safe and comfortable place to call home, and to support our vulnerable residents. Eight out of ten residents are happy with our repair work, and we are concerned as to why these repairs were not completed in a more timely manner.
"We will be looking into this case as a priority to investigate the full cause of the delays and how we can prevent this from happening again. As part of legal proceedings, we agreed a timescale for works to be completed with Mr Goldie and his solicitor, which we have met. We have also offered a financial settlement to Mr Goldie."