A third of Hackney residents may have had coronavirus, data suggests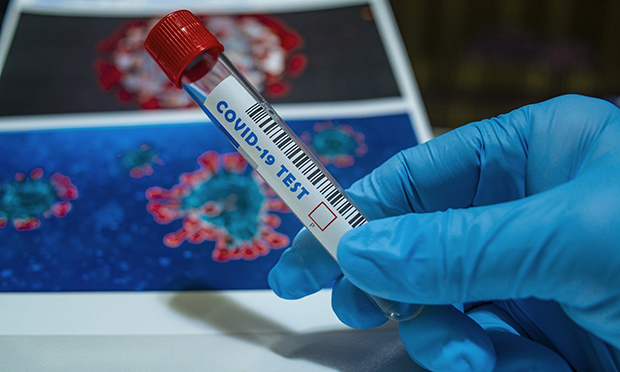 Around a third of Hackney's population may have already had Covid, according to new modelling estimating the true spread of the virus in the borough.
Only about 4.4 per cent of local residents have ever had a positive test, meaning that the real picture of the number of cases remains cloudy.
Homerton Hospital is coming under extreme pressure from the second wave of the virus, with a little under 200 Covid-positive patients occupying hospital beds – 24 of whom were in critical care as at 6 January.
Principal public health analyst Diana Divajeva said: "The new variant really peaked in London towards the end of December. That translated into a higher number of cases in Hackney. Around 81 per cent of all new infections are now attributed to the new variant as at 2 January, so it may be higher now.
"The test positivity rate is over 20 per cent in all London boroughs, so it is a very serious situation indeed.
"The proportion of our population who have tested positive so far is very small. This basically means that most of the population have not had a confirmed test, but according to estimates the proportion of the population who have actually had Covid-19 could be anywhere between 20 and 35 per cent.
"In the week ending 2 January, the number of estimated cases is about four times higher than the actual number confirmed by test. Another modelling study produced by Edge Health estimated around 35 per cent of City and Hackney residents could have had the virus so far, accounting for 102,000 people."
At the Homerton, emails have gone out from management imploring staff to transfer or redeploy in order to help with Covid care.
Patients are staying in hospital longer as new modes of treatment become available, but this means capacity remains fuller for longer.
The hospital has vaccinated nearly half of its 4,000 or so staff members over the past few weeks.
Estimates using patient flow data produced by Waltham Forest and East London financial strategy team presented by council public health officers show that around 15 per cent of cases in City and Hackney have resulted in hospitalisations, though Divajeva cautioned this could be an overestimate due to community testing not becoming widely available until late April 2020.
Divajeva added: "We have analysed the household cluster data to see whether there were any particular factors with the transmission they have seen, and tends to be associated with higher density of housing, estates or blocks of flats, which is where Public Health have seen higher concentrations of the number of cases."
Divajeva's team has also established that where there are household clusters and hotspots in the second wave of the virus, the average number of contacts in those areas is higher compared with the general number of Hackney.
A report by Public Health England on infection risk found that the virus is not only more prevalent in areas with higher density of housing, but that there tends to be something around the profile of the population with a higher number of contacts.
This cohort includes people living in more deprived areas who have no choice but to interact with more people on a daily basis, or those living on council estates or working in professions that require more face-to-face interactions.
Twenty-seven new Covid deaths occurred in City and Hackney in the two weeks leading up to 1 January. This is just one fewer death than occurred in the whole seven-week period between 31 October and 18 December.
Around 60 per cent of all Hackney Covid cases so far have been registered in the last four weeks.
A review of deaths since October onwards shows that just over half of the deceased are from a background of routine or manual occupation, according to Hackney's public health team, with 70 per cent born outside the UK, showing a disproportionate impact on the migrant community – a similar trend to the first wave.
Quizzed on the potential for asymptomatic transmission in early years age groups by councillors, public health director Sandra Husbands said: "We can't ever be entirely comfortable that there is no transmission among young children, otherwise we wouldn't close nurseries or early years settings as has happened from time to time.
"What is different about younger children compared to secondary school children is that they are less likely to get seriously ill, and as far as we can understand they are less likely to spread it. We just don't have any direct evidence that it is the early years child who takes the virus into the home. It is almost impossible for us to know in any household cluster which is the index case.
"There will definitely be some spread. How significant it is is not possible to say, but it is probably relatively minor compared to older children and adults who because they are symptomatic are much more likely to spread it. Even asymptomatic adults are much more likely to spread it."
In a comparison of how the new variant spreads and how the first wave's virus appeared to spread, Husbands said the settings in which clusters and outbreaks had been seen last year are the same in the second, including workplaces, schools before they closed, care homes, households, but what is also being seen are many more individual cases that do not appear to be connected to anything else.
Professor Kevin Fenton, London regional director for Public Health England, said:"Case rates in London remain extremely high and around 10,000 Londoners were diagnosed with Covid every day this week. This level of transmission is severe, and continues to drive pressure on the NHS, with more Londoners being admitted to intensive care and ultimately dying from this disease or having long-term complications.
"As a result, we have more difficult weeks ahead of us. This more contagious variant means we are unlikely to see sharp declines like we did in the first wave, and the longer cases remain high, the more deaths we will see.
"That is why we must work twice as hard to reduce transmission and lower infections. Staying at home and cutting our contacts will stop the virus spreading, reduce cases more quickly and ultimately save lives."
EDIT: This article was updated at 10:07 on 22/01/2021.