'We owe it to residents': Hackney Council set to adopt strict new limits on air pollution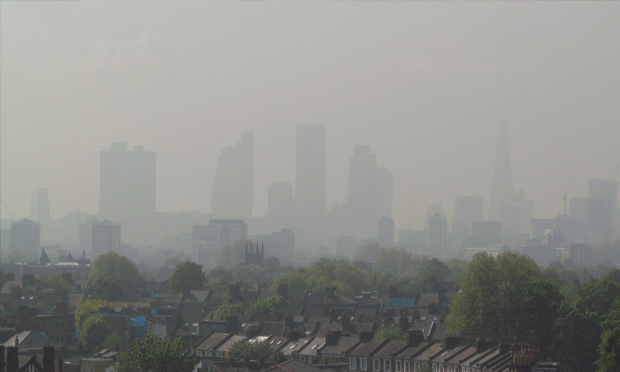 The Town Hall looks set to follow tough World Health Organisation (WHO) guidelines on air pollution – revealed in an ambitious five-year air quality plan that went out to consultation this week.
The new limits on particulate matter pollution, which is known to stunt lung growth in children and cause chest and heart problems in all ages, go beyond current National Air Quality Objectives and must be met by 2030.
The WHO estimates that areas that hit its recommended annual levels could see a reduction in air pollution-related deaths of around 15 per cent.
Town Hall environment chief Cllr Jon Burke said: "Hackney has one of the highest mortality rates from air pollution of all local authorities in the country – predominantly caused by emissions from road transport, despite 70 per cent of the borough's households not owning a car.
"In a borough where children have been medically assessed as having stunted lungs, we owe it to our residents to go further and faster in tackling the public health emergency that poor air quality represents." 
The Town Hall's draft air quality action plan for 2020-2025 outlines a series of proposals to help it comply with WHO guidelines.
These include improvements to the borough's air quality monitoring network, which could see investment in new real-time tracking to go along with existing diffusion tube monitors. These efforts will focus on places where people spend the most time, such as residential areas and schools, and where the most vulnerable may be present, like healthcare centres, hospitals and care homes.
The measures will also help in assessing the air quality benefits of actions outlined in the council's emergency transport plan, such as the new low traffic neighbourhoods.
Road transport accounts for 64 per cent of nitrogen dioxide emissions and 29 per cent of particulate emissions, and further plans to curb this locally include the council increasing the number of low and no-emission vehicles in its fleet as well as pushing Transport for London to expand the Ultra Low Emission Zone to the whole of London after 2021.
The council is also aiming to clamp down on wood-burning stoves and coal fires – the biggest source of fine particulate matter in the UK, according to the government.
Residents can have their say on the proposals until the consultation closes on 8 February.
Cllr Burke added: "The actions outlined in this draft air quality action plan – including adopting tough WHO limits on particulate matter, improving our large air quality monitoring network, and further reducing and controlling emissions from the construction sector – are the most ambitious of any council in the country. I'd urge people to have their say in the consultation."
Take part at consultation.hackney.gov.uk/housing-service/air-quality-action-plan-2020-2025
For a paper copy, please contact 020 8356 3000. Responses should be returned to the council by 8 February 2020. Responses arriving after that date may not be included in consultation results. 
You can find more information about World Health Organisation air quality guidelines here