Shoreditch Park Adventure Playground set for £350k redesign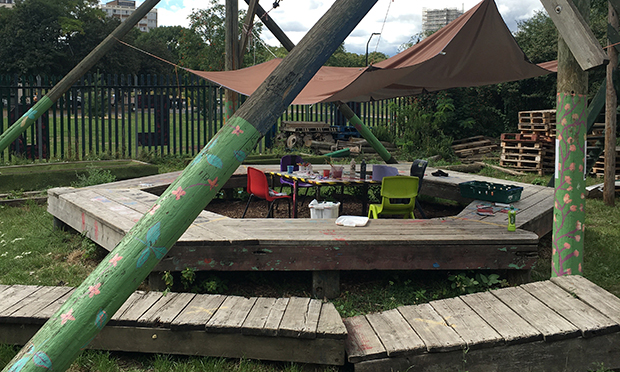 Shoreditch Park Adventure Playground is to receive an investment of £350,000 from the Town Hall for a transformative refurbishment, with young people to help redesign a new play hut.
Time has not been kind to the existing log cabin, built in 1984, which now has dry rot, a sinking floor and horizontal splits in its logs, as well as inadequate heating and no staff toilets.
With investment now agreed to be delivered through to 2022, it is hoped that a replacement hut with a cabin/classroom and a fresh landscape design will give the popular playground a new lease of life.
Before lockdown, Shoreditch Park hosted up to 130 young people a day during the school holidays, forming part of Young Hackney's programme for young people to support physical and emotional health through play.
The new play hut will be designed to be fully accessible for young people with special educational needs and disabilities, have new toilets, and be built with environmentally-friendly methods and materials.
Councillors celebrated the decision at a recent cabinet meeting.
SEND chief Cllr Caroline Woodley, who championed the borough's range of adventure playgrounds and the role they played during lockdown this year, said: "I am so thrilled that this has been agreed for the adventure playground, and I know the adventure play workers are really pleased as well.
"The work that they have put in this year has been recognised with a gesture like this. The whole focus on play in Shoreditch Park is a really exciting area of development that ties in with our child-friendly places work and our moves towards having a child-friendly borough."
Other plans for Shoreditch Park include a sensory and soft play room, as well as a kitchen where young people will be able to learn about nutrition and how to cook healthy meals, with the playground set up to continue supporting young people and families who rely upon the service for childcare, holiday meals, individual personal support.
The investment will also enable the playground to continue to be part of the Holiday Activities and Food Programme run by Young Hackney in 2021, a government-funded scheme which provides meals and activities for children who receive free school meals during the school holidays.
The council also plans for the ground to be used by primary schools for forest school, in which kids learn about the environment as part of the science curriculum.
Parks boss Cllr Jon Burke said: "If there's one thing that can be said about this administration it has been our relentless focus on building a borough for everybody from the ground up, from the needs of our most vulnerable citizens who happen to be our children. These investments leave an absolutely fantastic legacy for this administration and demonstrate our clear commitment to the future."
Deputy Mayor Anntoinette Bramble said: "I really enjoyed my visit to the adventure playground during the half-term and it was great to see what children and young people and staff were doing in that space, and how much it is really appreciated.
"I spoke to a young person who is now the deputy leader at one of the playgrounds who was someone who used it as a child, so just the sentiment that it means is phenomenal."
Hackney Mayor Philip Glanville said: "We have all been paying attention to the needs of Shoreditch Adventure Playground. Some of us have paid visits and know that a huge amount of work has been put into the business case that we're seeing that underpins the capital update and will see investment in it.
"I'm fresh from a visit to both the new Britannia Leisure Centre and the Shoreditch Park Academy Secondary School, which collectively with those projects and the Shoreditch Park investment, we're seeing almost £150m worth of investment into Shoreditch, which historically and remains one of the most deprived parts of our borough."
Find your nearest adventure playground here
For more on Shoreditch Park Adventure Playground, visit younghackney.org/organisation/shoreditch-adventure-playground