'Learning through play': Caroline Woodley on Hackney's adventure playgrounds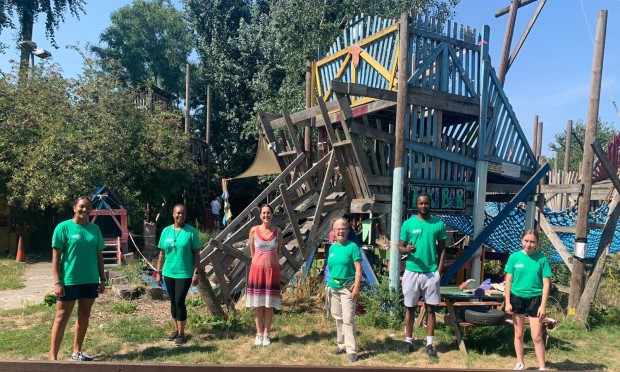 When children are asked what they want to be when they grow up, it's probably fair to say that, for all sorts of different lamentable reasons too various to list here, they don't often respond, 'Go into politics'.
It's also fair to say, however, that word has not yet spread about Cllr Caroline Woodley's "whirlwind summer tour of adventure playgrounds", which, as a perk of the job, takes some beating.
The councillor has made seven visits over the summer in her capacity as lead councillor for play: Evergreen, Shakespeare Walk, Hackney Marsh, Pearson Street, Homerton Grove, Shoreditch Park and KIDS Adventure Playgrounds, all of which have seen a lot of hard work go into making them Covid-secure while remaining welcoming and inclusive.
"It was a really strong reminder to me of how incredibly important it is," Woodley said. "A lot of the focus this term is going to be about reclosing the attainment gap, which we're really worried about how much this has been set back, but also a huge focus on wellbeing.
"You can learn through play. It's not just about learning through the academic timetable, but it's learning how to relate to other children.
"It's social engagement, and for children who are very withdrawn or non-verbal, to gain some socialisation in the midst of all this is a real reminder of how much we need to invest and support in that."
In our interview, the councillor enthusiastically described seeing children of all ranges of need, all ages, all ethnicities, all playing together in one space. She noted ramps wide enough for wheelchairs, areas where children can be solitary if they need to be, and sensory areas.
Woodley, who also leads on special educational needs and disabilities (SEND) for the council, picked out double-width slides, and talked of ambitions for joint hoist arrangements in order to allow for two harnesses on a zipwire so a play worker can plunge downwards alongside.
Inclusivity applies to parents as well in Woodley's vision. She says there is work to be done by the Town Hall in communicating to the borough's families that "this is for them, it is universal, it is paid-for, and that they feel they are allowed to access it".
Lockdown had formerly open-access playgrounds limited to two 90-minute closed sessions per day, down from six hour-long open sessions pre-Covid.
Over the next fortnight, the borough's play and youth provision is planning for term-time activities, with play restarting on 15 September.
But according to Woodley, adventure playgrounds took on even greater community significance during lockdown for every age.
Shakespeare Walk teamed up with mutual aid groups to deliver hot meals, while the Hackney Play Association made up play packs for children while sites were closed.
Woodley said: "They had different offers according to what their own relationships and networks were, but it was really interesting to see how mutual aid had linked up with these community-focused centres like adventure playgrounds and served the community.
"There was a big anxiety with all the youth hubs closing that we would lose sight of some of our young people. But there was a feeling in the adventure playground that older teens were still very much in touch, and came back."
The impact of lockdown on young people's mental health, and particularly on those with SEND, has been severe, with Woodley hearing from parents of children with autism suffering from emotional disregulation. Young Minds, in an open letter to the government back in May, warned of a long-term impact on the wellbeing of a generation.
Offering her heartfelt thanks to adventure playground staff for balancing Covid-secure measures against the need to provide a safe and inclusive place for children, Woodley described seeing enclosed spaces shut off entirely in the playgrounds, with suitable outdoor play zones marked with bunting, and hand-washing stations built in the same style as play structures.
Seeing children so "comfortable, happy and safe" in her visits to the parks, the politician's hope is that such an experience could be a stepping stone in the return to the more ordered environment of school, helping children feel better prepared for the end-of-summer transition.
Woodley said: "At KIDS Adventure, they were very happy to see their children. They were saying that some children without their usual school routine and commute pressures had blossomed a little bit over the summer.
"That is not to say I don't want them back in school! But it was nice to hear that. It's not all a story of withdrawal, though that's obviously the case for some children, for others new friendships blossomed. At KIDS, there were non-verbal children who were surprising them with greetings. It was interesting to see how differently it played out for those kids than perhaps some of my fears."
Woodley said she hadn't been to an adventure playground since her son was small, so the tour felt like "quite a nostalgic thing to do".
She added: "It felt to me like the first step for a transition back to school. Lockdown period had ended where those services had to stop but the council continued to fund them and those spaces were still able to manage.
"Though they had lost hire income, they had that baseline of security that they were there for our kids in the summer, and for those that had access, they could feel that they have had a summer."
You can find your nearest adventure playground here.