Hackney Bridge is looking for local independent enterprises and entrepreneurs to join their community!
Hackney Bridge is a brand new, public destination, nestled on the canal side just five minutes from Hackney Wick Station. A striking set of pitched roof buildings are now home to unique workspace and studios housing local artists, makers and other small businesses.
The project officially opened their doors to their first Members in September, welcoming an eclectic mix of local independent creatives – from an inclusive hair salon to local carpenters, fashion designers, a local brewery, illustrators, musicians, artists, photographers and more.
Designed in response to three years of community consultation, Hackney Bridge has a wide range of workspaces designed to suit different uses, including light industrial units, artists studios and maker retail spaces. Of these, only four spaces now remain, and the project is encouraging local enterprises and entrepreneurs to get in touch and make these spaces their home.
FINAL SPACES STILL AVAILABLE INCLUDE:
● Two Artists Studios, suitable for creatives of all kinds
● One Office Space, suitable for a larger team
● One Maker Retail Space, suitable for someone looking to create and trade from within the same space
Join a diverse community of Members at Hackney Bridge, including:
● Ruff Sqwad Arts Foundation, who work to create meaningful cultural engagement opportunities for young people
● The Outrunners Charity, who create positive change through fitness
● Discordo Studio, an East London creative studio known for their work within the music industry, the Arts and with non-profit charities, celebrating chaos and collaboration across multiple design formats
● Zhero, London's first zero emission logistics provider working with the arts, interiors, media and fashion industries
● Onyx, an inclusive hair and nail salon founded by Hackney born and bred sisters And many more!
HACKNEY BRIDGE CO-WORK & SUPPORTED SPACES
As well as private workspaces, the project offers a light and bright co-working space with flexible short term Memberships and discounts for local residents.
There are also Supported Spaces available at 50% of the full rental value, open to applications from local enterprises, full details on their website.
EXCITING EVENT AND BAR SPACE:
Hackney Bridge is looking for a local event provider who will be able to schedule a diverse and inclusive events programme within their impressive vaulted-ceiling Event Space. The space includes an outdoor amphitheatre which is perfect for skylight screenings, dance rehearsals or as a spill out space. As well as a bar area with glass frontage looking out over the canal. Just a short stroll from the hustle and bustle of Hackney Wick, the space has an indoor capacity of over 500, perfect for daytime and late night evening events, which we are all keen to see come to life post-COVID.
RESTAURANT SPACES:
As well as the Events Space, the project also has space for two new restaurants with outside space, and a fantastic tap room / bar with an impressive terraced area overlooking the River Lea and canal footpath.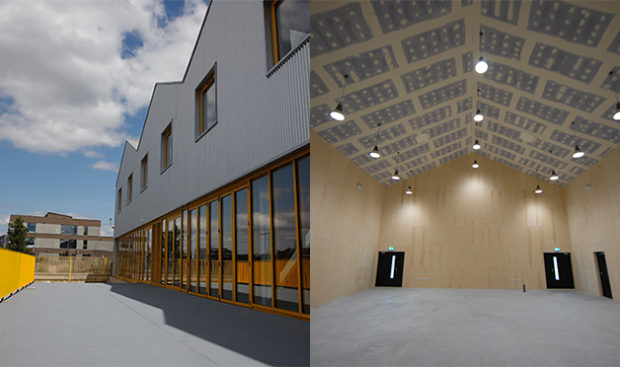 The Hackney Bridge team are now welcoming local businesses of all sizes to get in touch for more information on the last spaces available, to book COVID-safe tours of the project or to apply.
Contact joinus@hackneybridge.org for more information, visit the hackneybridge.org website or follow them on Instagram @hackney_bridge