Residents trapped in cladding limbo warn of 'harrowing' impact on mental health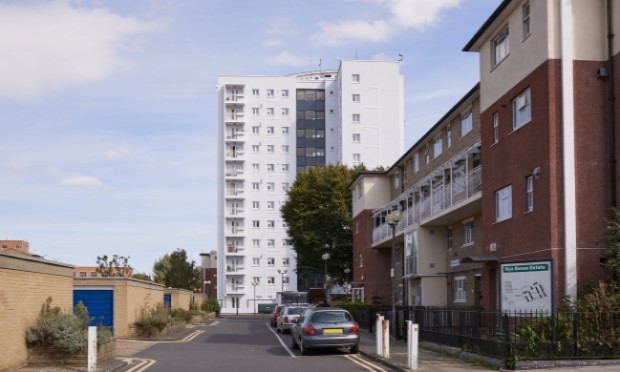 Hackney leaseholders trapped in unsellable flats as a result of the continuing crisis around unsafe cladding have spoken out over the impact of the situation on their mental health.
Reports have been gathering pace across the borough for months of the "distressing uncertainty" for leaseholders left on the hook for measures taken at their buildings after new fire safety guidelines were issued two years ago in the wake of the Grenfell Tower fire, with cladding on buildings taller than 18 metres needing to be investigated to ensure compliance.
Bureaucracy around EWS1 surveys costing tens of thousands of pounds, increasing costs for insurance or waking watches, and uncertainty around the fire safety of their homes are still weighing heavily on many leaseholders, with changes in regulations leaving many in properties valued at £0.
Millfield Estate Cladding Action Group's Helen Buckley, speaking for 70 Clapton leaseholders, said: "Our flats are under 18m so shouldn't be included in the EWS1 survey, but our insurance company are demanding it and no one has been able to sell or remortgage this year. A lot of us were planning on selling up this year and are now just stuck here in limbo. 
"We don't know what the results of our survey will be and what work will need to be done yet, but understandably we're all very worried as we see how much other leaseholders in similar situations are being charged. Our managing agent has said that the freeholder won't pay and legally it's our responsibility. 
"I lost my job because of Covid and have been job searching for six months. I can't afford any increase in service charge at all and any equity I have is tied up in my flat. It's a nightmare. It's such a struggle getting on the housing ladder in London and now I face losing everything. My partner and I really want to sell up and move but we're stuck here. It's like being prisoners. 
"I am in regular contact with a lot of leaseholders in our blocks and it's harrowing seeing how this situation is affecting everyone's mental health, especially during what has been an awful year for most." 
The government recently agreed with the Royal Institution of Chartered Surveyors (RICS) to exempt owners of flats in buildings without cladding from needing EWS1 forms to sell or re-mortgage their property, though End Our Cladding Scandal campaigners have said that such work would "clearly only deal with the effect of this scandal and not the cause". 
The Town Hall yesterday backed the End Our Cladding Scandal campaign, with councillors having warned for months of the distress being experienced by residents living with unsafe cladding, with the council itself moving to replace cladding at three towers at Lincoln Court and one each at Hugh Gaitskell House and the Nye Bevan estate, with works at Seaton Point still to come. 
While none of the blocks had Grenfell-style aluminium composite cladding or were deemed an immediate fire safety risk, the Town Hall's investment will bring the blocks into line with building regulations while not recharging leaseholders for any of the works. 
Housing lead Cllr Clayeon McKenzie said: "Fire safety has always been a priority for the council, but the tragic fire at Grenfell Tower in 2017 showed that we needed to do even more to ensure people in Hackney are safe in their homes. "The work at the Nye Bevan estate demonstrates that we're not just improving fire safety when required to do so, but going above and beyond by proactively investing in Hackney's homes and estates and reducing risks from fire as much as possible." 
The government provided a £1bn building safety fund in the March budget, though campaigners have pointed out that such a figure does not come close to addressing the scale of the problem, going on to hit out at the "illogical" decision to allocate the fund on a first-come-first-served basis. 
In a 20 November letter to Chancellor Rishi Sunak, campaigners added: "We bought our homes in good faith and the fire safety crisis has taken away any sense of security in our home; a sentiment that has only been multiplied during the coronavirus pandemic. 
"The clear conclusion of Dame Hackitt's review into building regulations [was] that the systemic failure created a cultural issue across the sector, described as a 'race to the bottom' caused either through ignorance, indifference, or because the system does not facilitate good practice. [The] government has accepted this conclusion yet continues to refuse to commit funding beyond a fraction of the true required costs to remediate. 
"For years, Conservative ministers repeated that leaseholders should be protected from costs and building owners and developers should 'do the right thing'. These welcome statements were never backed up by any legislation, and most private and social sector building owners have continued to pass costs onto leaseholders." 
Following the Chancellor's comprehensive spending review on 25 November, campaigners said they were "devastated" at the fact that the Chancellor did not address when funds would be made available for remedial works to remove unsafe cladding.
Cllr Sem Moema, mayoral adviser for private renting and housing affordability, said: "More than three years on from the Grenfell tragedy, residents should not still be facing a battle to ensure their homes are made safe, and leaseholders with no responsibility for decades of inadequate building regulations should not be bearing the brunt of the cost of this.
"We do not own any buildings with cladding that needs to be replaced due to changes in building regulations. However, we are investing in new external insulation on some of our older buildings to bring them up to the highest fire safety standards, even where there has been no significant fire safety risk or legal requirement to do so, without passing the cost of this to homeowners.
"But elsewhere in the borough we've seen too many people face astronomical bills for fire safety work, trapped in homes they cannot sell or remortgage, and raising serious issues about their safety where they live. The longer this goes on the more stress and uncertainty this scandal causes, which is why the government needs to take action now."