'Tremendous news': Unions celebrate as council parking services brought in-house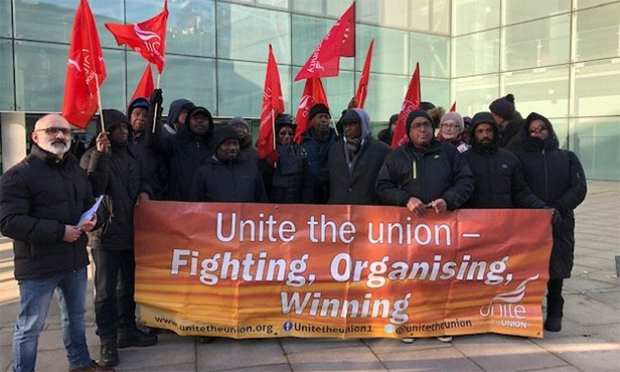 Trade unionists were celebrating today following Hackney Council's decision to bring its parking wardens in-house, ending a 16-year arrangement with private company APCOA.
Unite called directly on Hackney Mayor Philip Glanville to have the service run directly by the council earlier this year, after the borough's traffic wardens went on strike with calls for an increase in pay and reports of workers facing physical violence as a "regular occurrence".
The trade union has now called on other London boroughs to follow suit, with the Town Hall administration hoping that insourcing services will improve the work life balance of staff, deliver improved pay and conditions, and boost staff morale with opportunities for career progression and development.
Unite regional officer Onay Kasab said: "This is tremendous news. Unite has campaigned, lobbied and taken strike action to win exactly the points now agreed by Hackney Council. It has been a tough campaign, but it has resulted in a great win that should send a clear message to other councils in London that the days of the flawed outsourcing business model are numbered.
"Our convenor and the Unite members deserve huge credit for patiently, but determinedly continuing the fight until victory was achieved.
"Hackney Council is now signposting the way forward. It is time for other authorities to do the same. Bringing these services back in-house is cheaper, better and fairer."
The service will now come back under local authority control when the contract ends in March 2022.
Once this takes place, the service is set to adopt a "new approach" that will be demand-led, according to council documents, with streets complying with parking rules visited less often than those with very low compliance, which can expect to receive visits "multiple times a day".
While all existing job posts are protected under the plans, the new arrangements are expected to deliver savings as the performance payments required under the current contract will not be required, while APCOA's fleet of diesel and petrol vehicles is planned to go electric.
Transport chief Cllr Jon Burke said: "Building on Hackney Council's reputation for bringing services under full public ownership and control, we committed in our 2018 manifesto to reviewing all outsourced services with a view to bringing them in-house.
"I'm delighted to be overseeing the insourcing of parking enforcement – which plays a crucial role in ensuring adequate parking for local residents and safeguarding our borough from excess traffic and pollution – as the next step in our journey to ensure greater public ownership and control of local government services.
"By bringing parking enforcement in-house, officers who often live locally can look forward to increased opportunities for progression, which will help tackle inequality and support the local economy. We will be consulting with staff and trade unions on the changes from February next year."
An APCOA spokesperson said: "Hackney council's decision to insource car parking services supports its manifesto to review all outsourced services with a view to bringing them in-house.
"APCOA acknowledges the council's decision not to proceed with a tender process for a new parking enforcement contract but to instead set up an in-house provision of these services. APCOA has always supported the Council's sustainable procurement policy and will work together to ensure a smooth transition to the in-house operation on 31 March 2022.
"Other parking services have already been insourced to the Council in recent years and APCOA recognises this as the final stage in that process. The company would like to thank Hackney council and the trade union, Unite, for their support throughout the 16 year partnership.
"APCOA is the largest and most diverse parking management services provider in Europe, and the UK business will focus on continuing to provide all clients with outstanding levels of expertise, innovation and customer service."