Meet the Hackney resident fighting for indigenous rights in her native Bolivia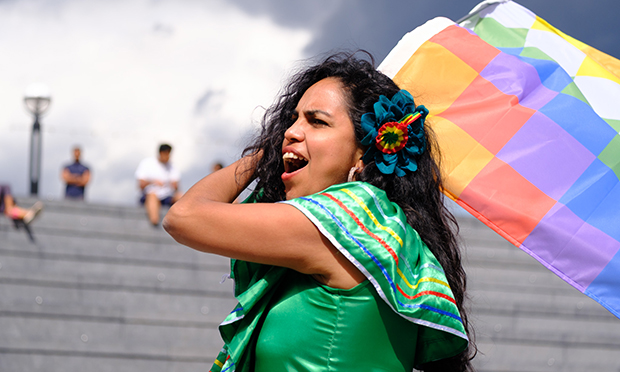 Hackney resident Claudia Turbet-Delof is a very busy woman, balancing indigenous and gender rights activism with being a counsellor and a trade unionist – not to mention that she's a mother.
All the more impressive is that Claudia has continued to fulfill all of these roles whilst our planet is enveloped in the throes of a global pandemic.
Although Claudia now proudly calls Hackney home, her formative years were spent in the Bolivian city of Santa Cruz de la Sierra, before she emigrated to London in search of better work and educational opportunities in her early twenties.
To many, the city of Santa Cruz, with its swaying palm trees lining the fading, sun-dappled colonial boulevards, might seem a world away from the concrete labyrinth of London.
For Claudia though, the systemic inequalities women and non-binary people face in both places have inspired her activism, and naturally bind together the different threads of her identity.
She tells the Citizen that while growing up in Bolivia, where a culture of machismo pervaded every aspect of life, the objectification of women's bodies in the public realm was so commonplace that during her childhood she became depressingly accustomed to the routine street harassment and sexual assault of women as they went about their day-to-day life.
Claudia recounts regularly witnessing men grabbing and molesting women with impunity. Often these women were too afraid to report these incidents to state bodies like the police for fear of reprisals, further entrenching their societal disadvantage.
Gender-based violence was not just confined to public spaces, with high rates of intimate partner and familial violence within home environments, as well as restrictive gender norms curtailing life opportunities.
Claudia feels particularly impassioned to take a stand against gender-based violence both in the UK and in Bolivia as a survivor of childhood sexual abuse herself.
Throughout the world, survivors of sexual violence face stigma and marginalisation within their own communities and in criminal justice systems when they do attempt to report crimes, which can result in internalised shame and self-recrimination, compounding their trauma.
By sharing her story and through her activism, Claudia wants to reject the script of shame that society imposes on survivors and contribute to the fight in eradicating gender-based violence.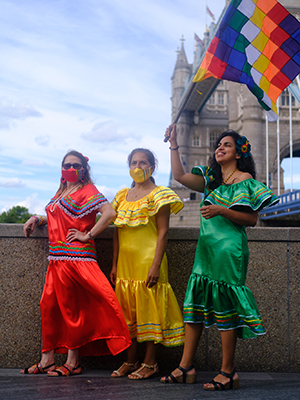 Her determination in confronting this critical issue has led to her becoming a registered counsellor since moving to the UK. She has also campaigned to increase Hackney residents' access to mental health services, whilst highlighting the fundamentality of cultural awareness to any therapeutic relationship for patients of colour.
The relics of Bolivia's colonial past are not just apparent in the architecture, the hegemony of Spanish over indigenous languages, and the DNA of the people, but also in social attitudes, where a de facto racial hierarchy still persists.
Claudia is of Spanish, Indigenous and African ancestry and her mixed race heritage has left her keenly aware of the intersection of race and gender discrimination in Bolivian society.
She explains that because the Afro Bolivian community is so small in relation to the overall population, they are particularly vulnerable to abuse. As a child, she often witnessed her black grandmother being racially abused with insults such as 'bin bag'.
Claudia adds that the racial hierarchy was a barrier to people mixing with others from different cultural backgrounds, resulting in her own grandmother and grandfather, who were of African and European heritage respectively, being prevented from marrying.
She feels the quality of life for indigenous people and Afro Bolivians has improved considerably in the last ten years, but says many still face far reduced life prospects than their European counterparts. They find it difficult to access education and professional jobs, she explains, which can trap them in a never-ending cycle of poverty.
Claudia says that dispossession from their ancestral lands and a lack of ownership also means indigenous communities face a precarious existence and rely on subsistence farming to survive.
A 2019 Amnesty International report highlighted found that the rights of indigenous people in Bolivia, including their entitlement to participate in decision-making on matters that affect those rights, continue to be threatened by the licensing of economic projects, such as oil concessions, on community lands without obtaining their free, prior and informed consent.
A Human Rights Watch report drew more attention to the reality that "women and girls in Bolivia remain at high risk of gender-based violence, despite a 2013 law that sets forth comprehensive measures to prevent and prosecute violence against women".
It adds: "The law created the crime of 'femicide' (the killing of a woman in certain circumstances, including of domestic violence) and called for the establishment of shelters for women as well as special prosecutors and courts for gender-based crimes. The National Police reported over 100 'femicides' in 2017."
Although the Catholic Church's influence in Bolivia has diminished significantly in the 21st century, its theology still holds considerable weight, playing out in the country's health policies and laws.
Human Rights Watch found that currently, "women and girls face numerous obstacles to accessing sexual and reproductive health services, including contraceptives".
Claudia told the Citizen that increasing frustrations about racism and gender inequality have sparked a rise in activism and protests both inside Bolivia's borders and among its diaspora community.
But she adds that, along with many of her friends from the Afro Bolivian and indigenous community, she is experiencing a newfound hope of finally gaining parity following the election of socialist candidate Luis Arce on 19 October.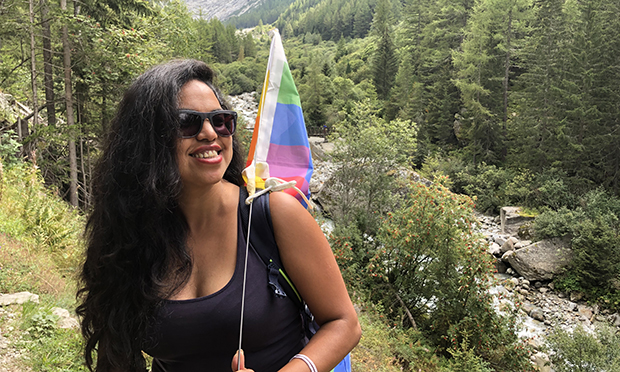 Claudia is also resolute that indigenous and Afro Bolivian women and non-binary people should not be viewed through Western eyes as oppressed victims without agency.
She instead says they must be seen as survivors and activists who are using protests as spaces to assert their rights to equal opportunities and to forge transnational solidarity with other gender rights and LGBTQ+ movements across the planet.
Since moving to the UK, Claudia has noticed many parallels between the plight of women and non-binary people in London and those in Bolivia.
These similarities have solidified in her mind that disrupting patriarchal systems of oppression has to occur on a global level, not just by activists in different countries organising in silos.
When Claudia first arrived in the UK, a lack of access to formal education in Bolivia as a mixed race woman meant that the only employment available to her was as a cleaner.
She says the immigration system in the UK makes it very difficult for South American migrants to obtain permanent status, pushing many into precarious work with unsociable hours.
Much of her cleaning work required constant travelling, wasting valuable time and money going between different shifts. This not only made it hard for her to study but also to save money.
She believes South American migrants' unstable immigration status in the UK can leave them trapped in insecure work, with many left feeling invisible, socially excluded and devoid of meaningful support networks.
It is more than fifteen years since Claudia arrived in London, and while she now works as a trained counsellor, her experiences have impelled her to dedicate her life to amplifying the voices of South American migrant communities in the UK and indigenous communities back in Bolivia.
She now organises with United Voices of the World (UVW), a grassroots, members-led union specifically for migrants and those employed in precarious roles. The overwhelming majority of members are women of colour.
UVW recently ran the NHS's longest strike action at St Mary's Hospital for cleaners who faced similar challenges to outsourced workers at Homerton Hospital.
The campaign was successful and resulted in their story being featured in a Guardian film over the summer.
Claudia is very proud of the result and feels it is a prime example of what communities can achieve by working together.
She adds that "coronavirus is bringing to light the inhumane, unjust and unfair systems of oppression towards people of colour", and that throughout the world, "our communities are suffering".
Ultimately, whether we fall asleep under the wintry, overcast skies of northern Europe or the humid, balmy canopies of South America, women and non-binary people's life chances continue to be circumscribed by the same patriarchal structures of oppression.
Claudia's final words to the Citizen are that movements for equality are interlinked, and she believes the only real route to promoting gender equity is through people all over the world uniting in shared struggle.