Youngsters from Hackney Quest help artist build sculpture made entirely of waste materials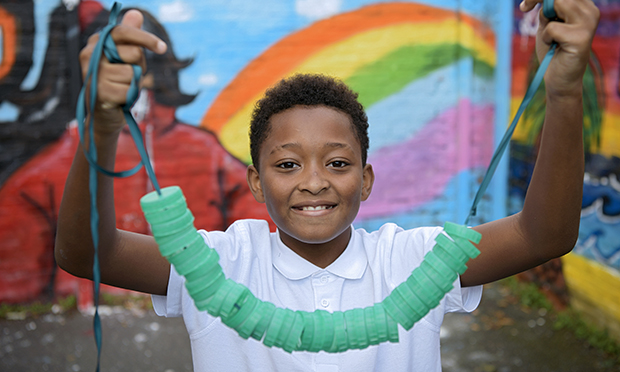 A group of children from local youth charity Hackney Quest have helped to raise awareness of pollution in the textile industry by helping an artist create a new installation made only from waste materials.
The youngsters, aged between eight and 11, collaborated with artist and educator Helena Doyle to build a sculpture for London Craft Week earlier this month.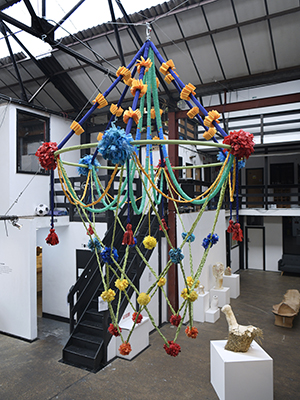 The piece, called Pająki Quest and inspired by Polish chandeliers traditionally made from paper and other natural materials, features an old trampoline, cardboard tubes, bottle tops, scrap textiles and various kinds of plastic waste.
Doyle said: "I think it's really important to teach [the children] to question the materials we use everyday, to ask what they're made from and where they go when we throw them away.
"This creative reuse project allowed the children to explore different materials, learn new skills and create value from materials that otherwise would have ended up in landfill."
Doyle's art stems from a desire to create 'real time' immersive experiences, and she believes multi-sensory work makes contemporary art more inclusive and more reflective of life.
The artist hosted workshops with the children in which they learned to make pom poms, tassels, giant plaits and garlands using non-recycable materials. These are all part of the final artwork.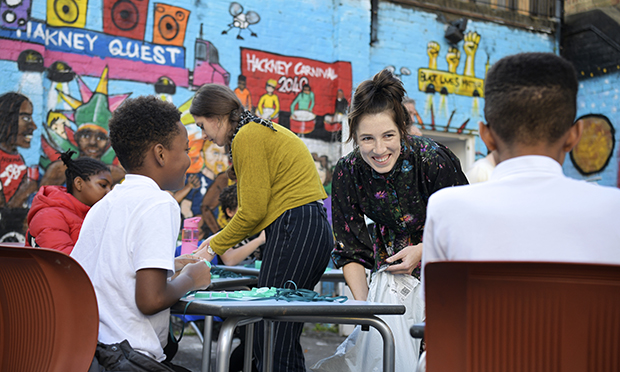 The project, produced by Hackney Arts and funded by the Hackney Wick and Fish Island Creative Enterprise Zone and the Mayor of London, aims to shine a light on the quality of materials that go to waste every day in the UK from the textile industry and as single use items.
Hackney Arts works with local community organisations to deliver creative projects and workshops, focusing on therapeutic and personal development opportunities that come from working with artists and having access to the arts.
Hackney Quest was founded in 1988 with a mission to provide positive experiences for local youngsters which help them to reach their potential.
Find out more about the charity's work at hackneyquest.org.uk