Alice in Hackneyland goes west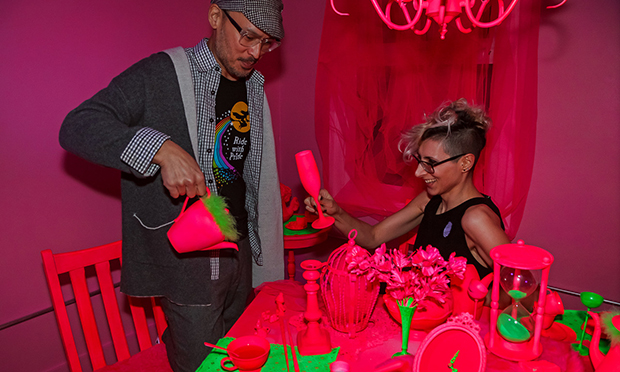 Orleans House was built on the bank of the River Thames in Twickenham in the early 18th century as an opulent pad for retiring politician and diplomat James Johnston.
However, it takes its name from Louis-Philippe I, Duc d'Orleans, who clearly made an impression during a brief two-year stay just over a century later, part of a long period in exile before he became the last French king.
Sadly, the house later fell into disrepair, and was demolished in 1926, apart from some outbuildings and one very special, octagonal room, added to the property in 1720 for Johnston to entertain his friend, George II's Queen Consort, Caroline.
It is this Grade I-listed Octagon Room and its 300-year history that Orleans House Gallery, which opened on the site in 1972, has asked an art collective from Hackney to celebrate – and celebrate it they will.
Alice in Hackneyland, a group of artists based in and around the borough, could be seen as a somewhat left-field choice for this project. Formed only last year, the collective has quickly made a name for itself with immersive, illusory installations that are underpinned by one thing – fun.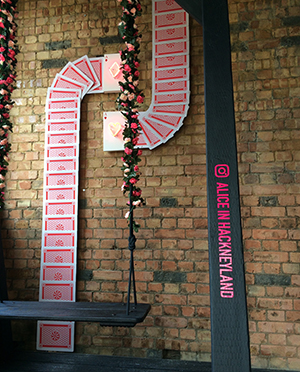 This is evident in the Giant Swing they made for a cafe on Hackney Road, and the two rooms they filled with objets d'art and interactive experiences for their Sensorium exhibition on Cambridge Heath Road – unfortunately cut short by the pandemic just two weeks into a year-long residency.
It is this colour and exuberance that appealed to Orleans House Gallery, which tasked the collective with bringing its contemporary flair in to a deeply traditional setting.
Jonathan Roson, who founded Alice in Hackneyland with his partner Yuliya after they were inspired by watching their three-year-old daughter explore the world, told the Citizen what the plan is for Octagon 300, which starts on 13 October and runs until March next year.
"There are two installations," he said. "One is called The Fluorescent Banquet. Originally we had planned for visitors to sit down at the chairs and engage with the fluro objects through sense of touch, but this is no longer possible due to Covid." It is still a sight to behold.
He continues: "The second installation, Play with Baroque, is an Ames room that uses forced perspective to create an illusion of shrinking and growing in size, which really resonates with the Alice in Wonderland theme. This part of the exhibition is still interactive as visitors are able to walk inside the room, as long as they maintain two-metre distances."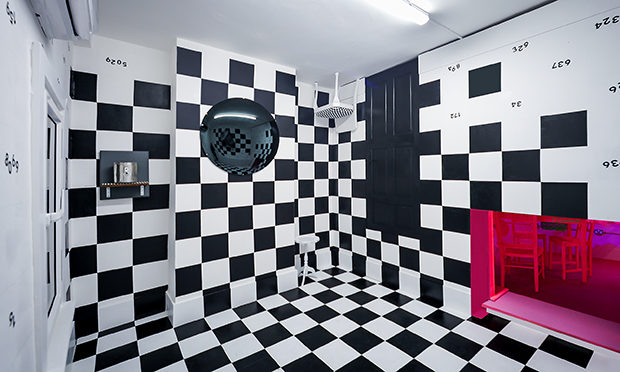 Putting on the exhibition, the launch of which had been postponed three times, has been no small feat.
The lockdown, Jonathan says, made it "difficult to source materials, and everything was a bit slower than usual".
The group also had to worry about the practicalities of transporting the delicate structures all the way across London from their Hackney Wick studio.
Luckily, Jonathan has experience in transporting artworks and installations for exhibitions. But he adds: "This is the first and largest set of installations that the collective is delivering outside of Hackney, and it is presenting its challenges."
More than anything though, after a year of planning and some rough luck with the previous exhibition, he is relieved that Octagon 300 is finally ready.
"We are happy the exhibition is going ahead, and the gallery has in place track-and-trace, limited entry, a one-way system and specialist training for staff."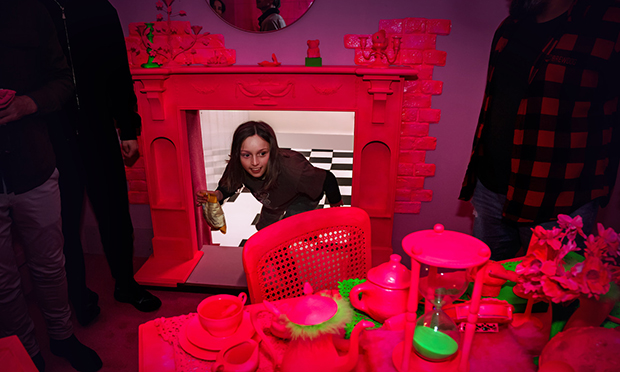 Asked what people can expect, Jonathan says: "They will be blown away visually by the explosion of colour – and experience mind-boggling optical illusions.
"There will also be a traditional aspect to the exhibition, where we have carefully selected works from the Borough of Richmond collection and put them on display to complement the exhibition."
For those in Hackney unable to make the trip across the capital, and who may have missed a preview of the show in Hackney Wick earlier this year, Jonathan is hopeful there will be another chance to see it.
"We would love for the Hackney community to experience this. We're open to alternative venues," he says.
Fingers crossed that something comes to fruition, but in the meantime, local residents can get a taste of Alice in Hackneyland's work by visiting the aforementioned Giant Swing at Hackney Funhouse, or by checking out its two small installations, Infinity Doors, at Deviant & Dandy Brewery.
Octagon 300 runs from 13 October until 21 March 2021 at Orleans House Gallery, Orleans Road, Twickenham, TW1 3BL.
For more information, visit orleanshousegallery.org
Alice in Hackneyland will soon have a website up and running at aliceinhackneyland.com, and you can find more of their work on their Instagram feed