Hackney libraries celebrate World Afro Day for the first time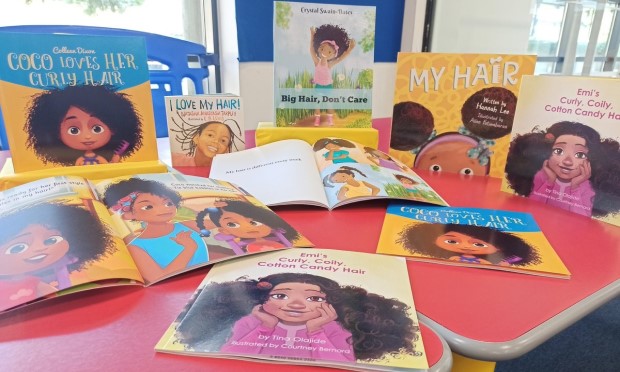 Hackney Council has introduced a range of books to libraries across the borough to celebrate World Afro Day for the first time.
The books, including Hair Love by Matthew Cherry, Daddy Do My Hair by Tola Okogwu, My Hair by Hannah Lee, Happy to be Nappy by bell hooks, I Love My Hair by Natasha Tarpley and Hair Like Mine by Latashia M. Perry, are part of a drive to empower people with Afro hair and raise awareness in wider society.
World Afro Day was founded by Michelle De Leon, with its date 15 September commemorating the day in 2016 when Alabama passed a law allowing companies to deny jobs to people with dreadlocks.
De Leon said: "2020 has been a global cry from Black people for freedom and equality.
"Something as natural and normal as our Afro hairstyles have been a struggle for centuries. 95 per cent of people with Afro hair in the UK, want policies that punish our children to be removed from schools.
"The time for action is now!"
Local campaigner Ruby Williams was named as a judge back in May for for the Top Ten Model Competition's celebration of World Afro Day. Williams made national headlines and sparked wide-ranging debate after she was sent home by her school because of the length of her hair.
The Williams family continue to campaign for a change in the law in a bid to end "society's obsession with policing black hair" and put the way hair is worn on a statutory footing.
Ruby now volunteers as a Youth Champion for World Afro Day, having also been helping the council to develop new guidance for schools in Hackney to tackle Afro hair discrimination.
Williams said: "I've been chosen as a judge because of the positive relationship I have with my hair now, despite always constantly straightening it when I was younger, and the situation that happened when I was sent home from school because of the size of my hair.
"Now I've got a really positive relationship with my hair, I would like to celebrate it, and I want other young people to be able to do that through this competition."
World Afro Day will now be campaigning over the next 30 days calling on schools and headteachers to comply with the Equality Act and eradicate Afro hair discrimination.
According to research supported by De Montfort University, one in six children with Afro hair have a bad experience in UK schools, with De Leon and others now calling for "equal respect" for children's appearance according to all protected characteristics, and for its 2019 Hair Equality Report to be acted upon.
The new books are a continuation of council attempts to celebrate the significance of Afro hair and cultural identity, with its Hackney's Got Style exhibition on the influence of African and Caribbean hair and fashion attracting record numbers of visitors, and its education department now looking into school uniform policies "to ensure cultural appreciation was welcomed rather than rebuked".
Cllr Carole Williams, council lead for equalities, said: "Embracing World Afro Day complements our legacy of celebrating all identities and how we welcome the self-expression of our large Black community.
"Afro hair has deep, historical roots in the cultural expression of many Black identities.
"By providing context via our learning resources we hope to highlight the importance of celebrating that fact."
You can loan the books through Hackney Libraries, which are now operating an order and collect service while the buildings remain closed by Covid restrictions. Clapton, Dalston CLR James, Homerton, Shoreditch, Stamford Hill and Stoke Newington libraries will be open from 11am to 4pm, Tuesday to Friday and 11am to 5pm on Saturday, for you to collect books and other items. You can phone your nearest library, 11am to 4pm, or email your request to libraries@hackney.gov.uk.
World Afro Day takes place online on 15 September from 6pm until 9pm, at www.worldafroday.com/events.