Town Hall moves to save historic Millfields Disinfecting Station from ruin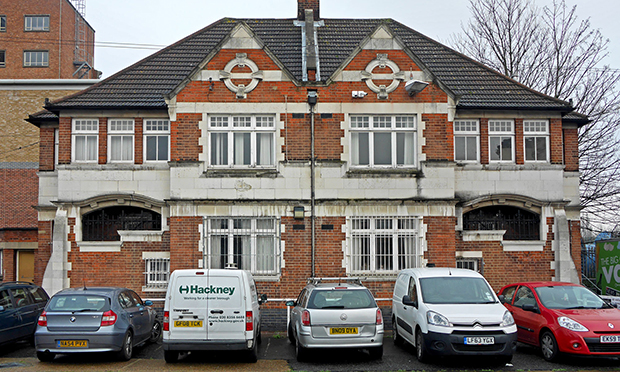 The Town Hall is attempting to save the at-risk Grade II-listed Disinfecting Station on Millfields Road from ruin with a mothball programme to prevent the building sliding into further disrepair.
The station dates back to the formation of Hackney Council in 1900, when it was built to deal with infectious disease, but despite planning permission being granted in 2007 to develop it into a waste transfer station, its buildings have fallen into disrepair since it was last used in the 1980s.
According to conservation and design officer Tim Walder, who gave councillors an authoritative run-down of the station's history last week, the Town Hall now aims to prop the building up and prevent its condition becoming any worse while options are explored to bring it back into use.
Walder said: "If you had an outbreak of infectious disease in your house, you would be taken here and stay overnight in one of four one-bedroom flats while you were being cleaned up and your clothing and furniture.
"You would have had all your clothing and soft furnishings steam-treated with formaldehyde while you took a bath with chemical soap to get rid of the possibility of things like whooping cough, diphtheria, scarlet fever or other infectious diseases.
"It's been a disused building for about forty years, so it's not in the best shape. This will be stage 1 of a programme to get it off the heritage at-risk register, and to bring this potentially useful piece of land and building back into council use."
The conservation officer added that the building is currently "a bit of a nightmare", having contained large quantities of asbestos and with parts of it collapsing.
Works recently took place to allow people to safely enter parts of it to explore options for the building's salvation, the history of which has shifted down the years.
According to Walder, in the 1930s the emphasis for the station changed from infection disease to 'deinfestation' as slum clearance programmes took place, with the council trying to prevent bedbugs being transported in people's furniture or on their person.
The building was updated in the same period to be used by lorries rather than horses and carts, and was used during the Second World War to deal with outbreaks of scabies, which spread among populations packed tightly together in air raid shelters.
After the war, the station focused on disinfecting second-hand clothing which the people of Hackney sent to Germans living in poverty, with Walder revealing that 400,000 items were sent by the borough to Germany and Italy.
It was subsequently used by environmental health teams to dispose of infected milk or contaminated meat, and towards the end of its working life it was mainly used by the council's waste department for storage. The last use of the building was in 1984 to treat children with headlice.
The station has been on the heritage at-risk register ever since it was listed in the 1990s "due to its poor deteriorating condition", according to Historic England.
The Town Hall will now mothball it over the next five years, clearing rubbish, dealing with large holes in roof, fixing gutters to weather-proof it, removing lean-tos at the front that have fallen down, propping up the building to allow it to structurally stand up and board up the windows to protect it from fire and animals.
These works will be funded by the council, but it is understood the Town Hall is exploring external funding options.
Cllr Clare Potter said: "I was very fortunate to have the opportuntiy to go and see this building when I was heritage champion, and I'm very pleased that these works are being proposed."
Cllr Susan Fajana-Thomas added: "I would like to see us working as a council to explore the possibility of applying for the National Lottery Heritage Fund to bring this building and take it out of the risk register in the near future."
A submission from Historic England said: "[We are] supportive of these works, which will effectively mothball the building until a suitable long term use is found and the site is redeveloped.
We note that there is no future strategy for the site at present, and given these works will only provide temporary protection for up to five years, it is vital that [the council] considers the future development of the site as a whole."