Hoxton to get over 100 new homes as part of council housing supply programme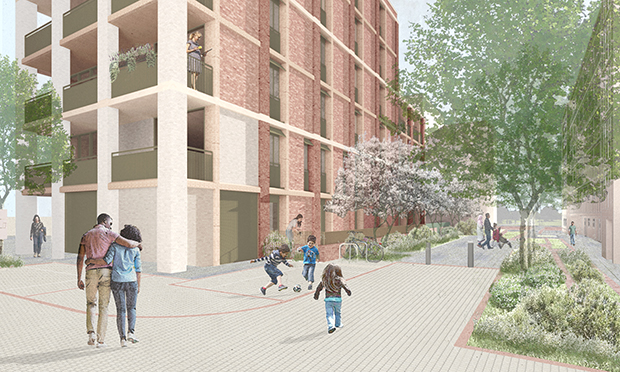 Councillors have praised plans to build over 100 new homes on the site of derelict garages and car parks in Hoxton as part of the Town Hall's housing supply programme.
At least half of the council's nine-year old programme to deliver around 700 new homes as part of 16 different projects will be built for social rent and shared ownership on its under-utilised sites, funded by those destined for market sale.
In schemes approved last week, Wimbourne Street on the Wenlock Barn estate will have 59 new homes, while the Town Hall will move to demolish 54 garages on Buckland Street on St John's estate to build 54 new properties, with those families in greatest need on both estates able to move into new homes without leaving their communities.
At the time of the planning applications being made, there were 188 households looking for a new home on Wenlock Barn estate, with 25 in the urgent band. On St. John's estate, 49 households were in housing need, of which four would be in the urgent band.
Deputy Mayor Cllr Rebecca Rennison, cabinet member for finance, housing needs and supply, said: "Hackney is building. With more than 13,000 families on our waiting list, it's essential we do everything we can to build new homes ourselves – maximising the amount of genuinely affordable council homes despite a lack of government funding.
"These plans have been shaped by local people – who will also be the first to benefit from these desperately needed homes.
"Coronavirus has shown the importance of a modern, high-quality place to call home, and I'm proud that these new properties in Hoxton will help more residents into good secure housing with vital outdoor space."
On Wimbourne Street, 37 per cent of the homes to be built will be offered at social rent, with 19 per cent on shared ownership schemes; 44 per cent will be sold at market rates. Buckland will see a mix of 41 per cent socially rented homes and 26 per cent shared ownership, with 33 per cent for sale on the market.
When quizzed by councillors on whether more affordable homes could have been provided at Wimbourne Street, HSP head Chris Trowell insisted that the council was "pushing the viability [of schemes] as far as possible to maximise the amount of affordable housing we are delivering", while warning of tough times ahead.
Trowell said: "The HSP's priority is to deliver affordable housing. In the absence of meaningful levels of subsidy from government, that has to be paid for through a cross-subsidy model. We only build enough homes for sale to pay for the affordable ones we set out to deliver.
"The council runs a portfolio approach to financial viability, so that a project which generates a surplus will be used to pay for a project that has a subsidy requirement. Overall, the HSP sets out to deliver 70 per cent affordable housing. For planning purposes, we have committed to a policy-compliant 50 per cent level.
"We are slightly ahead of that target at the moment, but times are going to get tougher in the development market, and uncertainty around construction costs and house sale prices means we are currently sitting at a break-even position on viability, so any requirement to increase the amount of affordable housing [at Wimbourne Street] would have to be paid for by a reduction in affordable housing on another project further down the line."
It was revealed back in January that delivery of affordable housing through the HSP was becoming harder, with Trowell saying at the time that an uncertain market spooked by Brexit pushing labour and material costs up, as well as a strong London market allowing builders to "pick and choose" which projects to take on, was resulting in price increases on smaller schemes.
More than 1,000 homes have already been completed since the HSP began in 2011, with over half for social rent, living rent or shared ownership.
A third project is also in the pipeline at Hoxton's Murray Grove, with all three schemes set to build 186 new homes for the area with 60 per cent of them for social rent or shared ownership.
Referring to the Buckland Road development, planning committee chair Cllr Vincent Stops said: "It's remarkable. Many, many years we have been looking for this. Fifty-four garages are being replaced by 54 homes.
"It's an amazing coincidence, really, and something we should take note of, and recognise that wow, you can get a whole home out of a garage if you work very hard, and indeed improve the rest of the area."
For more information on the council's house-building programme, visit hackney.gov.uk/building