Sistah Space 'between rock and hard place' as campaigners vow to fight on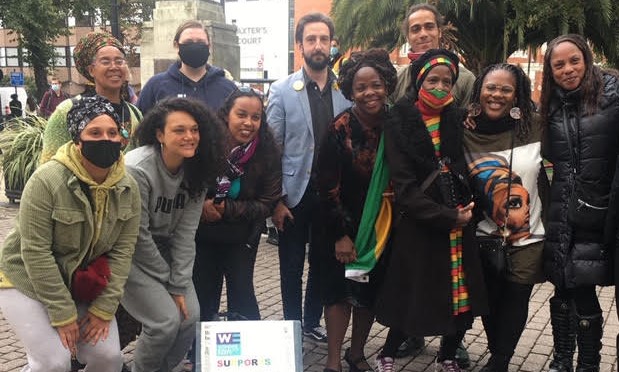 Specialist domestic violence charity Sistah Space says it has been left "between a rock and a hard place" after it was asked to leave its premises by Hackney Council.
The long-running dispute between the charity and the council has seen hundreds of protesters fill the Town Hall square demanding that the organisation be allowed to stay in its current site, rather than return to its former shopfront, which Sistah Space say is unsafe.
Now the charity, having been denied access to its most recent premises yesterday after being told to vacate by the Town Hall, which maintains that the arrangement was only temporary, says they are working out of a single donated room and hastily purchasing office supplies, unable to immediately access all-important documents relating to those they work to help.
Sistah Space founder Ngozi Fulani said: "We are between a rock and a hard place. We've tried to let the council know the urgency of us being able to get back into our place immediately. Given how many women are assaulted per day, and because of Covid it has gone up, every single hour we are locked out of that building, you would have to be an idiot not to understand what locking us out does.
"We've got two cases on the go right now that we should be preparing for that should be going to court soon. We can't access the information there."
She added: "As far as we're concerned we are legal tenants in that building. We have not committed any offence, and they have no right. We do not see their eviction notice as valid."
Sistah Space, the only specialist organisation in London which specifically supports women and girls of African and Caribbean heritage affected by domestic violence, providing advocacy, advice and education, were told yesterday that they would not be let back into the building where they have been working by the council.
The charity has been in conflict with the Town Hall over a return to its former shopfront site from its current temporary premises, which include a lift directly to the floor occupied by the group, safeguarded with a code, and a 24-hour security guard provided by the council.
Sistah Space has maintained since the dispute began that its former site is unsuitable and unsafe as well as voicing concerns about moving during the pandemic, though the council maintains that it has been "open and frank" that the arrangement with Sistah Space was temporary and would see the charity return once refurbishments were completed.
As an example of how the circumstances affect the charity's work, Fulani says that she had been attempting to speak on the phone to the relative of someone who is at risk while remonstrating with security guards, but was cut off.
Fulani added: "That situation will stay with me always, because I do not know how that situation ended.
"I do not know how to get in touch with them, and this is precisely what I was afraid of.
"We have no internet in this room, which has been kindly gifted to us. Today I had to go to Argos. I bought a printer and a microwave. Somebody has donated a kettle, others have donated chairs and tables.
"We have made it clear, we cannot go back to [our old] space – it is dangerous. The council have not been listening. When you write to the MPs, the councillors, Hackney Council will give them the spiel and they will accept it."
The charity says it is struggling with how to reclaim not only sensitive documents from its former site, but spare underclothes, sanitation and personal items for service users, as well as emergency food supplies which it had been delivering to the community.
It is understood that Sistah Space and the cross-party campaign of the Liberal Democrats, the Greens and the Women's Equality Party are now exploring legal options to invalidate the notice to vacate from the council, to allow the charity to return to a site which it says is more secure.
The Save Sistah Space campaign is supporting the charity in its calls to be recognised as tenants of the building rather than temporary licensees, with Sistah Space hoping that if the challenge succeeds, it would be able to return.
A spokesperson for the campaign said: "The developments over the last few days have been completely disgraceful. Despite Sistah Space's and our campaign appealing for the Mayor to do the right thing, we have been met with silence, and Sistah Space has now been locked out of its premises – the safe place it should be allowed to serve survivors from.
"On Monday the Hackney community came together again to demand the eviction be stopped. But on Tuesday Sistah Space were met with intimidating Hackney Council security and now has been locked out of its premises entirely.
"Its property – including some which it needs to do its work supporting survivors – is locked inside. They can't gain access and the council has effectively stopped Sistah Space from being able to support women who need to access its service."
The council wrote to a number of people on social media yesterday, confirming that: "All of Sistah Space's possessions remain in the building and are safe and secure. On 11 August, we asked Sistah Space to ensure all possessions were removed by 1 September, and offered to help relocate them. We received no response to this offer – which still stands."
The charity see this message as "blackmail", according to Fulani, leading campaigners to also criticise the Town Hall for apparently leaving Sistah Space unable to access belongings except as part of a return to its former site.
A Town Hall spokesperson has since confirmed that this relocation offer is not contingent on Sistah Space moving back to its former address, but that it told the charity that it is free to provide any address, with the council willing to take up all belongings and move them to a place of Sistah Space's choosing, though members of the charity are still refused entry to the building.
A Hackney Council spokesperson said: "Sistah Space was asked to leave their temporary premises by midday on 1 September after its temporary license to use the space came to an end. This was a last resort following six months of attempts to better understand Sistah Space's concerns and offers of further improvements to its existing premises in Clapton.
"Sistah Space had agreed that its stay in shared workspace in Mare Street would be temporary while we refurbished its premises in Clapton at its request – with significant investment to improve security and provide new emergency escape routes, completed to an agreed specification with the charity.
"We are disappointed that after requesting and agreeing to this work, Sistah Space has now decided not to move back into the building, which was let at a low-cost subsidised rent of £1,600 per year.
"This building remains on offer to the charity, along with our offer of further improvements if necessary.
"If Sistah Space require a file urgently over the next few days, we'd ask it to get in touch with us and we'll do what we can to assist."
The Save Sistah Space campaign also hit out directly at Hackney Mayor Philip Glanville today, with the charity's experience during the dispute, including being denied access to the premises, as well as the council's statements on social media, leading campaigners to characterise Glanville's behaviour as "aggressive and dismissive".
The charity's supporters went on to criticise the borough leader for not cooperating with campaigners and "refusing to listen to Sistah Space, to us [and] to the Hackney community", adding: "He should be ashamed of himself."
It was reported in August that a formal complaint had been lodged against Mayor Glanville by Sistah Space, backed by the campaign, and it is understood that the charity will be submitting evidence as part of the complaints process once it has taken advice to do so.
Mayor Glanville said: "Since Sistah Space raised issues with myself and the council about moving to their newly renovated former premises in Clapton earlier in the year, cabinet colleagues and I have sought to listen, and work on their behalf, to ensure the move is conducted safely and securely, and in the meantime extend their tenancy of the Mare Street property the council had sourced for them.
"The Clapton property was refurbished by the council to a specification agreed with Sistah Space, with the current temporary arrangement explicitly agreed at the outset as being for a very short period to ensure continuity of their services while those works were carried out. It was subsequently extended during the current crisis.
"I will happily defend myself against the unsubstantiated and politically motivated attacks from the Greens, Lib Dems and Women's Equality Party.
"It is absolutely right also that I and the council have consistently set out the facts surrounding this issue, and all such statements of fact, whether on social media or in letters and emails, were made in direct response to statements put to us.
"It is these political opponents who should be ashamed of themselves – relentlessly taking advantage of a sensitive situation for political gain."