Public notice, exhibition review: 'Impressive collection in the warp and weft of our everyday lives'
With many galleries still shuttered, the strain of the pandemic weighs heavily on the local art scene.
Now Kira Wainstein and Holly Pollard have invented a fresh new way to bring art to people via the ready-made display vehicle of the shop window.
Public notice is an exhibition intended to make us "stop and notice" art as part of our everyday lives, and also to highlight the importance of independent businesses to identity in East London.
The work of 18 emerging artists adorns windows of trendy shops such as designer store Nordic Poetry and furniture makers Kent & London, as well as long-standing local enterprises including Newmans Stationery, established over 50 years ago by Tanzanian owners; Eastern European grocery store Mama Nasha; and Epra Fabrics, the last Jewish-owned business on Brick Lane.
The locations are for the most part concentrated in the wedge formed by Cambridge Heath, Bethnal Green and Hackney Roads and Shoreditch High Street, making for accessible viewing. Maps are conveniently provided in most participating shops.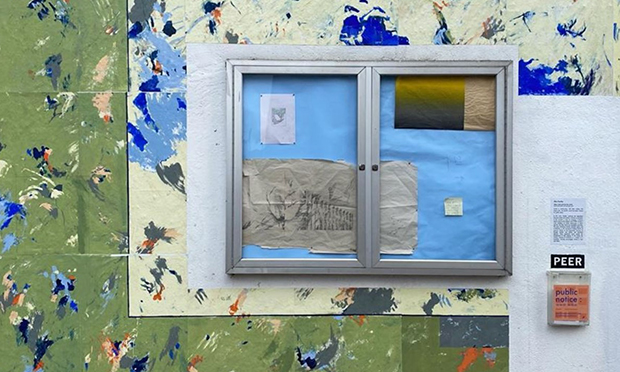 Media chosen by the artists include painting, printing, photography textiles and sculpture.
In a nod to East London's long tradition of manufacturing, many of the works share a concern with the physical process of producing art.
Isobel Napier's ethereal hung works cut out of paper shimmer behind the glass; Kath Lovett has fashioned delicately wrought textiles out of wet wipes and natural plant dye, while Andrea Wright's latex pots drip with coloured paint.
Some of the work also draws on East London's traditional multiculturalism, exploring identity and place, as with Peter Spanjer's abstract meditations on sexuality and ethnicity, and Januario Jano's photographic exploration of historical narratives.
A vibrant, large-format guerrilla art poster on a Hackney Road bus stop asks 'Is the weather going to stay the same?'. The artist is anonymous, but the sentiment is shared – uncertainty combined with physical rootedness in the material world. This is something you hear at the bus stop, but it also might be seen as an emblematic formulation of our current predicament.
This impressive collection of work does a lovely job of trailing reflection on our situation into the warp and weft of the everyday.
Public notice: an exhibition, curated by Kira Wainstein and Holly Pollard, runs until 30 August at various East London locations: Grace & Thorn, PEER Gallery, Kent & London, Nordic Poetry, Hereafter Vintage, Flashback Records, The Common E2, Bridges & Brows, Epra Fabrics, Hackney Cycles, The BRIGHT Store, Mama Nasha, Newmans Stationery, Four Store, Girls Nail Den, Watermans Cleaning & Hygiene Supplies, Underleaf, and Frame Land
instagram.com/publicnoticeexhibition