Stamford Hill locals fear loss of parking controls could see 'return to Wild West'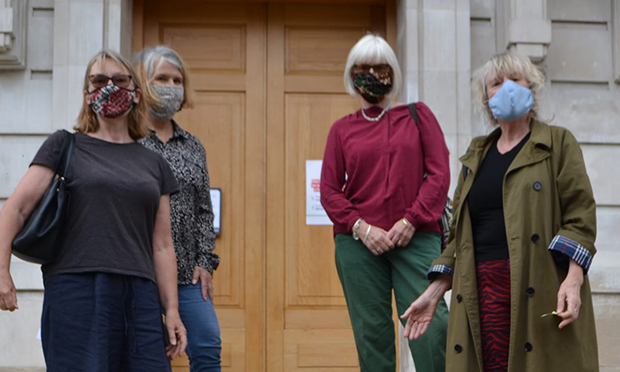 Residents in the north of the borough are seeking a compromise from Hackney Council over a potential rollback of parking controls which they fear could see their streets become less safe and more polluted.
Campaigners handed in letters to the Town Hall today following a recommendation that controlled parking in Stamford Hill's Zone T, introduced to improve conditions for residents, should change from 8am to 6.30pm from Monday to Saturday to 10am to 12pm from Monday to Friday.
The letters warn that reducing the number of hours for parking restrictions in the area to 10am-12pm will drive up the number of vehicle journeys, air pollution, safety risks for children and families, congestion, and parking on double yellow lines.
One resident said: "Before the controlled parking zone (CPZ), the streets were like the Wild West, really. I could see the area being transformed.
"All summer we could see kids of all communities playing in the streets, and it was lovely.
"We need to reclaim and keep the streets for children, all of whom need to live in an area which is unpolluted as it can be. Most local authorities are going towards cleaner air, and this is regressive.
"We don't know why the council is accepting this consultation response when in the rest of Hackney they have such a strong green policy."
CPZs see parking bays allocated to specific residents, businesses or their visitors, with every vehicle needing to display the right permit or voucher for their zone. Outside the hours, no permit is required.
Campaigners have urged the council pursue a compromise which they claim respects all residents including all faith groups, with controlled parking introduced from Monday to Thursday from 8.30am until 6.30pm and on Fridays from 8.30am until 12pm.
The recommendation to roll back hours follows the suspension of parking restrictions on the Jewish sabbath in parts of Stamford Hill after the council settled a legal case against it over the policies enforced in the zone.
Conservative councillor Simche Steinberger at the time said the restrictions "amounted to indirect discrimination" against the Orthodox Jewish community, who are unable to buy parking permits or move their vehicles during the sabbath and other festivals, with local solicitor Bill Parry-Davies saying there was "little evidence" that the impact on the community had been considered, though this was refuted by the council.
The council has made clear that this latest review consultation was not related to the legal case, having already committed to it in July 2019.
Local resident Darren Martin, who in a separate capacity is vice chair of Hackney Liberal Democrats, said: "The roads are very tight in this part of Hackney, and we've got something that works currently and are being told we're going back to two hours of parking restrictions a day.
"Everyone's very confused about that, because it goes completely against the greener direction of travel of the council, who have done a lot of great work in the rest of the borough in terms of closing roads off, school streets.
"Transport lead Cllr Jon Burke has said that consultations are not referendums, but for some reason here it is. Although our councillors are supportive in the area, we were told that we need to get more submissions in order to stop it being overturned."
The change in hours is based on a consultation that received a response rate of 40 per cent, with 2,685 people writing back, which, according to a council report, is "significantly above the average response rate" for a review of its type, which would usually be as low as a five per cent.
Sixty-four per cent of respondents favoured the changes to 10am until 12pm.
However, campaigners are now saying that it was not made clear to all residents that everyone in a household, including children, could submit a response, resulting in an unequal representation of the area, and say their suggested compromise could be suitable for all.
Writing on social media back in July, Cllr Jon Burke said: "Hackney has a statutory process for reviewing controlled parking zones and, unfortunately, the overwhelming majority of responses to the post-implementation consultation favoured 10am to 12pm. I disagree, but not enough of those now complaining responded to the consultation.
"I have every confidence that, given parking problems in the area, we'll end up having to reassess parking stress and re-consult on hours of operation at some point in the future, and I would encourage you and your neighbours to fully engage."
A Hackney Council spokesperson said: "Zone T was originally implemented with the same hours as its neighbouring zone, which is standard practice before a review takes place. The review consultation identified majority support for reduced hours, aimed at preventing parking by commuters. The response rate was typical for zones in the north of the borough.
"Statutory consultation on these proposed new hours has now been completed, and we will respond to those who have raised objections. As with all parking zones, we will continue to monitor parking in the area and propose changes if necessary.
"The review consultation was not related to the judicial review. The Council committed to a review of the parking restrictions and operational hours of the whole of Zone T when it extended parking controls to the Zone T3 displacement area in July 2019."