Local galleries that you can enjoy without booking in advance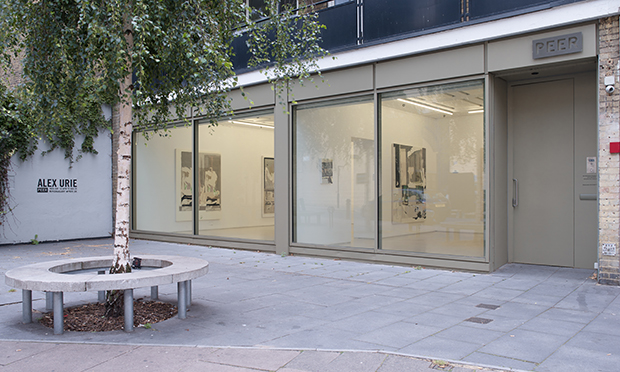 After four art-starved months, it was a delight when galleries and museums began to open up this month.
Yet the common requirement to register one's details online and book a slot at a specific time undermines the pleasure of a casual visit to an exhibition.
Here we collect details of galleries in and around Hackney that won't turn you away if you haven't booked in advance:
The Justin Caguiat show at Modern Art is not to be missed. Large, unstretched canvasses are covered in gorgeous colours and mesmerising semi-abstract forms.
The works are painted in a combination of oil, gouache, pastel and acrylic to create otherworldly images rich in ambiguous detail.
Definitely worth venturing out of lockdown for.
Justin Caguiat: Permutation City 1999
Until 8 August
Modern Art, 4-8 Helmet Row, EC1V 3QJ
modernart.net
020 7299 7950
PEER gallery in Hoxton re-emerged on 16 July with a solo show called Silo by Alex Urie.
Inspired by popular culture and photographs, Urie uses an unusual process in which paint is applied to canvasses from behind, yielding images that have seeped through the cloth.
The paintings, in neutral tones, combine straight lines and fluid shapes to form subtle, haunting works that repay the viewer's gaze.
Alex Urie: Silo
Until 29 August
PEER Gallery, 97 & 99 Hoxton Street, N1 6QL
peeruk.org
020 7739 8080
Residence Gallery in Victoria Park unfastened its doors earlier this month with a Covid-gestated collaborative show called the Correspondence, an 'exquisite corpse' project that developed through postal exchanges between 18 artists around the world during lockdown.
The artists sent partially-finished works to each other, and each participant added their own contribution before sending it on.
The result is an assemblage of work in a wide diversity of styles with oblique references to the global events that prompted use of the mail art genre.
The Correspondence
Until 26 July
Residence Gallery, 229 Victoria Park Road, E9 7HD
theresidencegallery.com
020 8985 0321
The collection of work by Gabriella Boyd currently showing at Seventeen gallery features convalescence in its varying guises.
Illness, cared-for-ness and the aspiration to wellness weave through these paintings in different ways.
Surreal images in fluorescent tones mix religious iconography with motifs from violent popular culture, figuring the imagination of recovery.
Gabriella Boyd, For days
Until 8 August
Seventeen, 270-276 Kingsland Road, E8 4DG
seventeengallery.com
020 7249 7789
On 23 July Fish Island's Stour Space arts organisation is opening a new gallery called the Baths in an iconic former bathhouse in the northern reaches of the Wick.
The inaugural exhibition is Sade English's The Immortal Diaspora, featuring painting, garment construction, film, and soundscapes.
Sade English: The Immortal Diaspora
23 July – 5 August
The Baths, 80 Eastway, E9 5JE
Stour Studios Newsletter