The 392, Ashley Hickson-Lovence, book review: 'Clever debut that makes you think anew about London'
The 392 is an intriguing name for a book; it draws you in, begs the question: What is the 392? As it turns out, a new (fictional) London bus route travelling from Hoxton to Highbury.
The novel is set over a time-period of just 36 minutes as the bus, filled with a cast of colourful characters, makes its way to its destination.
To set a novel over such a short period of time is unusual enough, but Hickson-Lovence also experiments with voice by writing each chapter from a different character's perspective.
As readers, we are offered an insight into their thoughts, feelings, and perception of the world around them – and the effect is a highly empathetic novel, even when dealing with some problematic characters.
The cast includes a pregnant 19-year-old girl, an elderly Irish widow with a death wish, a suspected thief-turned-barrister, and a white racist football hooligan who is nearly blind. They are connected only by their journey – and by a threat.
The diverse cast reflects the oft-touted cliché that a London bus is a microcosm of the city; while social divisions often keep people physically apart, buses are used by both the richest and the poorest in society.
Everybody from up-and-coming politicians to schoolkids, from city slickers to the homeless can be seen on a London bus, in a meeting that mirrors the city as a whole.
It would be easy, when writing about such a wide variety of people, to descend into stereotyping – but Hickson-Lovence largely manages to avoid this, creating well-rounded and nuanced personalities.
Londoners will recognise these people. Maybe we are friends with them? Maybe we are them?
Even the descriptions of people outside the bus windows are perceptive and clever, as Hickson-Lovence evokes the London we know so well: "City workers in trench coats clutching Bodum travel mugs full of Tassimo-made coffee, pounding it down the road to get to the office by ten having dropped little Oscar off at the childminders… the British builders with bloated bellies and this morning's Metro folded under their arm, man-handling their paint-stained toolboxes.
"The dwindling Eastern Europeans have trekked across the city already and have been on site like sunrise… London is open. #LondonIsOpen."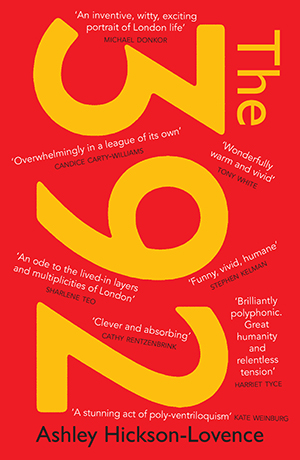 Haven't we all encountered hundreds of these characters on buses and tubes?
That's the beauty of this novel; I don't think I've ever read a book that seemed so real. And this sense of realism is underpinned by the novel's firm situation in East London; the route is signposted throughout and locals will recognise the landmarks.
First published last year, the novel uses the individual stories of its characters to explore larger themes.
Long-time East Londoners will be personally familiar with the issue of gentrification; as the bearded hipsters move in and the chicken shops are swapped for artisan coffee breweries, locals are sidelined, forced out of their housing and made to feel like they don't belong in their own 'ends'.
Hickson-Lovence doesn't hold back from satirising these changes, aiming the sharp edge of his pen not just at the hipsters that are a product of gentrification, but at the system that created it.
One of the characters is Barney, an on-the-make politician who describes his public-facing persona as "a bumbling buffoon with bad hair".
As a parody of Boris Johnson, this depiction is pretty spot-on, and Hickson-Lovence uses this opportunity to take Johnson – and by extension, the government – to task about political failures such as the delayed Crossrail and the Grenfell fire tragedy.
However, Barney's character is also slightly surreal. This upper-class politician – succinctly characterised via metonymic imagery of Barbour jackets and Hunter wellies – harbours a deep and secret passion for grime music.
Unable to publicly "come out" for fear it will ruin his image, Barney spends his days talking about housing and education policy while thinking about Stormzy and Skepta.
Upon first reading, this seemed baffling and out of sync with the realism of the rest of the novel. But in hindsight, I can see some of its merit.
Being surprised by a character's inner thoughts and passions reminds us, as readers, that we cannot accurately judge someone by their exterior. And the fact that Barney's passion is grime music – an underground genre created by Black artists – makes a point about diversity and inclusion in our multicultural city.
Hickson-Lovence is clearly interested in identity and perception, and the shared threat that the bus-riders face has to do with this, too.
Ultimately, all of the characters are faced with the decision to be judgmental or to be open-minded. The choices they make will determine the outcome of the story.
This is a very clever book, strongly grounded in the present and with plenty to say on issues of race, class, austerity, identity politics, and much more.
Hickson-Lovence's ability to distil the personal impacts of these sweeping issues is extraordinary. I loved how this challenged my perceptions and made me think in a new way about our city.
The 392 by Ashley Hickson-Lovence is published by OWN IT!, 2020, ISBN: 978-1-916052-32-1; RRP: £8.99
You can buy the book directly from OWN IT! here