Young Hackney activist gets a special thank you from Town Hall waste team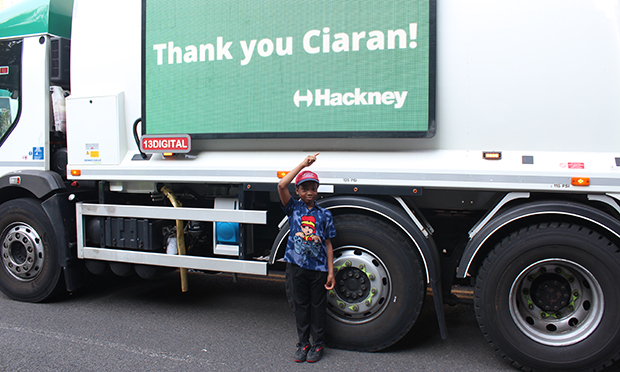 A young environmental activist received a special visit from council waste collectors this week as they thanked him for his numerous messages of support.
Ciaran, 8, has been out with his mum Michelle on Greenwood Road almost every week to clap Town Hall key workers.
He has also made a series of posters, and even gave Father's Day cards to a number of waste operatives, including Glen Whitby, the council's senior environmental manager.
Crews swang by last week to thank Ciaran, with his name displayed on one of the new screens that adorn the side of their trucks.
The screens are being used by the council to encourage residents to start recycling card, glass, paper and food scraps.
Ciaran said of the waste crews: "They are always here to help people with their rubbish and recycling – so that's why I wanted to say thank you.
"Do you know what hurts me the most? When people throw rubbish on the floor, don't clear up after their dogs and don't respect the environment. It's killing the planet. It's almost as if they don't want to live here."
Town Hall waste chief Cllr Jon Burke said: "The activism of young people never ceases to amaze me, and I'd like to thank Ciaran for his messages of support for our crews, who are working incredibly hard during the pandemic to keep our streets clean and help people recycle.
"I would encourage all our residents – and especially those using our parks and green spaces at this time – to follow Ciaran's example by treating the borough and their neighbours with respect."
To order recycling bags and food caddies, or to find out more about what can and can't be recycled, visit hackney.gov.uk/recycling