Twenty roads in Haggerston, Hoxton and London Fields to close to through-traffic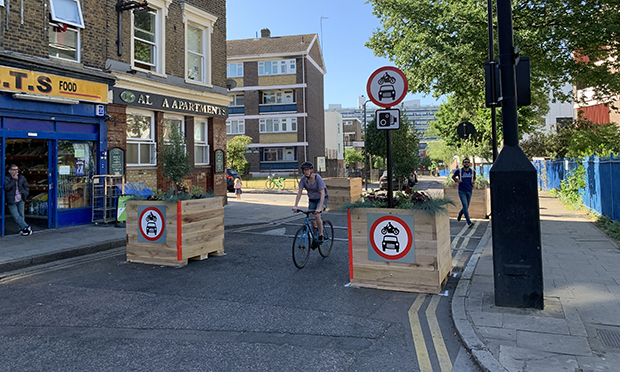 Hackney Council's emergency road safety plans have taken a step further with the closure of twenty roads to through-traffic, open only to pedestrians, cyclists and emergency vehicles.
The measures, brought in through the use of experimental traffic orders (ETOs), are aimed at aiding social distancing, supporting walking and cycling, and improving road safety by clamping down on rat-running, with new 'low traffic neighbourhoods' (LTNs) to be created in Hoxton West and the Haggerston and London Fields area.
The scheme will see a temporary implementation for a maximum of 18 months under the ETOs, with residents able to feed back while it is running as part of transport chief Cllr Jon Burke's stated strategy to "extricate" the council from conducting full public consultations on transport schemes prior to their introduction, no matter their size.
Some residents have voiced fears that the proposals will result in traffic displacement, with a resultant rise in air pollution outside schools and residential areas, with businesses concerned that it will make access and trade more difficult.
London's walking and cycling commissioner Will Norman said: "Our world-leading Streetspace for London programme is transforming our city to enable many more journeys to be made by bike and on foot.
"I'm delighted that Hackney Council is continuing to take ambitious and bold action to create more space for walking and cycling at a time when this is more important than ever, and currently has the highest number of Streetspace schemes.
"I urge other councils to follow their lead and help prevent one public health crisis being replaced with another."
Some local residents have spoken out against the proposed changes (a list of which can be found at the bottom of this article) as well as the manner by which they have been undertaken, with the Mapledene Area residents' association (MARA) circulating leaflets around London Fields opposing the policies.
Mike Hood, chair of MARA, said: "Cllr Burke has decided to issue this report to the council's cabinet, get it signed off and close the roads, and afterwards, we'll talk to [residents]. To me, that is wrong, and flies in the face of working with the local residents, which the council has been doing for several months on the volume of traffic on Richmond Road.
"The council have said that when they implement these traffic measures, they believe the traffic evaporates, but it will get displaced. If there is no access from Dalston Junction all the way down to the canal bridge, then the next available entry point for vehicles will be Laburnum Street and Whiston Road, which has several residential estates. We should not be pushing great volumes of traffic in that direction."
Hood went on to predict that additional traffic could be sent past the Bridge Academy, Holy Trinity School and Queensbridge School as a result of the proposals, adding that the use of ETOs is "undemocratic" and "destroys years of work and relationships with the ward councillors and [council] officers".
Businesses are also concerned at the impact the proposals could have on their trade, with seven companies including 58 Gin, RIDA, Tonkotsu, Momentum Gym, The Shed, Street Studios and Swordtail Studios writing to the Town Hall on the proposals.
David Hardwick, director of RIDA studios said: "It's meaningless to say these are temporary measures. We're trying to get back on our feet after three of the toughest months we've ever experienced.
"If the road closures go ahead in their current form, we're at a loss as to how we'll properly organise deliveries and function as a business.
"This will be another problem that makes it harder to trade, especially as we try and recover from the pandemic. It could mean we're not around in 18 months to discuss road closures."
Carmen O'Neal from 58 Gin added: "Along with low-traffic measures and pedestrianised areas, we want local engagement and consultation so that we can create streets that work for everyone.
"At the very least, we urge the council to keep Dunston Street open while they consider how changes truly impact everyone locally."
Hackney Council has committed to reducing the borough's carbon emissions by 45 per cent against 2010 levels by 2030, and to reach net zero by 2040.
In response to residents' and businesses' concerns, Cllr Burke stressed that LTNs result in a "significant increase" in the traffic evaporation, a phenomenon seen when progressive measures are taken to reduce ratrunning as people reduce their vehicle journeys in response to the changes.
He pointed to mini-Holland in Walthamstow as an example, saying it eliminated 10,000 vehicle movements a week.
The councillor dismissed fears over the scheme having a negative impact on local business as "a persistent and unevidenced myth perpetuated by opponents of LTNs", citing thriving businesses in the mini-Holland area of Walthamstow as well as Broadway Market, which was closed to through-traffic at the beginning of lockdown.
Burke also addressed, point by point, a number of claims made in MARA's leaflet, slamming any suggesion that emergency services would be delayed as a "dangerous falsehood" and pointing out that the modal filters to be employed will provide full access to emergency vehicles.
Responding to concerns over an increase in pollution hotspots in residential areas, to which traffic could be displaced, Burke underlined that the LTN schemes are designed to "divert traffic away from residential areas and on to main roads where they belong".
He also debunked claims that access to residents' homes will be limited, accepting only that the routes by which some residents may normally enter the area may be altered.
The roads chief also defended the proposals' "democratic credentials", pointing to their consistency with the council's transport strategy, the Labour administration's 2018 manifesto, the views of City Hall and the government's own expectations that "local authorities […] make significant changes to road layouts to give more space to cyclists and pedestrians".
Burke added: "ETOs do not remove the need to consult residents, but allow consultation to occur concurrently throughout the operational period.
"The fundamental difference between this approach and the previous approach is it allows us to trial measures in real time and assess their operational success or otherwise, rather than relying on supposition.
"If the measures fail to deliver the improvements they are designed to address, they can be reversed or amended.
"I don't want to diminish the concerns that a small number of residents will often and always have with these proposals. I would like to reassure people this follows a familiar pattern across the world, in which the prospect of change is scarier for some residents than the reality of it."
Burke was supported in the measures by local ward councillor and Deputy Mayor Anntoinette Bramble as well as health chief Cllr Chris Kennedy, with Bramble making reference to the challenge faced locally.
She said that all parties "broadly agree that something needs to happen here […] the challenge is we don't all agree on what should happen, and that is the consensus that we are working towards".
Bramble pledged that the Town Hall would continue to listen to locals as the measures were rolled out over the next 18 months, with Kennedy adding that he supported the measures "wholeheartedly" due to their potential health benefits.
Burke added: "We know that 70 per cent of people in Hackney do not own a car, yet there is a clear risk that as lockdown eases and public transport use remains low, the number of cars on our roads will increase.
"In a borough with the highest number of cycling and walking road deaths in London per 1,000 trips taken, and one of the highest premature death rates from air pollution, any increase in motor vehicle traffic is likely to be deadly. It is my duty to ensure that doesn't happen.
"We are acting quickly to close roads and widen pavements to support walking and cycling, protect people from increased traffic, and prevent the secondary effects of coronavirus from exacerbating existing road safety issues, deadly air pollution, and the transport emissions that are driving the climate emergency."
Closures
In Hoxton, road closures aimed at building on improved cycling and pedestrian facilities on Micawber Street while preventing drivers from using a residential area to bypass the main roads and Old Street Roundabout, will be implemented on:
Shepherdess Walk
Nile Street
Ebenezer Street
Pritchards Road (near the Cat and Mutton bridge) and Forest Road
Richmond Road
Middleton Road/Haggerston Road
Dunston Street
Lee Street to the east of the A10
An additional 11 roads set to close to through-traffic are:
Weymouth Terrace
Springfield (filter at Springfield Gardens) and Southwold Rd banned turn
Elsdale Road and Mead Place
Cremer Street
Clissold Crescent
Marcon Place
Hertford Road
Shore Place
Wayland Avenue
Felstead Street