Doctors, campaigners and politicians line up to call for incinerator 'pause and review'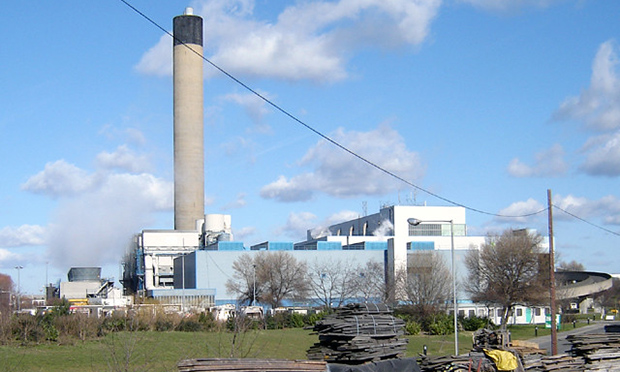 The North London Waste Authority (NLWA) faced opposition to a new incinerator in Edmonton from across the political spectrum yesterday, as well as from campaigners and health professionals.
Former Conservative party leader Sir Iain Duncan Smith joined forces with Labour & Co-operative Edmonton MP Kate Osamor and Green London Assembly member Caroline Russell to speak out against the North London Heat & Power Project (NLHPP), raising health, climate, social justice and financial concerns.
The meeting of the NLWA also heard from Waltham Forest GP Dr Rebecca Redwood, who warned of the release from the new incinerator of ultra-fine particulates from which she said there is "no safe threshold below which no damage to health is observed".
Dr Redwood said: "'We are asking the NLWA to pause and review their plans to build a new incinerator in Edmonton as air pollution and the climate emergency are preventable causes of disease and death.
"Moving the waste into North London will produce additional carbon emissions and road congestion with its own negative effects on health.
"As doctors we work daily to save lives. By making a decision to pause and review this incinerator [the NLWA] will save more lives than we will in our entire careers.
"It's easy to clap for the NHS. We are asking you to actually support the NHS by pausing the incinerator and so reducing rates of preventable death and disease."
No questions were asked of Dr Redwood at the NLWA's meeting.
In response to the medic's deputation, signed by four other doctors, Waltham Forest councillor and meeting chair Clyde Loakes said: "Many of those questions have been posed extensively to us in recent years and have been responded to.
"It's worth noting that amongst the councillors and councils you have here today are some of the people who are at the very forefront of improving London's air quality through some of the initiatives they have been undertaking over a number of years."
Loakes went on to identify the "biggest challenge" for London air quality as road traffic, slamming any suggestion that he and others were not making efforts to improve air quality as "somewhat unfortunate".
Edmonton MP Osamor also called on the NLWA to commission an independent review of the project on "health and social justice grounds", arguing that the decision to proceed with the NLHPP was taken a decade ago on what she said was "outdated" scientific grounds.
Osamor said: "Health and social justice are intertwined. The decision to proceed with this waste management strategy was taken nearly a decade ago. It was based on science at that time that I believe is now outdated.
"It's imperative we take on board new evidence when you look at expanding the project.
"There is a clear relationship between poor air quality and the severity of mortality rates associated not only with Covid-19 but with people that have huge health inequalities that live in Edmonton."
Osamor added that deprived communities in the vicinity of the new incinerator would be exposed to increased levels of particulate pollution by the NLHPP.
In response to Osamor, Loakes said that all work done by the NLWA on the project since 2013 had been "rigorously scrutinised" by the Department for the Environment, Food and Rural Affairs and Public Health England, adding: "All those health-related issues are governed by those bodies, who make it very clear that what we are proposing is appropriate and safe."
Loakes went on to call for the extension of the Ultra Low Emission Zone (ULEZ) across the whole of London as a means of improving air quality for tis residents.
Osamor's arguments were seconded by Cllr Russell AM, who added that the increased incineration capacity planned for the project undermined both London Mayor Sadiq Khan's targets for London to become a zero waste city and his environment strategy.
The Green councillor and assembly member, described as a "friend and sparring partner" by committee chair and Waltham Forest councillor CLyde Loakes, said that the decision to proceed with the project was based on a 2009 assumption that the north London population would rise rather than decline.
Russell called for efforts to be focused on waste reduction in all boroughs in order to not have to burn waste for energy at the NLHPP, which will power 127,000 homes while hosting a resource recovery facility to separate out recyclable waste.
In response to Russell, Loakes said that projects such as the NLHPP "take a long time to plan", repeating again that any suggestion that the authority had not been reflecting on "changes, new science, evidence and data" was "unfortunate".
The committee chair said that other alternatives to burning black-bag waste in London "do not work and are untested at the scale required", adding: "We do not have the luxury of constant opposition to constantly put things on pause. Decisions have been made."
In an unlikely alliance, former Tory party leader Duncan Smith endorsed both Russell and Osamor's points, saying: "The planned incinerator looks to be three times larger than north London needs, and 30 per cent larger than the current incinerator, though waste generation has been falling.
"It is a matter of concern that it will be bigger, larger, and bringing in waste from other areas to burn that is not necessarily part of what is necessary for north London."
The Conservative grandee attempted to make an on-the-spot deal with Loakes for a value-for-money review of the project, which was predicted at the end of last year to cost £1.2bn.
In exchange, Duncan Smith said he would take up the Waltham Forest councillor's pleas to lobby ministers on plastics, packaging and compulsory recycling legislation, though Loakes rejected this offer, saying that the project was under continuous financial review.
Hackney Council is aiming to move to fortnightly black-bag waste collection in order to reduce the carbon emissions produced by the incinerator, as well as to avoid increased levies as costs to dispose of the waste rise with the construction of the NLHPP, though this strategy has been called in for further scrutiny by the Town Hall's Conservative group of councillors.
Loakes concluded: "We have looked at the alternatives countless times, and it keeps coming back to the offer that we currently have on the table as the best solution going forward with what we know now.
"At some point you have to make a decision on what you know. Such is the scale of waste management, responsibility and duty that we have to our residents. If there is one thing that Covid has taught me, our residents still do not understand that they need to recycle more of their waste. Residual waste has gone through the roof over the past three months.
"On air quality, we have responded to numerous questions on it. We are doing our best, and building what will be one of the most sophisticiated energy from waste plants in the UK, if not Europe. We are following what leading European countries are doing, and building it with the best technology available to us now.
"I have no doubt that the technology and its impact will continue to improve over the plant's life, which will create 2,500 jobs, including 100 local apprenticeships. Please be under no doubt how much time, effort and scrutiny has been put into getting us where we are today."