Drastic fall in immunisations during pandemic prompts fears for children's health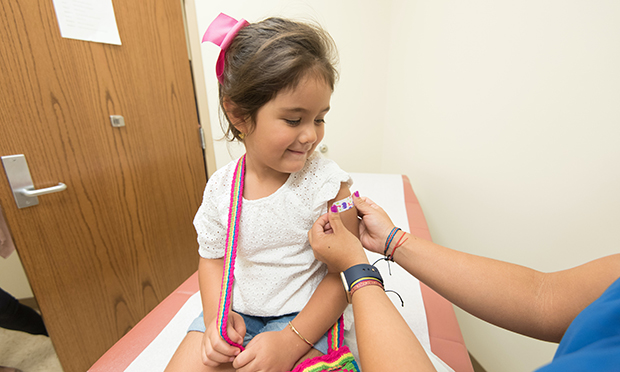 A dramatic drop in vaccinations during the coronavirus pandemic has sparked concern among health professionals, who are urging parents to make sure their children are up to date.
Local GP records show a 37.6 per cent fall in immunisation consultations at City and Hackney surgeries compared to this time last year.
Experts say the figures pose a significant risk to children's health, as vaccinations protect from a number of diseases – some potentially life-threatening – which cannot be prevented by social distancing.
Health professionals in the borough are now reminding parents and carers to book appointments with their GP as soon as possible for baby health checks and immunisations.
Dr Suki Francis, a local GP and clinical lead for children and young people at City & Hackney clinical commissioning group, said:  "We know that there is a drop in the number of children getting vaccinated and we are really worried that this could lead to a resurgence of these preventable diseases which can be distressing and sometimes have catastrophic consequences for children. 
"We understand parents are worried about bringing their babies into surgeries, but we want to reassure them that all GP surgeries in City & Hackney are open, safe and available for all of our patients.
"We are doing telephone consultations for everyone initially before bringing patients in and taking all the infection control measures to ensure that staff and patients are safe."
Francis added: "Your GP, nurse and health visitor want to hear from you if you have any concerns or worries so please contact them and do not delay getting help and getting your child vaccinated."
To make life easier for parents and carers of newborns during the pandemic, babies can now be registered with the family GP over the phone and without a birth certificate.
The NHS is also working to address concerns parents may have around coronavirus, with GP surgeries ensuring that those with symptoms are in a separate area of the practice to people attending routine appointments. 
As well as causing harm to children, experts say missing vaccinations can lead to disease outbreaks which can affect vulnerable people in the community and put additional strain on the NHS.
Town Hall health chief Cllr Chris Kennedy said: "I would urge all parents and carers in the borough to keep up to date with all immunisations for their children to protect their families and the wider community.
"Coronavirus shows how important vaccinations are to protect the collective health of our society. Local GPs and our health partners will be able to speak through any concerns parents and carers may have.
"We need to do all we can to stop the spread of preventable diseases and protect the NHS during this global pandemic."
Parents wanting more information about childhood vaccinations can visit nhs.uk/conditions/vaccinations
You can now register for a digital Red Book online for easy access to your baby's details, including dates for vaccinations. Visit the eRedbook registration page at eredbook.org.uk