The Gun pub launches fundraiser amid fears pandemic will lead to closure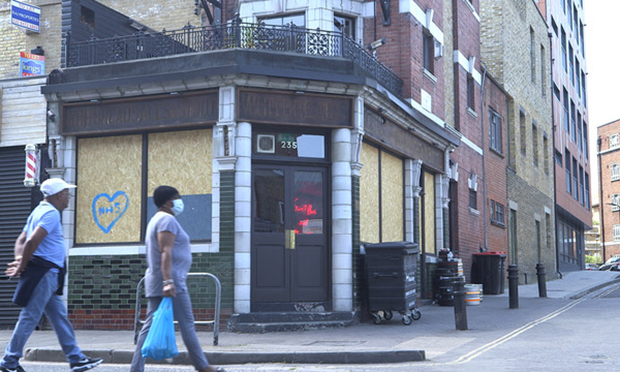 Hackney pub The Gun has launched a fundraiser amid fears that it will not survive the coronavirus pandemic.
The call-out has so far been a huge success, with the independently owned boozer on Well Street almost hitting its £30,000 target in a single day.
Husband and wife team Nick and Hanna Stephens say the money will cover the pub's rent, bills, supplies and other running costs while social distancing measures remain in place.
A statement on their GoFundMe page states: "The Gun is a small, independent business and although there's been seven years of relative success, when the pandemic hit there wasn't a massive reserve in the bank .
"However, this fundraiser isn't just about our current closure but also about the road ahead. When we do reopen, the pub is likely to run at a loss until a vaccine is found and social distancing measures are dropped and this will be tricky to navigate."
The hospitality sector has been hit hard by the pandemic, with pubs and bars building up a backlog of bills while having to keep supplies at the ready for reopening.
The statement continues: "We have proudly built an amazing community of regulars we genuinely call friends and family.  To celebrate our people,  (once we're safe to do so) we plan on throwing a reopening party to which everyone's welcome.
"We appreciate that not everyone is financially stable at the moment, so even if you can't pledge, we'd love for you to join us at the party, everybody gets their first drink on us.
"If you can donate, we can't thank you enough for your support and there are some great rewards to show our appreciation. We look forward to pouring you drinks, seeing friends, dancing under the neon and remembering what makes The Gun so special."
Local designers Will Sweeney and Justin "Personality Crisis" Taylor have created rewards for those who donate in the way of T-shirts and posters.
The most generous donors will receive personalised, engraved tankards.
The Gun is well known for its weekly DJ nights, which require no entry fee, and Korean food made by chefs from Anju restaurant.
The pub, along with other neighbourhood businesses, launched the annual 'Well Street Against Racism' street parties after the Brexit referendum, raising money for local charities such as Hackney Quest.
To donate, head to gofundme.com/f/thegunaid