Cross-party solidarity against racism as Town Hall lit up in purple for Black Lives Matter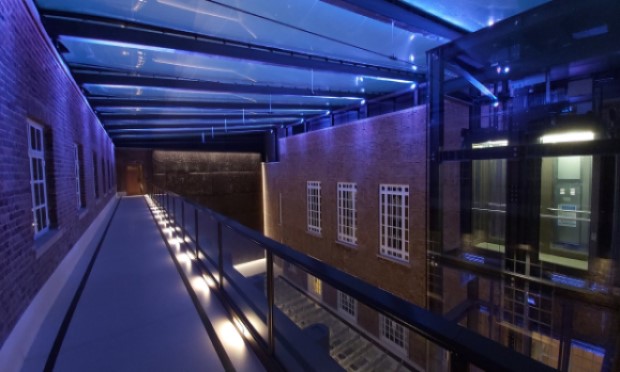 A stand in solidarity against racism has been made across the spectrum of Hackney's political parties in the wake of the grief and outrage at the death of George Floyd.
The black security guard, whose death in Minneapolis last week after a white police officer knelt on his neck sparked protests across the USA and the world, was commemorated last night by Hackney Council, who lit parts of the Town Hall purple in support of those protesting peacefully in America.
Both Hackney MPs Meg Hillier and Diane Abbott have spoken out on the issue, with Hackney North MP Abbott pointing to the 1985 death of Cynthia Jarrett which sparked the Broadwater Farm riot and stressing that the causes of the civil unrest taking place in the US also existed in the UK.
Writing in Labour List, Abbott said: "All the elements that have generated a wave of civil unrest in America are present in the UK: the terrible coronavirus death toll amongst black people; a history of a disproportionate use of force against black people by the state; institutional racism generally; and a national leader who shows no understanding or empathy about issues of race.
"We should remember that it was the death of Cynthia Jarrett, in the aftermath of a police raid on her house, that triggered the 1985 Tottenham riots. Faced with the threat of the coronavirus pandemic, British politicians did not content themselves with wringing their hands and making token protestations of concern. They had to act firmly and decisively. Fighting institutional racism seriously will require similar levels of seriousness from British politicians of all political parties."
Writing on social media last night, Hackney South MP Meg Hillier said: "Tonight Hackney turns purple in memory of George Floyd. His death must renew our determination to tackle racism the world over.
"The Public Health England review into the impact of Covid 19 is out today. It highlights a huge disparity in deaths of people from BAME groups. [It is] vital government acts on this now to prevent further deaths."
Hackney's Mayor Philip Glanville, as well as other top-ranking councillors, also expressed their "feelings of deep sorrow and anger", and acknowledged that many Hackney residents are feeling "hurt, scared and angry" at Floyd's death.
In a joint statement, the Town Hall's Labour administration said: "Hackney has a strong tradition of standing up to racism and we are a proud, diverse borough but the death of Mr Floyd highlights the injustices faced by Black communities and how vital it is that we never stop fighting discrimination and hate.
"This awful event happened thousands of miles away in the USA, but we know that there have been events much closer to home over the years that have caused similar anger and distress. We will not tolerate discrimination in our borough or our city, and we stand against it across the world."
The council also said that it would "reflect" on the Public Health England report, which confirmed that death rates from Covid-19 are highest among people of Black and Asian ethnic groups, with people of Bangladeshi ethnicity having around twice the risk of death from Covid as people of White British ethnicity.
According to the report, people of Chinese, Indian, Pakistani, Other Asian, Caribbean and Other Black ethnicity had between 10 and 50 per cent higher risk of death when compared to White British ethnicities.
The council's mayor and cabinet has now promised that in the coming weeks it will outline how it will "re-energise" conversations around how to provide long-term support for Black residents and staff, and "reconfirmed our commitment locally to addressing inequalities and injustices in our own borough".
Other local parties also joined Labour in standing up to racism in reaction to Floyd's death.
Jack Sutcliffe, chair of Hackney Conservatives said: "As Conservatives we are huge believers in equality of opportunity. The sad fact is that racism still exists across large sections of the world.
"It has no place in Hackney, a borough which is known for its dynamic multiculturalism."
Hackney Green Party spokesperson Tyrone Scott said: "In Britain, it has recently been found BAME communities are both disproportionately impacted by Covid-19 as well as 54 per cent more likely to be fined for breaching lockdown restrictions. Communities are quite rightly holding politicians to account and will continue to do so until they address inequalities, prejudice and truly understand that Black Lives Matter."
Dave Raval of Hackney Liberal Democrats said: "Just as we have a moral obligation to speak out against the injustice we're witnessing in the US, we also can't ignore the failings here in the UK.
"BAME communities are suffering at the hands of institutions systematically biased against them. It's unjust. It's unfair. It's racist.
"The Liberal Democrats extend our solidarity to the Black Lives Matter movement and to the wider campaign for equality for all BAME groups. We fully support BAME communities in Hackney, the UK, and abroad, and stand with them against the injustice they face.
"George Floyd cannot be just another name. This fight needs to make a real change, and the Liberal Democrats will support the movement to bring justice and equality for all."
Update: this article was amended at 13:10 on 10 June 2020 to conform to our editorial guidelines