Hackney's urban farmers call for more Town Hall support for local food growing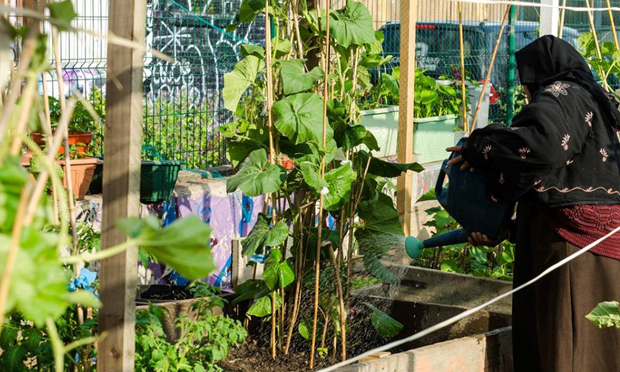 An organisation of Hackney growers are calling for more support from the Town Hall for local food planting projects.
In a petition to the borough's Mayor Philip Glanville, the Clapton and Homerton Urban Growers Organisation call for the budget for local food growing to be increased to match the council's tree planting budget, following the Town Hall's commitment to plant thousands of new trees by 2022.
Speaking to the Citizen, organiser Glyn Harries urged the council to "mesh together" plans for new housing with local food growing, citing the potential to grow food on flat roofs of new homes.
He pointed to the benefits of community food projects in driving down carbon emissions as well as giving residents food autonomy and bringing people together.
Harries said: "If you were doing an allotment, you're doing it voluntarily, you're not getting paid to do it. Community food growing has to be supported, because you're competing with agroindustry, which is dependent on very low wages and low food costs.
"All schemes that have been set up have been set up with funding, they rely on funding, and that's the only way you're going to get really good food growing systems.
"You can drive down carbon in two ways. One is you plant things that sequester carbon, and trees do that very well. Food growing stores carbon as much as trees, but once you've planted your tree it doesn't do much.
"If you're food growing, you're growing something that stops you buying something else that creates enormous emissions, so you're cutting carbon emissions in the whole food chain. It's so much better than just planting trees.
"You could grow broad beans, or masses of tomatoes, which you're probably getting on lorries or aeroplanes from Spain."
Harries also challenged the council for letting food growing "drift off the radar", with Mayor Glanville a vocal supporter of local projects back when he was chair of the Living in Hackney scrutiny commission.
Presenting a number of recommendations to then sustainability chief Sophie Linden, Glanville said in 2010: "Opportunities to grow fruit and vegetables locally offer numerous benefits to residents, communities and the wider environment. As trends for growing schemes swell, it is crucial that the council harnesses these potential advantages, and is aware of potential obstructions.
"The challenge during these constrained financial times is how the council can effectively support these groups and ensure they are free to develop independently, without being able to provide financial support and expertise.
"I hope this report provides a catalyst for the council and its partners to agree a coordinated approach to supporting groups in the ways that suit them best."
Glanville added at the time that his findings showed that many groups were not looking for council grants, but for improved communications around decisions that affected them, as well as the support to secure tenure on their growing spaces.
The Growers Organisation has pointed to Millfields Park as a potential area for a growing scheme to be put in place, but the council poured cold water on the idea, saying that the park as common land must remain "accessible and open to all", that projects are best placed on housing estates, and that Millfields is earmarked for parkland, wildflower and tree planting.
Public realm chief Cllr Jon Burke said: "As an inner-city borough, we recognise the integral role that our parks and green spaces have in ensuring the mental and physical wellbeing of all of our residents, and providing our children with a spacious environment to play, grow and develop in.
"In a borough as densely populated as Hackney, it is incredibly important to ensure our parks remain fully accessible and usable by all – this level of access is generally not compatible with food growing projects.
"However, we recognise the importance of growing food locally, and are providing advice, guidance and funding opportunities for our tenants and leaseholders who wish to grow their own food on our housing estates – which are now home to 49 food growing sites.
"These food growing projects are critically important to further boosting sustainability, and bringing residents together during this time of intense national strain. We will continue to honour our manifesto commitment of supporting local food growing during this difficult time and beyond."
If you are a tenant or leaseholder of a Hackney estate, you can apply for funding to set up and/or maintain a food growing site through a council Community Development Fund. For more information, head to hackney.gov.uk/housing-funding-streams