Demands for greater support for renters as union collectives take shape across Hackney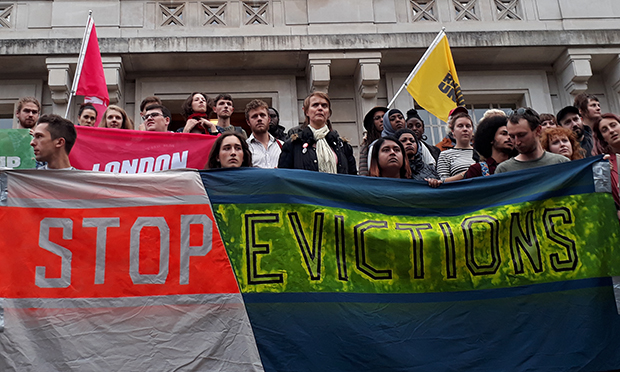 Calls have gone out across the political spectrum for greater support for renters in the private sector, as the impending end of the government's eviction ban on 25 June continues to cause concern.
Hackney Council wants the ban extended beyond June to avoid a surge in homelessness, with Town Hall leaders themselves under pressure from the local Green Party and London Renters Union (LRU) to come out in support of rent reductions or cancellations during the crisis.
A model for collective bargaining with landlords, through the LRU, is now taking root across entire blocks in the borough, with organiser Danny Hayward saying that lockdown is radically shaping the debate around renters' rights.
Hayward said: "Tenants that can come together have more leverage than isolated renters. Everyone knows that a very high percentage of people are losing substantial amounts of income.
"Usually, if you lose your job and you can't immediately pay your rent, you don't assume it will be true of everyone on your corridor. That creates the circumstances in which people can talk to one another.
"The big question continues to be how can tenants confront unscrupulous and brutish landlords who aren't concerned about their reputation. What we're encouraging people in blocks to do is to try and get as many of their neighbours as possible to join the union.
"We would push for a landlord to correspond with the union as representative of the tenants in order that no individual is exposed or persecuted as an alleged ringleader with the aim of discouraging tenants from organising."
It is understood LRU chapters for collective bargaining have now been established in three blocks – one in Hackney Wick, one in Stoke Newington, and a block in Somerford Grove where tenants are being supported by the LRU after being threatened with legal action by their landlord over potential rent strikes.
Hackney Green Party is also calling for the cancellation of rent debt and the suspension of rents so tenants can prioritise spending on essentials, in line with the LRU's Can't Pay Won't Pay campaign, with local activists expressing "disappointment" that Labour is not supporting the policy.
Green Party organiser Zoë Garbett, herself a renter, said: "I'm disappointed that renters have been let down by Labour at a time when people are losing jobs, losing hours and losing income. People will be pushed out of their homes, out of the borough and into homelessness.
"Hackney Green Party is standing alongside the New Economics Foundation and the London Renters' Union to ask for rent suspension so that renters can prioritise spending on essentials. We're also demanding cancellation for all rent arrears built up during this period.
"Landlords are in a better situation to claim for government support. Renters shouldn't be expected to shoulder the economic cost of the coronavirus crisis."
Hackney Mayor Philip Glanville has called for an extension to the eviction ban, a plan to provide assistance with shortfalls in rent, and extra time to make overdue payments, warning of the potential impact of an arrangement in which landlords are able to charge full rent while being banned from evicting their tenants.
The borough leader did not join the LRU in calling for rent suspensions during the crisis, however, when demanding the government responds to the challenges of an "overheated rental market" and puts in place support for struggling renters through stable rents, rent controls, and the scrapping of no-fault evictions.
Speaking on 8 May, Glanville said: "I'm really supportive of private renters that are talking to their landlords and about their financial situation. The government has been really clear that landlords should be supporting their tenants through this time, but it shouldn't be just a position of individual negotiation and the generosity of landlords.
"I'm in absolute solidarity with renters, we need a much better package of support. The challenge with the suspension of all rent payments is that some people can afford to pay their rent, and in the same way that the council has commercial tenants that can afford to pay their rent, if people can afford to and it's not putting their family's welfare at risk, people need to continue to pay their bills, council tax, rents and things like that.
"Where people are facing real hardship, we need a proper system of support to make sure their homes are not at risk. I absolutely support the LRU highlighting and backing those involved in strike action, but we need to make sure that we're targeting support to those that need it, and not just moving to a system where nobody's paying rent or council tax, because that will be a lot harder to recover from in the long term."
More recently, Glanville challenged housing secretary Robert Jenrick to put private renters on an equal footing in government support to homeowners, stressing the importance of a long-term plan to make the private rented sector more secure.
The Town Hall is also encouraging landlords to go above and beyond what is legally required of them to protect their tenants.
Writing to landlords, Cllr Sem Moema, mayoral advisor on private renting and housing affordability, said: "Many renters' incomes are being significantly affected by the pandemic, and Hackney's high rent levels mean support through sick pay or Universal Credit is rarely enough to provide security.
"Regardless of the regulations required by government, I strongly encourage you to help Hackney set the right example and provide your tenants with the support they need."
If you're at risk of eviction, you can contact Hackney Council's housing advice service here.
Find out more about the LRU's Can't Pay Won't Pay campaign here.