Make Shift offers local enterprises new spaces at their latest project, Hackney Bridge
Open now for applications, Hackney Bridge is the latest project by Make Shift, the team behind Pop Brixton and Peckham Levels
Hackney Bridge is the official name for what many locals may have known as Clarnico Quay during its construction phase. The project is a brand new canalside destination close to Hackney Wick, built on the former site of the Clarnico Sweet Factory. Hackney Bridge will offer workspace, public facilities, events, markets, restaurants and bars, giving local enterprises the space they need to thrive together. The site aims to launch in late 2020.
Applications are now open for a range of spaces, both large and small, suitable for all types of local businesses. Hackney Bridge would like to welcome local traders, makers, creators and entrepreneurs of all kinds to apply now. Find out more at hackneybridge.org
Hackney Bridge's larger spaces include a 3301 square foot events venue which will be the cornerstone of the project, buzzing with daytime events and late night programming. There will also be a cocktail bar uniquely located with a panoramic view and terrace overlooking the River Lea.
Also up for grabs is a pub/bar sitting on an enviable position with direct access from the River Lea footbridge, and two restaurants each with their own private terrace overlooking the canalside.
They are also on the hunt for local roasteries that are serious about their coffee and daytime menus to set up a cafe space, as well as a general store maker to establish a one stop local shop providing essentials throughout the week.
The smaller spaces are ideal for local makers and entrepreneurs. These include sixteen light and airy creative studios, with ample space for artists, architects, designers and more. There are also four light industrial workshops that all have high ceilings and access to a large rear service yard – ideal for brewers, joiners and those working on larger projects.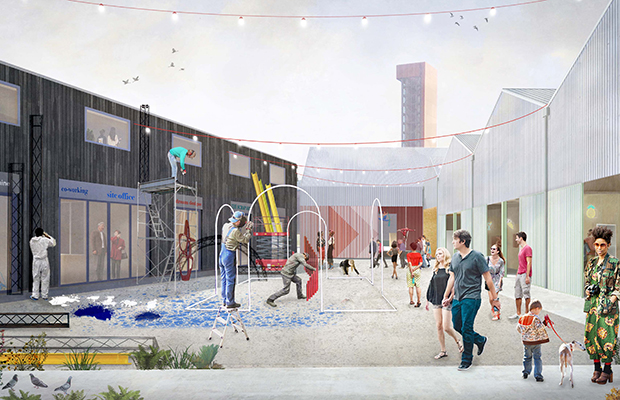 Hackney Bridge's eight maker retail units are perfect for jewellers, photographers, ceramicists or fashion retailers who want to sell their creations to the site's visitors. With glazed fronts, there's plenty of space to make and display, whatever the craft.
There will also be five spacious private offices, with exposed steel and plywood floors and access to an impressive Meeting Room. Later on, the project will also include a beautifully designed co-working space.
Finally, there will be a bustling street food market at the heart of the project, with nine food kiosks available to local traders. Set inside a double height street food market that overlooks the canal, with a mezzanine for diners above.
For further information on all the spaces or to apply, head to the Hackney Bridge website.
The Make Shift team are also offering those interested the chance to book a one-to-one video call to learn more about Hackney Bridge and how to apply. Sign up for a video call with the Make Shift team here