Happy Man Tree protesters vow to remain at its side to prevent felling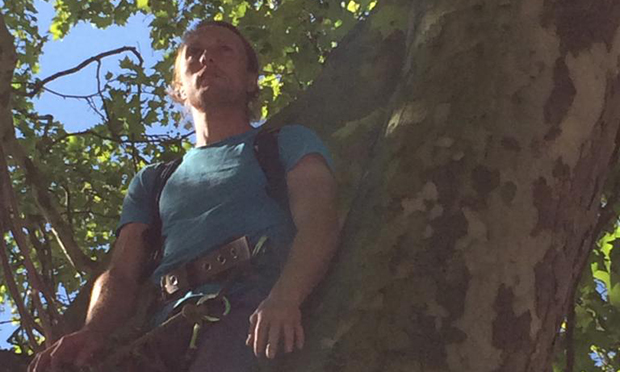 Protesters fighting to save a 150-year-old plane tree in Woodberry Down are today vowing to remain at its side to prevent it being felled by developers Berkeley Homes.
The loss of the Happy Man Tree has been argued by both Berkeley and council planning officers to be unavoidable, with keeping it projected to cause "design harm and reduction in affordable housing" in the next phase of the regeneration of Woodberry Down estate.
However, the loss of the tree has struck a chord with people, with a petition to save it now signed by nearly 10,000, as well as today's spontaneous action to congregate around and protect the tree after its fencing-off caused alarm in the neighbourhood.
A protester on site, who did not want to be named, said: "I cycled past earlier on to make sure nothing was happening over the weekend, as we'd heard that's when it was coming down, and it was fenced off, so I stayed. Lots of schoolchildren and parents have also now arrived.
"It feels very vulnerable now, and difficult to leave. We're going to have keep some sort of presence here until we get dialogue reestablished. The plan is to be here so that if they come back in the middle of the night, someone can let us know and we'll come down again.
"The plan is to stay here somehow or other, at the tree, at the base of the tree, tied to the tree, and be in contact with people. We only live two hundred yards from the tree, and when we saw the Hackney Citizen article we went, 'No, that's not happening'.
"It's too late to be doing that. The time has come when you have to stop chopping down ancient trees, or as somebody put it, giving the developers a clean slate to work with.
"I keep imagining a world where we say, 'OK, all the trees on this site today, aren't they beautiful? Now build around them." That's the world we should be living in, I think, but that's my idealism coming through."
Campaigners have also questioned why a tree preservation order made to safeguard the Happy Man Tree has still not been acknowledged, with associated claims that a widespread consensus had been reached at an earlier point in discussions for the tree to be retained, with any loss of homes to be made up for by adding to the height of other blocks.
Responding to local consternation at seeing the tree fenced off despite continued calls to save it, Hackney Mayor Philip Glanville said: "The tree is not being felled today. I can only apologise for the distress caused and have asked for an urgent update from the partnership, especially in the absence of responses to the various emails we have received and the petition."
Local ward councillor Jon Burke, who in his role as public realm chief has spearheaded a drive to plant thousands of new street trees across the borough, weighed in to the debate today, detailing his own efforts to keep the tree or mitigate its loss.
Burke said: "I worked with Berkeley and my own senior arboriculturalist to deliver an increase in the existing net increase of trees on the [Woodberry Down regeneration] Phase 3 site from 85 to 120.
"This included an increase in large specimens, hornbeams parallel to Seven Sisters, and five native lime trees in place of the plane, should a design solution not be found that would allow it to be retained. Planners then agreed to work with Berkeley on design alternatives.
"It was later reported to me that the block could not be redesigned to save the Plane in its current form without the loss of 24 units of affordable housing and/or significant delays to the scheme.
"Following this, I believe there were then private conversations between Woodberry Down Community Organisation (WDCO) members and Berkeley to find a way forward. I had no more involvement in the process from this point."
Burke noted that the tree should have been marked out as a constraint to design two years ago and has begun applying tree protection orders across the ward to ensure that similar specimens are not lost.
The public realm chief stressed that, while he is "very unhappy" to lose the Happy Man Tree, that he considers the trade-offs of the attached increase in other trees and biodiversity across the area as "adequate".
He added: "Lessons clearly need to be learned about how all the partners approach the Round Table process, to ensure the scheme develops with minimal impacts on existing specimens, and so that contentious issues are addressed at the earliest stage of the planning process."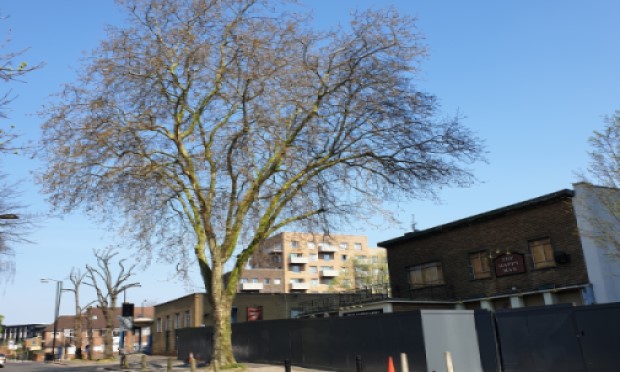 Nearly 600 new homes are planned for the next phase of the regeneration, with 42 per cent of these classed as 'affordable'; 117 homes for social rent and 126 for shared ownership and shared equity, with the remaining 341 for private sale.
The four blocks will range in height up to 20 storeys, with 1,045 square metres of flexible floorspace, an energy centre and 29 tennis courts-worth of new open space, with a guarantee to plant 175 new trees to make up for the loss.
Part of the recommendation to approve the plans by officers stipulates that, were they to go ahead, the value of the tree would be repaid to compensate for the harm caused to the community by its loss, calculated at £175,000.
A Berkeley Homes spokesperson said: "Keeping the tree would have resulted in a re-design and a 15-month delay in delivering much needed new housing, including 243 affordable homes, many of which are for people living in substandard accommodation elsewhere on the Woodberry Down estate.
"In addition to the new homes, the proposals – which were designed in partnership with the community over 18 months – will deliver significant improvements including better air quality and a 154 per cent improvement to the biodiversity of site, providing more wildlife habitats.
"The proposals also provide a brand new park which will be the same size as 29 tennis courts; the planting of 175 new native trees; green streets lined with trees and plants; communal spaces for residents of all tenures with lawns, trees and seating; and an energy centre to generate heat to supply the whole of the Woodberry Down estate and help lower carbon emissions.
"On balance, we strongly believe that removing the tree is the correct decision in this instance so that we can bring forward these wider benefits as quickly as possible for residents."