Charity delivering hot meals to vulnerable Woodberry Down residents appeals for help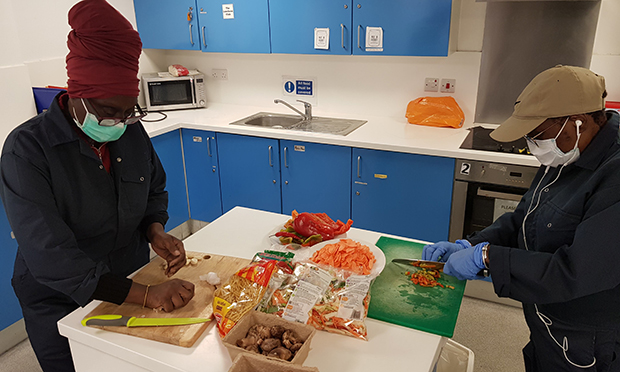 A Hackney charity is appealing for donations to help it expand its free food delivery service for vulnerable residents in Woodberry Down.
Manor House Development Trust (MHDT) has chefs cooking up hot meals at the Redmond Community Centre, with volunteers delivering them daily, and with no physical contact, to 100 people.
But the charity needs help to extend the service to 500 residents in need – be they elderly, suffering from underlying health issues, or a family struggling financially.
MHDT's crowdfunder has so far raised over £1,700, but a spokesperson said "more money equals more meals", adding: "Livelihoods are in jeopardy, virtual services are closed indefinitely, and access to food has become more challenging. We want to relieve some of this pressure."
The meals are prepared in the community centre's certified kitchen by its own dedicated team, who have joined forces with local florist Woodberry Blooms, and Barazza, an estate-based catering social enterprise.
Volunteer couriers then deliver the food on cargo bikes donated by children's charity Wheely Tots.
One such helper, local resident Sharon Marshall, said: "It is imperative that we connect with the community. We as volunteers are the first line of contact for many vulnerable residents impacted by the Covid-19 crisis."
The MHDT spokesperson added: "We have the unique opportunity to ask about their welfare and refer them to other local service providers who are still operating."
A large number of the meals are delivered to residents of Woodberry Down Estate, many of whom live in social housing with young families.
With schools closed for the unforeseeable future and jobs under threat, MHDT says many of these families are at risk of food poverty.
The charity's chief executive Simon Donovan added: "MHDT is preparing and delivering food and cheer to some of the most vulnerable people in London.
"It lifts our morale to see the resilience of our community battle against the fallout from this crisis."
MHDT is a resident-led charity which provides a number of community services in Woodberry Down.
For more information, and to donate, head to the project's JustGiving page