Town Hall urged to suspend planning amid community concern over lockdown impact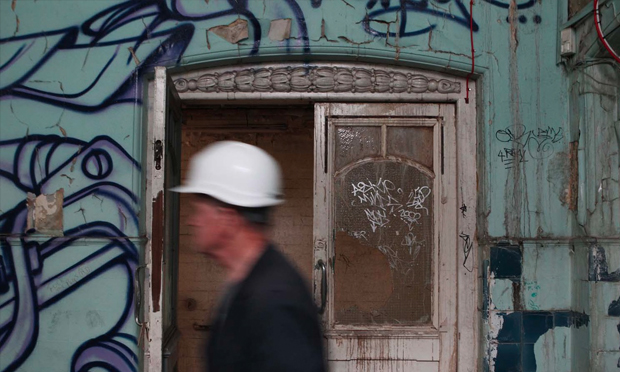 Campaigners are calling on Hackney Council to suspend all of its planning processes after questioning whether people can effectively have a say on the shaping of their communities during lockdown.
Concerns over whether consultations on important developments can proceed while residents are kept to their homes during the pandemic have been raised by two groups – campaigners pressing for more affordable housing on the site of the Morning Lane Tesco, and local residents keen to have a say on the redevelopment of Haggerston Baths.
The Morning Lane People's Space campaign is asking for planning to be suspended outright, pointing to the impossibility of any consultation taking place during lockdown.
Meanwhile, locals living near the Baths argue that public notices alerting the neighbourhood to the conversion of the listed building into a workspace might not be effective given current conditions.
A spokesperson for the Hackney Society, which works to preserve the borough's heritage, said: "I think communities have a right, generally, to be concerned about the impact of social distancing regulations and advice on planning decisions, which already suffer from many barriers to access.
"There exists an opportunity for Hackney to take the lead and move at full speed with its ambition to enhance digital planning and extend this to the consultation process. Its behind the scenes work and collaborations with other planning authorities and agencies working in this area should make it well placed if it can commit the resources.
"In the meantime developers who aren't already slowing down their applications amid uncertainty in the market, should be on notice to make sure they don't short change us on community engagement, nor exploit the limitations of the change in working amongst planners and the Planning Sub-Committee."
Developers Hackney Walk Ltd are signed up to build a residential, office and retail hub on the site of the Morning Lane Tesco, which sits on land purchased for £55m by Hackney Council in 2017, with an expectation by the borough's Mayor Philip Glanville that any application will include a significantly higher percentage of affordable housing than the 20 per cent floated last year.
While Hackney Walk had no comment to make for this article, back in February a spokesperson said: "The original agreement made between the council and Hackney Walk Ltd set the affordable housing at a minimum of 20 per cent, however, we are working very hard to ensure that this is exceeded and that the proposals deliver as many affordable homes as possible.
"We have conducted early consultation with local people in order to understand people's priorities for the site. This includes meetings with local groups in 2018 and five consultation events in July 2019 for the wider public – attended by 138 people with a flyer sent to over 10,000 addresses."
People's Space, however, dismissed the developer's previous consultation efforts as "inadequate", claiming that its own campaign has already engaged more people through leafleting and online activism, pointing to a petition on the scheme holding 500 signatures.
In a letter to the council, campaign chair Adam Forman said: "It is not possible to carry out meaningful consultation during the lockdown as it relies on face-to-face communication to be inclusive and effective.
"Because of this we are asking the council to put on hold the planning process for this development and any others in a similar position. Anything short of that would compromise the principle that planning be open and democratic.
"When all but essential work in so many other areas of life has been suspended, we do not believe that any continuation of this process can be justified."
Forman also called for any planning committee hearings to be held online, with the first virtual meeting of this type to be held on 23 April.
The Town Hall has rebuffed calls for processes to be suspended, saying that the government has advised local authorities to continue delivering planning services "wherever possible" during the pandemic.
It is understood that, ahead of any decision being made on the transformation of the borough's town centre, the next step in the process will be another meeting where councillors will be able to scrutinise developers' evolving proposals, though according to the Town Hall, there are "no plans to hold this meeting in the immediate future".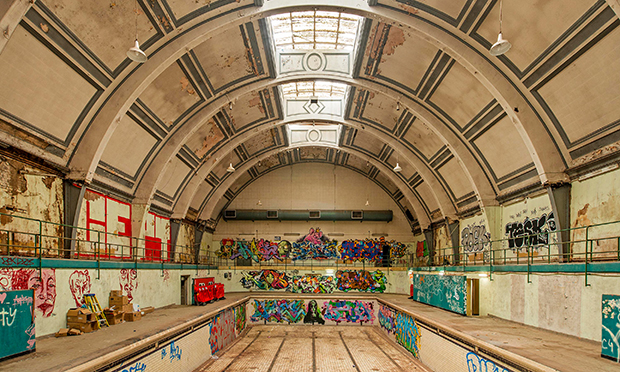 A group of residents who live near Haggerston Baths, which have been shut for 20 years since their closure for emergency repair work, expressed their concerns over the planning application for a restoration into six floors of office space by developers Castleforge Partners.
One resident, who did not want to be named, said: "Our main concern at the moment is that the planning application has been validated during this global pandemic, and lockdown, with the footfall passed the baths significantly reduced, people won't see the sign and won't know the application has gone in.
"We have been told that it is business as usual at the council, but the planning office is shut, and we were finding it very hard to speak to anyone past the initial call desk.
"We also are aware that many elderly people are very interested in the development as the building was important to them and many of them may struggle to view the application online. Without a duty planner to speak to they will be somewhat excluded from the consultation process."
It is understood that the Town Hall has been pushing Castleforge to make the planned revamp of the baths as affordable and open to as many locals as possible.
According to the council, 293 neighbour notifications were sent out to let people know about the application, in addition to public notices on the site.
A spokesperson for Castleforge said: "We have run extensive consultation with the local community regarding our application and are interested in keeping an ongoing dialogue with all stakeholders. The application itself has been submitted to Hackney Council and we aren't expecting a decision until later in the year."
The council is currently consulting on its approach to securing obligations from developers who are given permission to build in the borough, on such topics as affordable housing, car-free-developments, or financial contributions to address a scheme's impact.
Campaigners are urging residents to make their own submissions to the plans, with the consultation set to run for two more days.
Forman added: "We are calling for the document to be tougher and more detailed. Developers should not be able to opt out of meeting the requirement for 50 per cent affordable housing if it's deemed unfeasible or unviable to do so.
"There must be a target for council housing, not just for 'affordable housing', and for other categories of housing such as London living rent.
"There must be a requirement on developers to consult meaningfully with Hackney residents and to be transparent – viability and section 106 documents must be subject to public scrutiny and input."
A Hackney Council spokesperson said: "Hackney is working to deliver our planning services as normal. In part this is to avoid the risk of developing a large backlog of cases which may limit the capability of the council to make the best possible decisions for the borough.
"We continue to undertake our normal consultation on planning applications, although we would encourage any interested parties to provide comments electronically via our website at this time to assist with the continued function of the service.
"The proposed redevelopment at 55 Morning Lane is still at pre-application stage, with discussions between planning officers and the developer ongoing. The submission of a full planning application for the site is still some distance away."