Appeal for donations of smart devices so quarantined patients can video-call relatives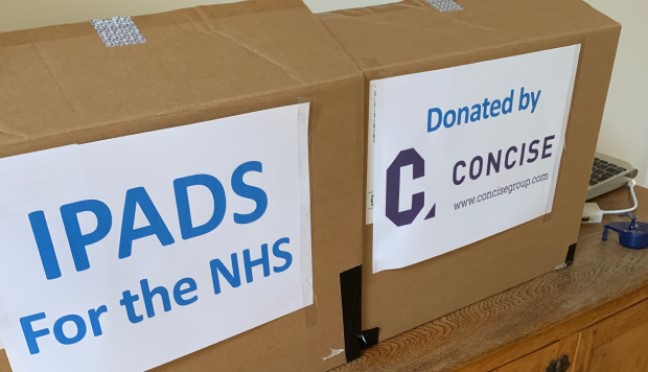 Calls are being made for donations to hospitals of video-capable smart devices, as the necessary quarantine of hospitalised Covid-19 patients deepens the pain and anxiety of families and friends barred from visiting their loved ones.
A consignment of 50 iPads has already been delivered to the Homerton, Chelsea & Westminster and Middlesex hospital maternity wards, through a partnership between virtual events company Concise Group and volunteer hub People Powered, after devices marked for delivery from another source to the Homerton never arrived.
Concise's general manager Jim Hughes said: "During the COVID-19 crisis, hospitals must severely restrict visitors for fear of spread to families and the wider community.
"As we can all imagine, it must be deeply distressing for patients and their families to be apart, especially when it is uncertain if people will survive.
"In Hackney, we sent iPads to the Homerton University Hospital NHS Foundation Trust.
"Apparently, the iPads they were supposed to receive from another source never materialized, so we quickly pulled together what they needed."
With some exceptions, all acute hospital wards at the Homerton have no access for visitors during the pandemic.
Women are currently allowed one birthing partner to accompany them at the Homerton, though no partners, visitors, family members or children are allowed into postnatal care wards.
Concise became aware of the need for iPads through volunteer group People Powered, which is made up of just over 900 people who usually work in event planning or festival production.
Hughes added: "We're helping People Powered put the word out to everyone who can donate working smart devices that are capable of video calling. We're also inviting Entertainment & Event Industry Professionals to volunteer their time or trade skills to the NHS."
People Powered, which was set up by lighting designers Katharine Williams and Jono Kenyon, aims to support the NHS through the skills of its members and the sourcing of equipment from outside usual supply chains.
Volunteers at the group have also sourced over 3,000 walkie-talkies for communication between Covid and non-Covid spaces, in order to reduce the use of PPE by moving between them.
A fresh food shop has also been set up at the Royal Free Hospital for staff to grab essentials at the end of shifts, and People Powered has even built triage centres, waiting areas and staff rest areas for the NHS.
Sam Oldham, commercial and operations director at Camden's Roundhouse, said: "Our industry is full of highly skilled workers, many of whom are currently out of work or have been furloughed.
"They have essential skills which can be used to support the NHS and we're so proud to see the Roundhouse technical and production team joining forces with others across the industry to make a real difference – I know we are in extremely safe hands with all of their expertise at the helm."
A spokesperson for the Homerton Hospital said: "This is a tremendous boost to families and relatives of our patients at the Homerton. It's a fantastic initiative, and very generous gift to the hospital.
"It allows COVID-19 positive patients to communicate with their relatives and families, which is a fantastic boost to them. Thank you, Concise."
If you can donate or help People Powered, click here.
For more information on visitor arrangements at the Homerton, click here. –  .