Coronavirus: Housing campaigners release template letter for struggling renters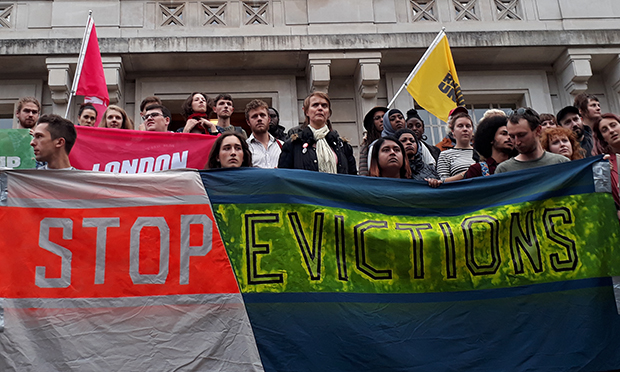 The London Renters Union has released a template letter for people to send to their landlords if they are struggling with rent during the coronavirus crisis.
The release of the letter follows legislation announced by the government two days ago banning all evictions for a three-month period, under which landlords and tenants are currently expected to "work together" to establish how rent can be repaid, based on tenants' circumstances.
However, the LRU are calling for the government to go further to protect renters as the crisis continues to deepen with measures similar to those seen in France of entire suspensions of rent payments for the duration.
Danny Hayward of the LRU said: "We have absolutely tons of members who are losing work right now, either because they're sick or just because their contracts have been cancelled or workplaces shut down.
"They don't have their rent. They can't possibly have it. We're trying to get this letter out to as many people in Hackney and London generally who might be affected by this, so they can use it and if things go well, secure rent reductions.
"Things aren't going to work out well for people who are renting if ultimately they need to rely on the goodwill of individual landlords. The government needs to take action to suspend all rents for the duration of this period, as right now we are in a completely unprecedented situation.
"The spread of this crisis worldwide means that it is possible to see what can be done by means of quick government action where the will exists, and that is what we're pushing for."
Around a third of Hackney's residents are private renters, with Hackney Council saying in 2017 that evicted tenants from the private sector was that number one reason people approached the Town Hall for help having been made homeless.
The letter can be used by tenants "living paycheck to paycheck each month", with those who rarely have more than a month's rent available able to send it to their landlord requesting a suspension of payments "until the situation improves".
Under normal circumstances, those in eight weeks of rent arrears would likely have possession of their property granted to the landlord by the courts, but landlords are now not able to begin eviction proceedings for at least the next three months.
There was a surge in eviction notices being received by LRU members before the government ban was imposed, according to Hayward, with renters advised to take videos of their landlords if they illegally try to change their locks or use force to remove them.
It is understood that Hackney Council will itself be writing to all private landlords in the borough tosay that they will enforcing the new government guidelines, and asking them to work with tenants where they might be struggling financially.
The full text of the letter can be found below – more guidance can be found from the London Renters Union here – https://londonrentersunion.org/wp-content/uploads/2020/03/LRU-Coronavirus-renters-rights-resources-v1.pdf, and information about them here https://londonrentersunion.org/
If you need urgent financial help, you can apply to the Council's discretionary crisis support scheme here.
If you're having difficulty paying your rent, you can apply for a discretionary housing payment here.
Check if you're eligible for housing benefit or a reduction in your council tax here.
The Letter
Dear X
We hope you're keeping well in these really strange and fast-changing circumstances!
We're watching developments about COVID-19 very closely and are, as you might imagine, really concerned.
We work in ________ and live paycheck to paycheck each month. We're going
to be earning much less over the coming months.
We rarely have more than one month's rent available at any one moment.
[add more details about your situation – make it as personal as you feel comfortable to]
For these reasons, we kindly request a suspension of payments until the situation improves.
Many renters across the country are in a similar situation. As you might have heard, the government has announced a three month mortgage holiday for all landlords whose tenants are experiencing financial difficulties due to coronavirus.
The government and the National Residential Landlords Association are asking landlords to show compassion.
We hope, for ourselves and for everyone's sake, that life becomes more stable as soon as possible.
Until then, it seems all we can do is be pragmatic, avoid panic, and support each other as best we can. We hope you can consider this.
Do let us know if speaking on the phone would be helpful.
Looking forward to hearing your response.
Best wishes from us all