Coronavirus: Hackney Migrant Centre forced to close drop-in service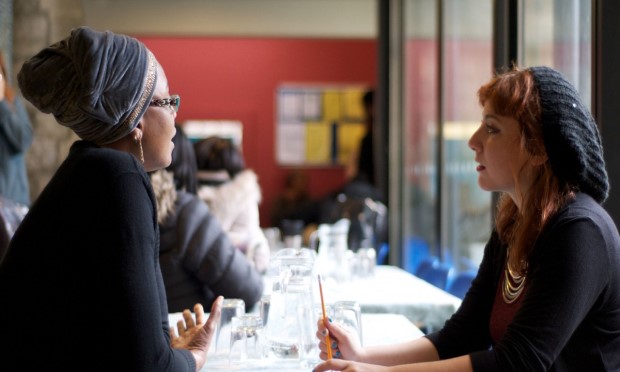 A leading local advice service that supports asylum seekers, refugees and migrants has been forced to close its doors as a result of the coronavirus crisis.
Hackney Migrant Centre's (HMC) weekly drop-in sessions were a source of invaluable advice on immigration, housing, welfare and health matters to people regardless of status, nationality or where they currently live.
As well as advice, one of the Centre's aims is to help reduce social isolation for migrants, but it will now be forced to find ways to provide its services remotely, a day after Daf Viney, director of services for HMC, added his voice to calls for Home Secretary Priti Patel to make "urgent changes" to ensure migrants' safety during the pandemic.
Viney said: "We're trying to divert as many people as possible away from our services before they queue, but we don't know what's going to happen next.
"All our stuff is face to face, that's what we're set up for. All the advice agencies we work with aren't doing face to face appointments anywhere right now, so we're going to have to figure out a telephone advice service, which is an entirely new angle for us.
"We're now getting everything in place and having conversations with staff, volunteers and the professional advisers that we use, and starting to get some ideas of what things might look like.
"We have this massive queue from 5am to use our services because some of the people that we see don't have any other way of accessing something than by being physically present.
"Obviously we see people without access to the internet, but also people without phones or the cultural experience of the UK to know how to tackle the system, so even if they did have access to IT equipment, not knowing how to begin."
Viney added that one of their users had recently been "dispersed" to a Northern city, and was already struggling with loneliness when she was forced to self-isolate as a result of being part of the cohort of the vulnerable forced to do so, with HMC now making sure that one of its staff will be on hand on the telephone to speak to her.
According to the director, a "massive problem" faced by HMC under the current circumstances is that its users often arrive with hundreds of pages of Home Office documents, letters, tribunal decisions and other evidence.
HMC are currently looking for answers on how it will be able to access this all-important casework, with many of its users without internet access, phones, or ability to speak English.
The centre's ward councillor, Cllr Peter Snell, said: "HMC provide an excellent service. I know they're working hard to provide back-up, but clearly people will find it more difficult to access at a time when their needs are probably greater.
"As a result of this stupid business that people can be denied access to any sort of financial support, many migrants are dependent on things like school meals, and if schools close down, they're going to be in greater need than ever."
Viney is now putting out the call for locals with expertise in digital workarounds for offices, as the Centre explores the new ground of working online for a period of months.
The director, as part of the Joint Council for the Welfare of Immigrants, yesterday wrote to the Home Secretary calling for certainty over migrants' access to healthcare through the immediate suspension of all NHS charging and data sharing with immigration enforcement, as well as the release of everyone detained under immigration powers to avoid coronavirus spreading through those in detention.
The letter, which also has signatories from organisations including Medact and Liberty, called for the suspension of conditions denying migrants recourse to public funds, and urges a change in the rules to make sure nobody is branded an 'overstayer' as a result of self-isolation.
Cllr Caroline Selman, Hackney Council's cabinet member for community safety, policy and the voluntary sector, said: "We are working closely with local advice organisations about their contingency plans, and how people can continue to access advice.
"It is likely that most organisations will be able to switch to phone or online support, but we will provide an update on how people can access advice in the coming days.
"This will include information on alternative organisations where services have to close."
You can make donations to Hackney Migrant Centre here.
For more information on government support and measures aimed at helping workers, benefit claimants and businesses affected by coronavirus, see the links below.
Coronavirus support for employees, benefit claimants and businesses
Face-to-face health assessments for benefits suspended amid coronavirus outbreak
Additional advice and support for employers and businesses