Coronavirus: Food charity pulls classes as it prepares to launch delivery service for vulnerable people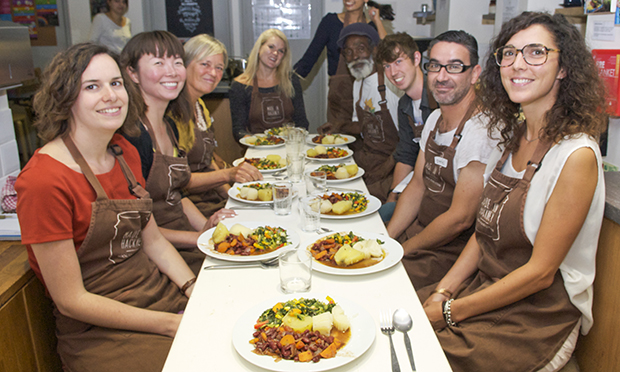 Community kitchen Made in Hackney has announced it is scaling back classes as it prepares to launch a food delivery service for the most vulnerable during the coronavirus outbreak.
The popular charity says it is pausing cookery classes in external venues "as we are unable to control the heightened levels of hygiene needed at this time".
In a letter to supporters, the kitchen's founder Sarah Bentley and her team said: "The impact of the disruption caused by COVID-19 on a small charity like ours is enormous and threatens our very existence.
"In the last week alone, we have lost tens of thousands of pounds of hospitality support and the cancellation of fundraising events such as marathons."
Bentley added that the charity is not just concerned about its own future, but "our entire kitchen family and wider community".
The message goes on: "People may feel isolated. Be unable to get to the shops. As livelihoods are affected, many of us may need help to feed ourselves and our households.
"To tackle this pending crisis we've decided to launch a free home food delivery and shopping service for the most vulnerable individuals or households, such as the elderly, who will be hardest hit and most isolated over the coming weeks.
"We have volunteers ready to hit the phones and find out who needs what, and where. But to make this happen we need all of you – now!"
The charity is set to launch a crowdfunding campaign tomorrow to secure its future as it temporarily refocuses its efforts on making and delivering food for those who need it most.
Made in Hackney said that as it maintains the "highest levels of hygiene standards at our MIH Cazenove Rd HQ, for the time being we are continuing to run our masterclass programme".
It added that it is "monitoring this situation daily" and asks anyone over 70, or those with any cold or flu symptoms, to not attend class.
For more information about the campaign to fund the delivery service, keep an eye on the charity's Twitter feed and its website, where anyone who wants to act now can make a donation
Update: the crowdfunder is now live. You can find it here