Radical Figures, Whitechapel Gallery: 'Anxious interrogation of the 21st-century condition'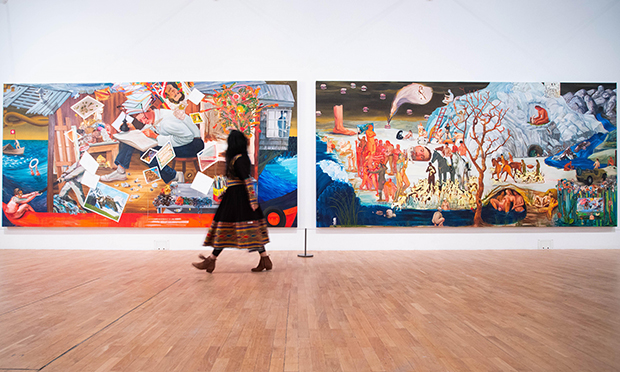 Long shunned by the most innovative artists, figurative painting has in recent years made a comeback.
Radical Figures at the Whitechapel Gallery gathers together ten of the most interesting contemporary painters from around the world for a revelatory look at where painting is going today.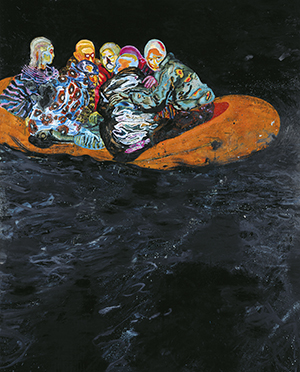 Rippling through this collection of work are many of the core concerns of the 21st century: social ills and complex identities – represented in a number of cases by bodily distortion and fragmentation – depicted via the tropes of classical painting, street art, comics, and traditional genres from a range of cultures.
As visitors enter the exhibition, they are met immediately with contemporary social themes in Daniel Richter's striking 2001 painting Tarifa of an inflatable overloaded with refugees, cast in the lurid tones of the infrared technology used by border patrols to detect those who attempt to escape atrocities by sea.
Political issues are prominent also in Tala Madani's more intimate meditations on the cultural expectations of men and women in different cultures, including her native Iran and her adopted US.
Nicole Eisenman's Bosch-like Progress, Real and Imagined engages on an epic scale with the social complexity of our multifarious world.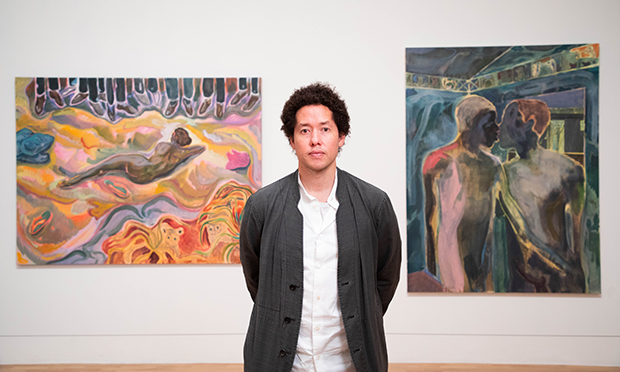 Bodies loom large in this exhibition, from the graceful forms of Michael Armitage, who explores sexual taboos in Africa, to the sewn figures of Tschabalala Self that channel the African-American experience through quintessentially female domestic media.
Dana Schutz's Man Eating His Chest and Saturn deploy the grotesque and the absurd to convey complex psychological states.
Colour also surrounds the visitor. Christina Quarles's distorted bodies in digital-psychedelic tones almost jump off the canvas, while Sanya Kantarovsky's luminous cartoon-like figures on sombre backgrounds use humour to explore dark subject matter.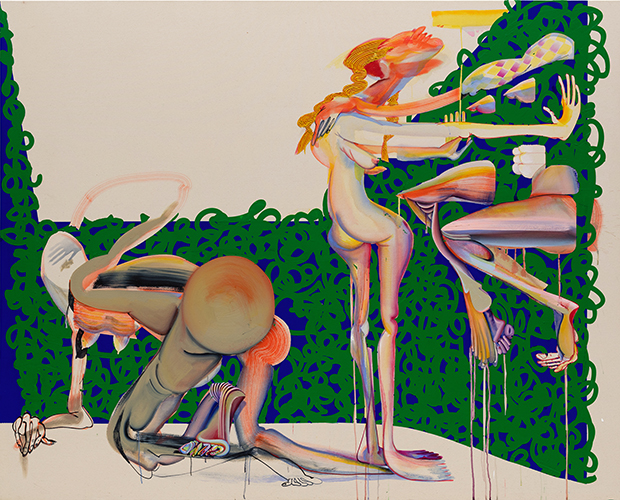 The subtle hues that pervade Ryan Mosley's ambiguous faces invite meditation, while Cecily Brown's large assemblages of colour and shape offer a distinctly feminine slant to classical compositions.
Taken together, this body of work can be seen as a rather anxious interrogation of the 21st-century condition: gender discrimination, racism, violence and dislocation are themes that abound in this exhibition.
At the same time, the collection can also be read as an exuberant celebration of traditional painterly devices rediscovered and reinvented.
Perhaps, as in the 1930s, art flourishes while society tears itself apart?
Radical Figures runs until 10 May at the Whitechapel Gallery, 77-82 Whitechapel Street, E1 7QX.