Hackney mum appeals for kidney donors for her 'superhero' son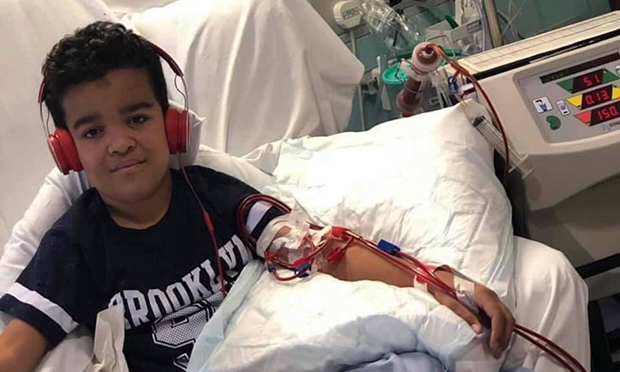 At first glance, Hackney-born Tyshan Ritchie seems like a pretty normal 13-year-old. He loves running around in the park, playing with his little sister and kicking a ball about with his dog.
Unfortunately, those prosaic pastimes are so often out of reach, as Tyshan was born with only one kidney and some intricate rectal complications.
According to the NHS, the main function of the kidneys is to enable 'your body to get rid of waste and water it doesn't need' and regulate 'the salts and minerals in your blood.'
When the kidneys are low-functioning or absent, all this waste and water stays in your blood, which places serious pressure on the heart and can make you feel very unwell.
After six years with one semi-functioning kidney, things took a turn for the worse and Tyshan was down to no working kidneys.
So, the hospital attempted a transplant from Tyshan's biological father.
After four gruelling months in hospital – Tyshan is autistic and finds the hospital's lack of routine difficult – it seemed as if life was finally returning to normal.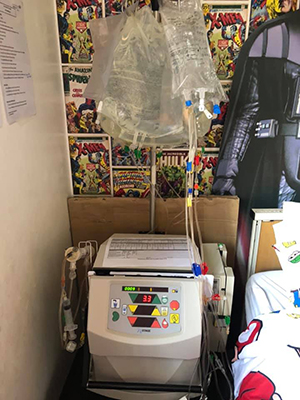 However, the family's reprieve was short-lived; after 11 months, Tyshan developed sepsis and his body rejected the donated kidney.
In order to fulfil his need for routine and love of attending school, Tyshan's mother and grandmother went through lengthy home-dialysis training at Great Ormond Street.
Tyshan's diet is very limited – he can only eat ice cream and crisps on dialysis days – and he drinks only 800 millilitres of water a day.
He has to spend 25 hours of every week hooked up to a dialysis machine. This means a lot of late nights and early mornings, all alongside school at Stormont House in Lower Clapton.
And dialysis isn't always plain sailing. As Charlotte explained: "Sometimes you have a really straightforward session and sometimes it's all up in the air."
Nevertheless, the Ritchies have done all they can to make Tyshan's life manageable.
Charlotte told the Citizen: "Every other day is dialysis, so when it's not, we try and do normal things – go to the park or the cinema.
"Tysh loves Marvel and superheroes and he's really artistic."
In Facebook updates on the family's search for donors, Charlotte has called Tyshan a "true superhero" who has no concept of the "strength and bravery" he carries.
That isn't to say that he doesn't sometimes get scared or "hate even thinking about hospital stuff", but he pushes on regardless.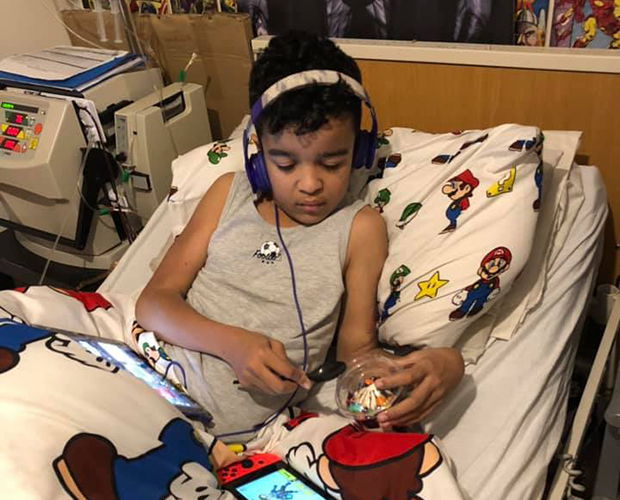 In another recent post, Charlotte chronicled a common occurrence in the Ritchie household.
She wrote that Tyshan had "been feeling a bit strange since yesterday – freezing but sicky" and his observations were "all over the place".
Emergency bloods had to be taken and Tyshan had to stay home from school.
This is such a far cry from the lives of most 13-year-olds, but for Tyshan it's par for the course.
Home dialysis has vastly improved his quality of life, but after years and years of it, Charlotte has decided to look for a kidney for him.
It was not a decision she made lightly, talking to NHS professionals and a councillor before she set up the appeal last December.
Due to complications that mean Tyshan will need a number of specialist surgeons present for the surgery, he cannot go on the national waiting list for organ donation.
Doctors say his only option is a living donor with a tissue match.
To find out more or to register an interest in donating a kidney to Tyshan, please email anita.copley@gstt.nhs.uk
To stay up to date on Tyshan's appeal, head to the Facebook page or Twitter feed
For more information about organ donation, visit organdonation.nhs.uk