Residents 'delighted' by new London Marathon-funded play areas for Hackney's kids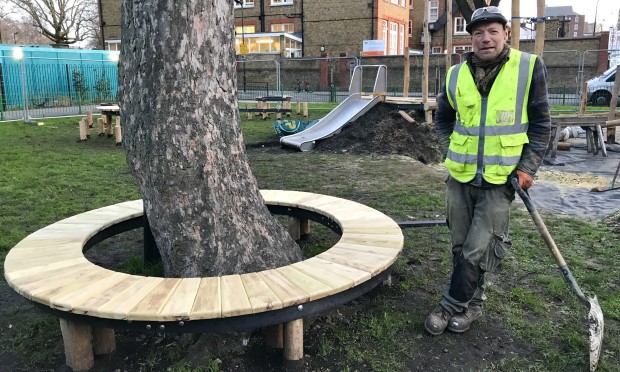 Residents were over the moon this week at the news that tens of thousands of pounds in grant funding will be going towards play spaces in the borough.
The London Marathon Charitable Trust made the announcement this week as part of a £2.25m programme designed to challenge inequality of access to physical activity across the UK, helping children and young people to participate in "fun and inclusive activities".
The scheme, in partnership with Spirit of 2012 and Sport England, will put £20,000 towards the installation of a new natural play area on the Morland Estate, alongside £150,000 for the relocation and installation of a Multi Use Games Area (MUGA) on Stoke Newington's George Downing Estate.
Julian Blake, chair of Morland Blanchard Tenants and Residents Association, said: "Residents on Morland Estate are delighted that the London Marathon Charitable Trust is backing our community-led natural play space.
"Many of the children living here have nowhere outside to play, and the facilities we can now provide will give them just that."
Morland's play area will include a rope bridge, timber wobble boards and a log walk, all designed to provide new opportunities for young children to enjoy the benefits of outdoor play in a natural environment and introduce them to an active lifestyle.
It will also include a community garden, while making a contribution to Hackney Council's biodiversity and green space targets.
A Hackney Council spokesperson said: "The project involved us supporting the TRA to obtain funding from Curved Earth and London Marathon Charitable Trust.
"This resource will add to useable open spaces for both residents on the estate and also the rest of the community in Hackney.
"The staff on the project have had to remain in creative mode working with residents to raise the funds, solve problems, ensure that residents were in agreement and kept informed via estate-wide consultation and engagement."
Across the borough, £150,000 will be spent relocating and installing the MUGA on George Downing for children and young people to play outdoors, as well as the refurbishment of the Boiler House Community Space, which will be adapted into a "multi-functional sports and fitness space" for adults.
Since 1981, the London Marathon Charitable Trust has awarded grants totaling more than £88 million to over 1,430 organisations in London, Surrey and other areas.
This year other grants included Activity Alliance receiving £1m for their Get Out Get Active programme, £250,000 for Woodfield Park's Phoenix Canoe Club, £104,000 for the Haven House Foundation in Woodford, and £80,000 for the London Thunder Basketball Club.