Impassioned debate as council approves gating off St-John-at-Hackney churchyard at dusk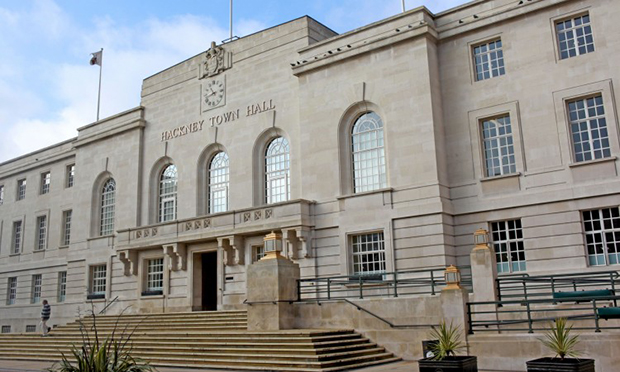 The gating off of a luxury development in Hackney Central after dusk sparked a war of words in the council chamber this week.
Developer Thornsett had agreed to a public square and pedestrian link between the churchyard of St-John-at-Hackney and the Narrow Way as part of its Hackney Gardens scheme.
The development was delayed after Hackney's planning committee threw out the proposal over a gated wall, which councillors had expected to see demolished.
Following this setback, Thornsett has agreed to demolish "almost the entire wall", while leaving the gate in place, opening up the public square between 8.30am and either 5.30pm or dusk, depending on which is later.
Bernadette Cunningham, director of Thornsett said: "We have listened to the concerns of the committee and local residents, and have amended our plans accordingly.
"Previously this area was completely walled off, and part of the trade off was to make it a semi-public square which I'm hoping is now done."
The developers had held up warnings by the Metropolitan Police over antisocial behaviour (ASB) as justification for the gate's installation, with John Parmiter, warden of Hackney Church, confirming that the problem faced by the church was "quite real".
Objector Prashant Patel said: "Hackney has a free, generous, exciting and inclusive spirit which is unique and we should all strive to keep it this way. We know this, and we experience it daily.
"There is a central, deep principle: integration, not division. We all, not us and them. Both the church and Thornsett should have a moral and social responsibility to discourage divisions in our society.
"It is the responsibility of elected councillors to ensure that gates do not divide commuities. Developments should provide benefits to the whole community, and encourage integration. Hackney always avoids gated communities. Why is it acceptable in this case?"
Objectors pointed to statements by former Met police commissioner Sir Ian Blair saying that gated communities threaten the stability of society as part of their arguments in January.
Hackney Central ward councillor Ben Hayhurst was similarly forceful in his opposition and unimpressed by Thornsett's compromise, questioning what evidence the police's advice on antisocial behaviour was based on.
Cllr Hayhurst said: "There is no precedent in the local area for gating off space at nighttime. Why, why, why is a prime town centre site in the heart of our borough, why are we gating it off at any hour, at any stage of the day?
"Yes, there is ASB on the Narroway, but if you want to start protecting residents from that, and we had two very serious incidents there in the last few years, and if you really want to protect the public realm in terms of ASB, you'd put up gates everywhere.
"The church and developer is essentially saying, we don't want the problem in our area, it can just go on the Narrow Way. It's not on, it's not the spirit of this borough.
"Let it chime loud from St Augustine's Church bells, this borough is not gated off, not at dawn and not at dusk."
Parmiter responded that St-John-at-Hackney shares the problem of ASB with the council and police "every single day", with break-ins, vandalism and drug-dealing on its land.
He argued that those using the community facilities to be provided as part of the development would need safeguarding.
Parmiter added: "It's a subtle point, but this is not a church development, it's a diocese development. It's not our land, in terms of the church, but we are going to become stewards of the community facilities.
"We have significant amount of drug trading in corners, in nooks and crannies. Somebody came in a few months ago and lit a fire in the nave in the night.
"The police come and tell us that we are part of one of the most significant drug trading entres in the borough. We need to be alive to the fact that we deal with this, often instead of the council or police, and that is something that we feel that we should listen to."
Cllr Hayhurst's impassioned rhetoric was not enough to sway Hackney's planning committee, who voted through Thornsett's plans.
He laughed as committee chair Cllrs Vincent Stops (Lab, Hackney Central) and Cllr Peter Snell (Lab, Dalston) voted through the plans.
Three other councillors on the committee abstained.
Cllr Stops said: "The issue of having this open at 2am – I don't think we were determined for this to be a genuine public square that is open all hours. It is in proximity to quite a few residential houses.
"We were expecting the wall to come down and an open public square to be part of a walkthrough to encourage shopping and community activity.
"At 2pm, I can go and sit in the public square, but at 8pm on an autumn day I have to leave, or whatever time dusk is. Do we want people to be sitting there at 10pm or midnight?
"We went into this with the view that this was going to be a gated community, that was going to be walked through with a public space. I think that the proposition that has come forward is one that will work for most of the people most of the time.
"We look forward to sitting in the square, drinking a pint of real ale."