Greenpeace Shoreditch photo exhibition highlights threat to oceans – but local MPs a no-show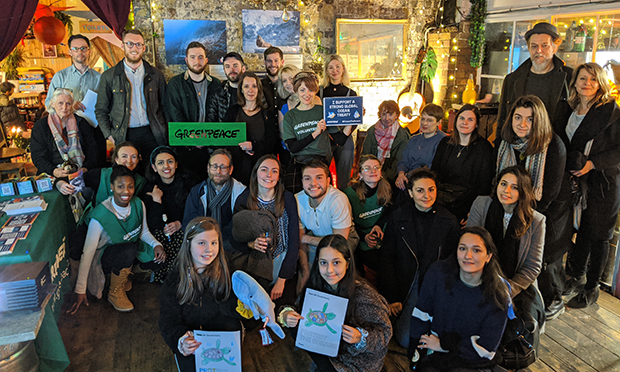 Greenpeace Shoreditch hosted a one-off photography exhibition this month to highlight its battle to protect the world's oceans – but says it is a "shame" that east London's MPs failed to show up.
The activists invited Hackney MPs Meg Hillier and Diane Abbott, Poplar representative Apsana Begum, and their Tower Hamlets counterpart Rushanara Ali to the free display on 17 January at vegan restaurant Love Shack on Cambridge Heath Road.
The exhibition featured photographs of iconic sealife taken aboard Greenpeace's ship, Esperanza, which is travelling from Pole to Pole and is currently in the Antarctic.
Visitors also had the opportunity to experience a virtual reality simulation of the Antarctic ocean narrated by actor and environmental campaigner Javier Bardem.
Hackney-based volunteer Fearghal Corbett said: "We've put on this exhibition ahead of the final UN negotiations in March on a Global Ocean Treaty to show the risks that iconic wildlife such as penguins face from overfishing, melting ice and plastic pollution. It's vital that we protect at least 30 per cent of our oceans by 2030."
Corbett added: "As an island nation, we know how important our oceans are for food, tourism and to protect us from the climate emergency.
"It's a shame that Meg, Diane, Apsana, or Rushanara couldn't make it, but we hope that they can support the campaign by signing Greenpeace's Protect the Oceans Declaration."
Meg Hillier told the Citizen she was unable to go and her apology to the organisers was only sent out after the event due to a member of her staff being off sick.
The Hackney South MP said she is "absolutely with the campaign" and will be signing the declaration.
Hillier added that she was "privileged to represent" a borough with so many campaigning organisations and residents, with whom she is "always happy to work".
Rushanara Ali's office said the MP unfortunately had a prior commitment on the date of the exhibition, but confirmed that she had already signed the declaration before being invited.
Tower Hamlets was one of the first councils in the country to declare a climate emergency, and Ali's team pointed to her years of work on the issue and her vocal support for environmental protesters as evidence that it is a subject she cares deeply about.
Diane Abbott and Apsana Begum are yet to respond to requests for comment.
Greenpeace says oceans are the biggest carbon sink on earth and our best ally in the fight against climate change, but currently less than five per cent of them are protected.
More than 300,000 people in the UK, and 2.5 million worldwide, have signed the group's petition for a strong Global Ocean Treaty, including leading politicians, actors, scientists and designers.
The declaration calls for a network of ocean sanctuaries covering at least a third of the world's oceans by 2030.
Read Greenpeace's full report here