'No thanks': Hackney Mayor condemns Tory councillor's 'cheap attacks' as homophobic bigotry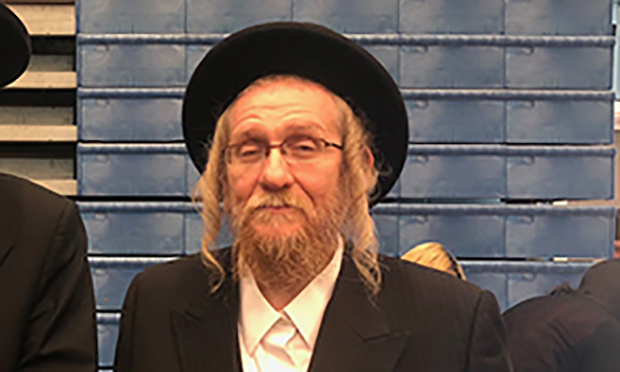 Shouts of 'Shame' were heard in Hackney Council's chamber last night as Mayor Philip Glanville (Lab & Co-op) read out words written by a Conservative councillor singling him out for his sexual orientation.
The Mayor chose to speak out following publication of comments by Cllr Aron Klein rejecting LGBT education as "confusing" for children.
The remarks by Cllr Klein, who is the Conservative Party's councillor for Stamford Hill West, were emailed to the Hackney Gazette in response to coverage of the council's attempts to more tightly regulate unregistered Jewish faith schools, or yeshivas.
In the emails, the councillor claims that the introduction of Ofsted oversight would give students at yeshivas "ideas of atheist, gay, early childhood sex" and went on to reference Mayor Glanville's own sexuality.
The Conservative councillor wrote: "I believe he is gay. Good luck to him. No thank you. We don't want Ofsted coming mixing, confusing our children. For us it's Adam and Eve. A man and a woman. A boy and a girl."
Last night Mayor Glanville used Klein's own words against him in a broadside against bigotry, delivered on the same night the Town Hall voted through a motion rejecting and defining Islamophobia, as part of a drive for the borough to be 'No Place For Hate'.
Mayor Glanville said: "We reiterate the commitments we made to stand up to hate, whether it's antisemitism, Islamophobia, or indeed homophobia.
"Anyone who has opened the Hackney Gazette recently will see that there are people in this chamber who don't share those values, and make cheap attacks, including on me.
"I would use some of [Cllr Klein's words] to say politely no thanks to you, Mr Klein. No thanks to your bigotry, no thanks to your view on the Carnival, no thanks to your views on bus lanes, red routes, our diversity, the role of Ofsted or myriad other things.
"It's also a no thank you to your view of morality. You do not have a view of morality that is suitable for this chamber or this council. When you question Ofsted, you're questioning our commitment to keep all of our children safe."
Rights groups Stonewall and the LGBT Foundation have now both added their voices in criticism of Cllr Klein's remarks, with the latter organisation underlining that LGBT education or the lack of it does nothing to change young peoples' sexual orientation or gender identity, but that not receiving it may cause confusion or shame for LGBT students about their own identity.
Emma Meehan, assistant director of public affairs at the LGBT Foundation, said: "Cllr Klein's comments are deeply disappointing, and do a great disservice to his LGBT constituents.
"Every school should be a place where young people are able to grow and learn about themselves and others.
"It is a place where every child should feel they have a right to exist and feel safe."
Stonewall, which was set up in order to further LGBT education, also rejected Cllr Klein's remarks, underlining the importance of children being able to "see themselves reflected and know there is a place for them in society".
Josh Bradlow, the charity's head of policy, said: "Teaching about LGBT families helps all young people grow up knowing there's nothing wrong or unusual about being LGBT and helps prevent the anti-LGBT bullying that remains widespread in our schools.
"Comments like Cllr Klein's can perpetuate a false assumption that there is a divide between people of faith and people who are LGBT. Many people are both.
"We work closely with a variety of faith schools, providing training and support so they can ensure all pupils feel accepted, included and able to reach their full potential."
When asked for further information on Hackney Conservatives' position on Cllr Klein's remarks, or more detail on their investigation, the group repeated: "We're looking into the matter."
The Conservative Party's code of conduct commits its elected representatives to "support equality of opportunity, diversity and inclusion" and to "encourage and foster respect and tolerance".
Cllr Michael Levy (Con, Springfield), leader of Hackney Conservatives, did not directly address Cllr Klein's comments in his allotted time to speak, instead reflecting on Labour's heavy losses at the recent election, and warning in general terms of the dangers of rising levels of hate speech.
Cllr Levy said: "Government ministers and party leaders set the tone for their citizens and establish what is morally and socially acceptable in our society.
"Racist hateful remarks made or tolerated at the highest levels have a trickle-down effect and are picked up on social media platforms where the bar for what is considered acceptable speech is continually lowered.
"We must all stand up and be counted, and are particularly pleased to support the motion to adopt the All-Party Parliamentary Group definition on Islamophobia. We reiterate in the strongest possible terms our condemnation of every form of racism and hate crime in all its forms in Hackney and beyond."
The Conservative group leader also pointed to the current investigation of Labour by the Equality and Human Rights Commission over systemic antisemitism, though commended the Town Hall administration for its "unwavering support" on the issue.
Glanville responded: "It shames me utterly that our party has been referred to the EHCR. We will obviously have to see the results of that investigation, and I hope that whoever is elected leader of the Labour Party takes on board fully the outcome of that investigation and implements it.
"Broadly we've seen from all the campaigns for the Labour leadership that they want to repair that relationship with all parts of the Jewish community."
The Mayor went on to thank Cllr Levy for the "tone" of his speech, praising him for his contribution to the borough and his leadership in the council chamber.