Hackney pupil wins London-wide writing competition judged by Stephen Fry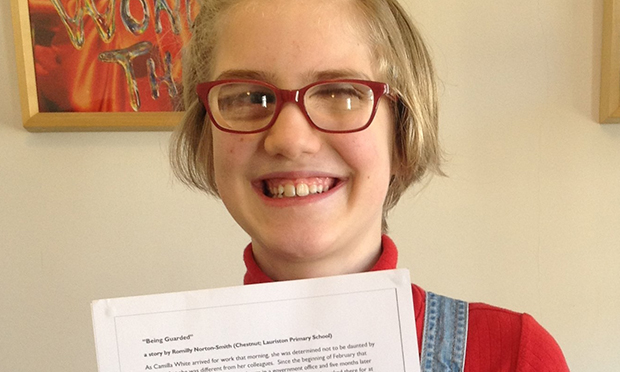 A 10-year-old from Hackney has won first prize in a London-wide writing challenge judged by none other than national treasure Stephen Fry.
Romilly Norton-Smith, a pupil at Lauriston Primary School, impressed Fry and his fellow judge, historian Tom Holland, with her entry in the Scriptores Writing Challenge 2019.
The competition asked Key Stage 2 pupils across the capital to submit a 500-word story based on a Latin expression, and "join the ranks of great Roman writers like Catullus, Propertius and Virgil in creating a piece of writing that will stand the test of time".
Romilly said: "It is really thrilling that Stephen Fry has read something I have written – he has interviewed JK Rowling!"
In her story, Being Guarded, antagonist Camilla find a piece of paper with the phrase 'Quis custodiet ipsos custodes?' written on it, and wonders what it means.
Romilly explained: "I googled some Latin phrases, and this one intrigued me as it suggested an exciting adventure story,"
The words translate to 'Who will guard the guards themselves?'.
She added: "I wanted to set my story in modern day times to show how Latin is still relevant.
"And I wanted my main character to be a Latin beginner – she has to discover what the phrase means. I googled girls' names that come from Latin, and found out that 'Camilla' means 'newcomer'."
Romilly has a severe visual impairment, and her parents Adrian and Clare told the Citizen how much their daughter's achievement means to them.
They said: "We are so proud of Romilly for winning this competition. It is an enormous endorsement of her enquiring mind and a big boost for our hopes for her.
"Every parent wants to believe their child is gifted, and when you have a disabled child you want to believe in that more than anything, because you worry constantly about their future.
"That's why this means so much for us as a family."
Stephen Fry said he was "bowled over by the talent on show, which made judging a wonderfully exhilarating hardship".
He added: "Congratulations to all the entrants and the winners — verba volant, scripta manent!"
That means 'Spoken words fly away, written words remain'.
You can read Romilly's story in full here
For more information about the Scriptores Writing Challenge, head to thelatinprogramme.co.uk/scriptores-writing-challenge-2020